Oh no worries, Mizzz Freeland. It's just the Communist Party of China officially telling the City of Vancouver what to do again. I can only assume they said it in French, so chill.
After a move by the city of Vancouver (that's still part of Canada) to engage with Kaohsiung, Taiwan, as (yet another oh-so-important) "friendship city," the communist diplomat in Vancouver told the city, nope, you can't do that. The Globe and Mail reports:
"We therefore firmly oppose any official ties in any form between the city of Vancouver and cities in the Taiwan region," the diplomatic mission said.
The aforementioned "Taiwan region" is also known as the state of Taiwan. Not a mere "region" in China. In case you've been subsumed by the compelled guilt foisted on you by left-wing wokeidiots (in Canada) for being a white colonizer racist genocidist transphobe climate denier terrorist, let me explain: China would like to annex Taiwan, and expects the world to obediently oblige its world-domination, global communism meta-verse (Hi Zuckerberg!).
The correct response is to the Chinese in China is: "Go play in traffic." Or better, "Go play at the Wuhan Institute of Virology."
And also correct would be for the government of Canada to properly protect the fantastic, brave Chinese immigrants in Canada who stand up to these communist bullies.
I suggest Vancouver mobilize Chrystia Freeland and see if they get her to temporarily drop her big brother (big sis?), big government, maternal effort to publicly "own" Air Canada over its English-only-speaking CEO, and instead send one of her infamous sternly-worded letters to the communists in China (written entirely in French, of course), telling them to pound sand. (It doesn't translate well into French either. Hey! Maybe speak English! Oh. Too radical?)
A Chinese communist government translator could probably translate pound sand (and I'd love to hear from them exactly how it translates. Then again, I'd love to hear from them exactly how they let the Wuhan virus start —or what we now call "Covid-19" pandemic, as a result of yet another of the Chinese dictates to us, which we willingly obliged like obedient idiots— and how and why they let it escape around the world to kill so many millions of innocent people. So yeah, it's not likely we'll hear about the "pound sand" translation).
I hope Vancouver doesn't cower like serfs to the Chinese Communists. Alas, Vancouver's mayor and most of the council is made up of left-wing and far-left woke cult members, some of whose politics, economically and socially at least, seem to me to align more closely with those of communist China than with normal capitalist, free-enterprise, liberal free-market-loving people in Canada. And they are all too aware that Vancouver's population is something like nearly 30% Chinese immigrants, and that some of them appear to be outright Communist China nationalists and activists (and government  plants?)  —and if the recent pro-Meng Wanzhou and pro-China, anti-Hong-Kong-freedom  rallies are any indication, they are correct.
While covering one Hong Kong freedom rally, Vancouver reporter Keven Huang, a Taiwan immigrant to Canada writing for Tyee.ca, an ardently left-of-center news outfit based in Vancouver, wrote about how the Communist Chinese nationalists taunted the wonderful pro-freedom Chinese-Canadian ralliers: "The China nationalists chanted in English 'One China' and, in Mandarin, 'Take off your masks.' They also sang the Chinese national anthem, 'March of the Volunteers.' "
I'll go on a bit more with what Huang wrote.
Huang's August 2019 play-by-play is dotted with photos he took of the pro-Communist Party Chinese nationalists — immigrants to Canada — waving China flags.
He went on, "4:16 p.m. – …The nationalist side had an overwhelming number of Chinese flags; almost all of them looked new, with fold creases on the larger ones. Someone dropped off professionally printed signs for their side that said: 'Love China' …"
"5:08 p.m. – Uh oh, nationalists chant 'China is your daddy' in Mandarin…".
(Reminder: this is in Vancouver., Not Beijing.)
"5:40 p.m. – Wow. Nationalists show up in McLarens and Ferraris."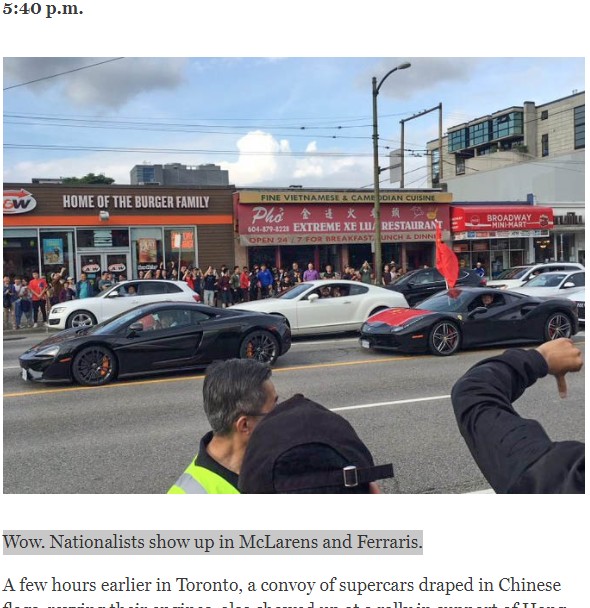 This past Tuesday I posted a shorty about how Chinese immigrants in Canada are being terrorized — in Canada — by Chinese authorities back in China. You should read that 20-second gem, Canadian refugees from Communist China being terrorized. In Canada. But ma French!  Huang describes much the same thing with regard to that rally:
There was originally an event downtown at Robson and Granville Streets to screen video evidence of police brutality in Hong Kong, but it was cancelled due to threats by the nationalists.

The nationalists showed up anyway, without anyone to counter. They sang the Chinese national anthem, waved flags and chanted many of the same slogans in the afternoon.
The fact that the Chinese communists refuse to see the industrious democracy of Taiwan as a sovereign state, the way the West including Canada does, and instead pretend it is just another part of their glorious communist state of China, threatening to turn it into another Hong Kong; and that they try to force their worldview on everyone else and demand that we bend over and simply comply, is not lost on the pro-China nationalists here, as we can see.
And in Ottawa — in our own government — there are sitting Liberal Senators who see it exactly as the Chinese Communists have instructed us to see it. And I'm not talking about calling it "COVID-19," which they all do like good comrades. Take the execrable Liberal Senator Yuen Pau Woo, whom I've alluded to before in a scathing rebuke of his pro-China, pro-Communist idiocy —from his perch as a damn Senator in Canada no less. The Globe and Mail article I opened with ends with this (my highlighting):
Senator Yuen Pau Woo, who represents British Columbia in the Senate, said: "Twinning with a city in Taiwan would facilitate the expansion of business and civil society links between Canada and the Republic of China, which I strongly support."
There are myriad examples of Canadian (and B.C., and Vancouver) governments demonstrating that they have been, at least in some way, co-opted by the Communist Chinese. Take this Business in Vancouver article from a while back: Huawei-sponsored event draws flag-waving B.C. politicians (my highlighting and bolding):
On the heels of Canadians Michael Spavor and Michael Kovrig being released from a Chinese prison, Huawei Canada sponsored a Chinese government-linked cultural event in Vancouver Saturday, with B.C. politicians in attendance waving both Canadian and Chinese flags.

…The cultural event was the third Chinese Cultural And Arts Festival hosted at Jack Poole Plaza by the Canadian Alliance of Chinese Associations. Among those attending were Liberal-appointed independent Senator Yuen Pau Woo, B.C. Minister of State for Trade George Chow, Burnaby councillor James Wang, Richmond councillors Alexa Loo and Chak Au, and Vancouver mayoral candidate Ken Sim.
And I've documented the same thing too, over and over.
Pound sand.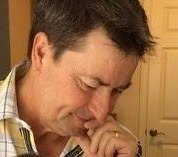 Latest posts by Joel Johannesen
(see all)