You'd be forgiven for wondering what country you were actually in after catching a quick glimpse at the 2018 BC Liberal leadership campaign poster that Liberal MLA and former cabinet minister Mike de Jong tweeted out during that contest: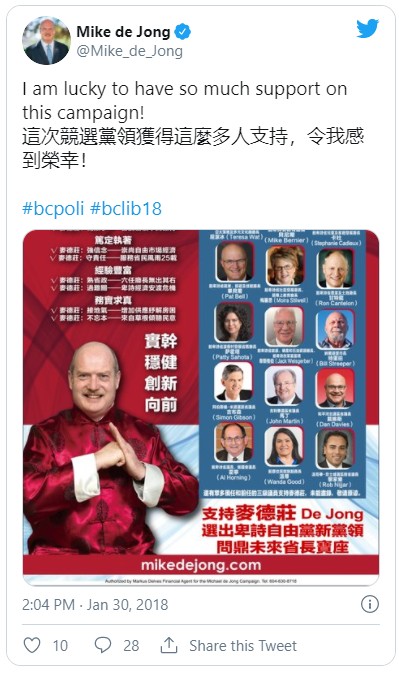 His leadership bid failed. Or as they say in China, 他的領導競標失敗. Also a possible case of Hold my beer —here's a giant whack of what we in the "woke" set usually call racialized "cultural appropriation" before cancelling you forever, but I'm a liberal so I'm OK.
He was clearly courting voters… no let me start again: He was clearly pandering to a particular race or nationality — something I find inherently repugnant on most every level; but even a local newspaper covering this queer messaging stated it, well, weirdly, as they provided that same tweet as background for a 2018 story, writing: "The race is on for BC Liberal Party leadership hopefuls and one candidate is hoping to gain support from Chinese voters."
"Chinese voters." Well, Canadian voters. But you know, they're Chinese. Naturally, they mean those good folks who came from China, but are now actually Canadian, right? They're just racially identifying them I suppose. Which is… racial. And crass identity politics. But anyway. In B.C., as in everywhere in Canada, you have to be a Canadian citizen to vote in BC elections. For now, at least, Chinese people are not allowed to vote in Canadian elections, and thereby decide our future.
Or are they?
This week, the Globe and Mail and National Post have, as others have recently, featured — as the main front page headlines — the growing Chinese Communist Party influence over Canada and our many various levels of massive and growing (and in some cases, increasingly Chinese-like, or at least apparently Chinese-revering) governments. Here are some front page screen shots from just this week: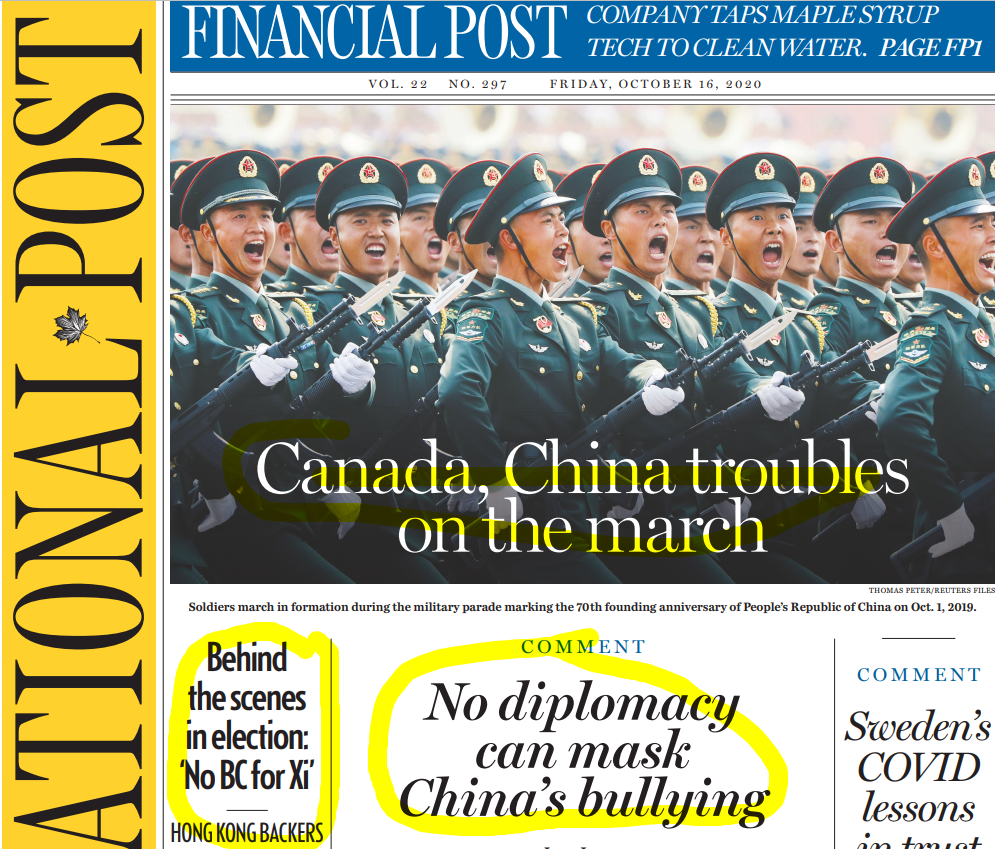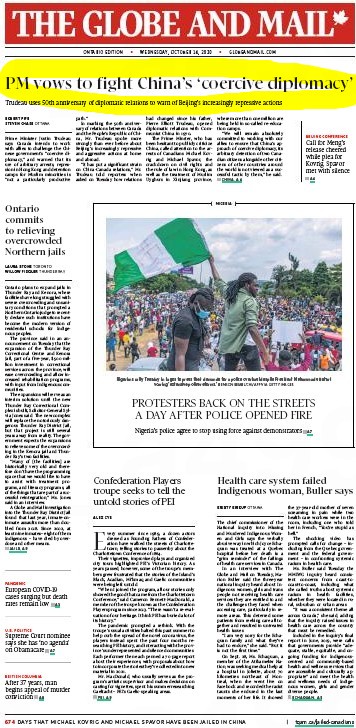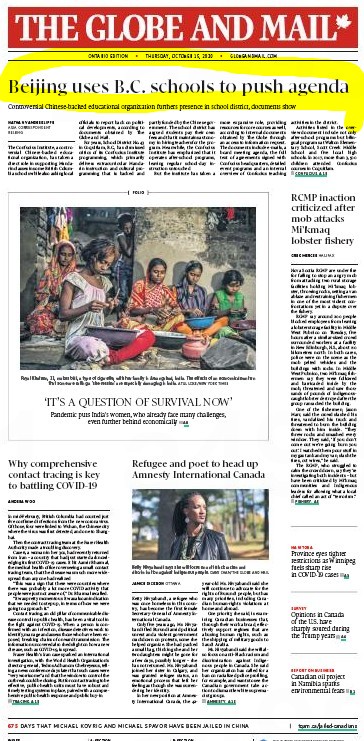 In BC, in the midst of a now ongoing provincial election you'd think it was a nothingburger if you gauged it by the local Vancouver news media.
One of the articles featured on the front page of the Globe and Mail, above, is about the Chinese Communist Party exerting its influence in BC's public schools — by literally buying them off and, some would argue, influencing (buying?) the politicians in charge. It's huge. It's alarming. Read it. (I alluded to this over a year ago in September 2019, here at PTBC.)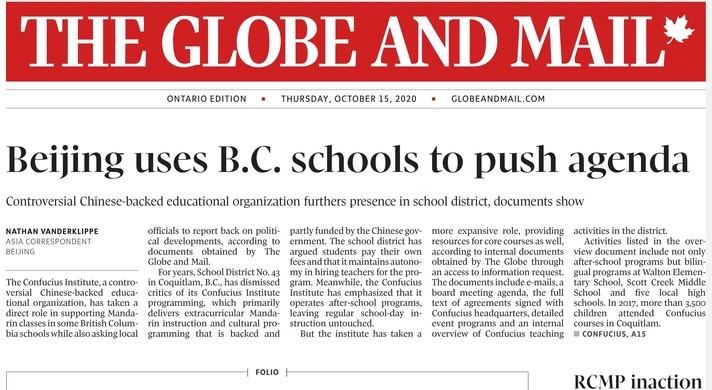 BC has a general election on now but the local "news" media don't care much about this story. There are no such front page stories during the past week in the two major dailies. During an election.
This "No BC for XI" story on the front page of the National Post, above, is on page "NP3" of the Vancouver Sun. Page "NP3" translates to page 37 of the Vancouver Sun. So on page 37, which is 37 pages from the front page, they finally present the story about the Chinese Communist Party influencing (buying?) BC politicians and school boards to advance their pro-China and arguably pro-Communist ideology. During an election, in which this is — outside of BC — a massive national and local issue.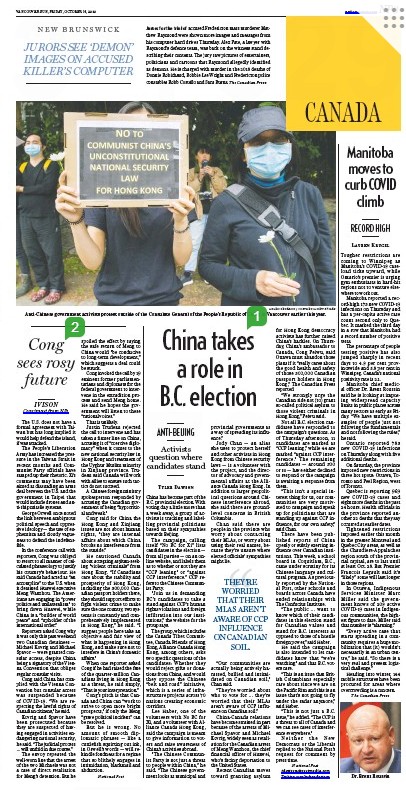 The story is about a group of Chinese expats and concerned citizens who are trying to document which BC election candidates are supportive of the Communists in China, and which ones reject the Communist Party's advances. The website they set up is called NoBCforXi.
They've emailed most or all of the candidates. You can see and track the ongoing results here. By my count, fewer than two dozen of the more than 300 provincial candidates have even bothered to answer the questions directly. Which is alarming. All they are asking is this:
Will you pledge to decline any gifts or donations from the Chinese Communist government and its affiliates or any other foreign governments that abuse human rights? This includes, but is not limited to, monetary donations, and paid-for trips.

Will you reject the CCP's 'Belt and Road' initiative and other economic development initiatives in BC that are promoted by authoritarian governments or enterprises with ties to authoritarian states?
If you even have to take time to think about your answer, I'm already voting against you.
Apparently nobody had the balls to answer the email with "No, I don't pledge to decline any gifts…" or "No, I will not reject the CCP's 'Belt and Road' initiative…" Most just haven't answered. Which sort of sounds like Yup, I will take their graft. As the website authors say, a failure to answer seems suspiciously like a "No, I will not commit to decline any gifts…". Which, indeed, make me very, very $u$piciou$ of these politician$. What are their motive$? What i$ driving them? What'$ going on here? $o many question$.
And then there are those whose answer, considering their past remarks or actions (which are added as notes) is a given. For example, they've rightly got the aforementioned Mike de Jong as "CCP Leaning". An official response is hardly required. Similarly, for the former BC Liberal Minister of Education, Shirley Bond: "While Minister of Education Minister, supported the establishment of Confucius Institutes in BC: https://www.macleans.ca/education/uniandcollege/china-funded-language-courses-in-bc-not-democratic-uvic-prof/."
Only two BC Liberal candidates answered YES. The leftist Greens dominate the YES ("Against CCP Interference") responders, quite surprisingly to me. I suspect a head office directive.
The Libertarian Party issued a head office directive quite explicitly. Their party President issued an all-candidates answer, so really, it's the only party with an official stance against the Chinese Communists. (APPLAUSE.) See the actual email here – which the study's author's provided via a link at their site, in which the boss writes with a sense of like duh humor, "Feel free to contact our candidates individually if you like, but safe to say all Libertarian candidates are against the Chinese Communist Party, and would rather take a poke in the eye with a sharp stick than take any money from them."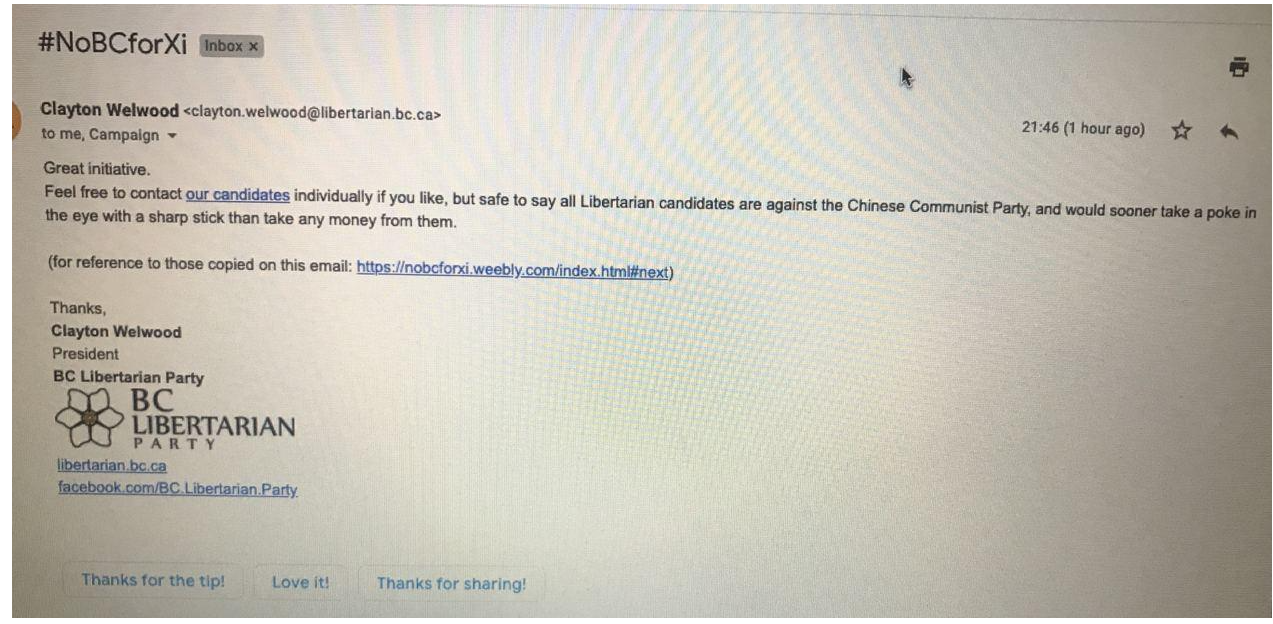 Good on the NoBCforXi group — a private citizen's group — not a political party nor professional investigative journalists — for doing something so proactive and positive, and important. The local media needs to up their game. Some politicians need to give their heads a serious shake before they all have to start campaigning in Chinese to appease the CCP.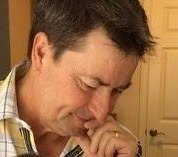 Latest posts by Joel Johannesen
(see all)