In this week's New York Times Book Review, a historian reviewing a major new work of 20th-century history, Oxford and Harvard Professor Niall Ferguson's "The War of the World," notes that "Ferguson argues that the Western powers should have gone to war in 1938, which would most likely have avoided much of the horror of World War II . . . . "
Imagine that. The New York Times publishes a favorable book review of a book arguing that a pre-emptive war in 1938 would have saved tens of millions of lives aside from preventing the Holocaust, "without parallel . . . the most wicked act in all history."
You have to wonder if the Times' editors and all their allies on the Left, who have spent the last four years mocking the very notion of pre-emptive war, read this review.
Whatever incapacity for self-doubt George W. Bush's critics charge him with, it has been more than matched by his political enemies. They are as certain as human beings can be that the invasion of Iraq was wrong from the outset because no nation should ever engage in a pre-emptive war, since such wars, they contend, are inherently immoral, not to mention illegal.
They know that Saddam never had weapons of mass destruction, and they know that even if he were working on acquiring such weapons, he would never have used them or shared them with Islamic terrorists. They know this despite these facts:
Virtually every intelligence service believed that Saddam either had or was working on attaining WMD.
Saddam Hussein had already used biological weapons against his own people.
Saddam refused to allow UN inspectors unfettered access to Iraq, even when he had every reason to believe that America would attack him.
Saddam gave $25,000 to the families of Palestinian terrorists who blew up Israelis.
Saddam had already invaded two countries, attempting to eliminate one from the map (Kuwait) and killing a million in the other (Iran).
President Bush had very good reason to believe then, and we have very good reason to believe now, that Saddam was indeed seeking uranium from the African country of Niger.
Given these facts, George W. Bush believed that a pre-emptive strike was the moral thing to do, just as any moral person now understands it would have been moral to do against Hitler's Germany in 1938.
Given the same facts, his critics were/are at least as certain that such a war has been wrong strategically and morally.
They now argue that obviously they are right.
But it is not so obvious. It is overwhelmingly likely that even if we had found WMD in Iraq, The New York Times, Michael Moore and nearly all college professors would have still opposed the invasion. After all, they would have argued, it was still a pre-emptive war and therefore wrong by definition; and besides, Saddam had nothing to do with 9/11.
Of course, the critics look right because we hardly seem to be winning the war in Iraq. But even here the critics are too smug. We have not won the war in Iraq because of something completely unforeseeable: widespread massacres of Iraqi civilians by other Iraqis and Muslims. We have never seen mass murder of fellow citizens in order to remove an outside occupier. No Japanese blew up Japanese temples in order to rid Japan of the American occupier. No Germans mass murdered German schoolchildren and teachers to rid Germany of the American, British, French and Soviet occupiers.
The level of cruelty and evil exhibited by those America is fighting in Iraq is new. Had Iraq followed any precedent in all the annals of resistance to occupation, America would likely have been victorious in Iraq. It may just be impossible, if one is morally bound not to kill large numbers of civilians, to fight those who target their own civilians and hide among them. But George W. Bush had no way to foresee such systematic cruelty.
With the election of a Democratic Congress and the reversion to the visionless "realists" of George W. Bush's father's administration, the critics are more certain than ever of their moral rectitude. But unless they disagree with Professor Ferguson's assertion that a pre-emptive war in 1938 would have been the most moral thing the Western democracies could have done, they ought to show a little humility. Based on what was known at the time, George W. Bush made a moral choice. And he would have won were it not for something new in the annals of human depravity.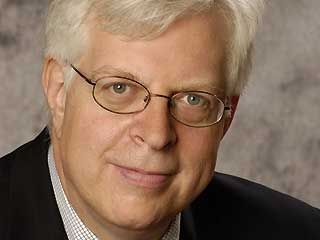 Latest posts by Dennis Prager
(see all)