Party in disarray poses little threat to Conservatives
There's an extra bit of a bounce in my steps these days.
That's because the federal Liberals, who love to gloat, appear to be in real disarray and without direction.
Meanwhile, Prime Minister Stephen Harper is pulling it all together.
An Ipsos Reid survey revealed 60% of Canadians don't think the Liberals are ready to be returned to power any time soon.
To top that off, 42% said they'd be less likely to vote Liberal if a new party leader wanted to recognize Quebec "as a nation within Canada."
That's just what perceived frontrunner Michael Ignatieff—the supposed learned professor—wants to do. So it looks like curtains for the Liberals if Ignatieff wins the leadership in December and Harper goes to the people come spring.
But here's another wind-up toy.
Another survey had Ignatieff winning on the first ballot, but when Liberal respondents were asked what would happen if there was a second ballot, Ignatieff came in fourth.
In top spot, former environment minister Stephane Dion, second was former Ontario premier Bob Rae and third, former Ontario education minister Gerard Kennedy.
Notice how these three candidates all have the prefix "former" before their names. Can't they hold on to anything at all. Hardly a good credential.
Then we have another little faultline.
Ignatieff—before, as usual, he rethought matters—said if he didn't win the leadership he'd have to reconsider whether he'd run for re-election as an MP again.
So what if this man brought into politics as a star candidate by Paul Martin and parachuted into a Toronto riding to the disgust of local party members, doesn't win the leadership and bolts back to Harvard?
How will this little stunt play out with voters across our nation? Well, they will surely think the Liberals are a purely—or rather impure—opportunistic lot.
Hardly a vote-getting scenario.
Then let's look further.
None of these individuals is from Western Canada, with three being from Ontario and one from Quebec.
That's unlikely to play well in Western Canada, particularly since the current prime minister is from this region.
Yet another clink in the Liberal landscape, Dion is hardly known outside Quebec, and is detested in his home province by the separatists.
So it's hard to see him sparking a Liberal revival in the rest of Canada, and the Bloc Quebecois' Gilles Duceppe would be licking his lips at the thought of taking on Dion and the Liberals in Quebec.
Above all, this is the picture of Harper and his team sticking by their guns and doing a competent job.
In the House of Commons, interim Liberal Leader Bill Graham constantly expresses outrage and New Democrat Leader Jack Layton beams as if he has the Conservatives on the run.
But privately, and I grant him this, Graham is an intelligent man, he must see the real picture for what it is.
As for Layton, every poll since the last election has shown his party at a standstill.
Now you know why there is an extra bounce in my steps these days.
Yours, too, I hope.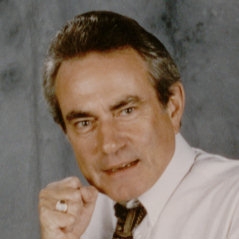 Latest posts by Paul Jackson
(see all)