Hey it's a non political blog entry.
We're having a fun vacation. We're fixing our back yard which runs the risk of eroding away into a waterway behind our house kind of like the Liberal Party's fortunes. Once we do that, we're moving the old fence onto new concrete posts that we're making, instead of allowing the fence to sit on a now rotting retaining wall, which is every bit like the barrier between free market capitalism and socialism in Canada.
Oh. Good times. The people are very friendly here. Wish you were here.
We started out by getting 14 tons of gravel delivered (that's about 13,000 "Kilograms" / beaucoups de les "kilogrammes" for you liberals).
Our friends and neighbors are all suddenly busy and have been for exactly the past week. They drove right past our house real fast when they saw the gravel mountain adorning our driveway.
The gravel is to fill in what we've dubbed our pit of despair that has been plaguing us for the last few years. (Like so many things. Oh happy day.)
Here, you can see several tons have already been moved into the pit of despair. We accomplished this with a wheel barrow and a shovel. (For you liberals, that's what your Mexican or other immigrant laborer or possibly an unemployed pole dancer from the Chretien/Martin/Dion Liberal government's special immigrant stripper program does for you. Coincidentally, the concrete Handiform tube (below) looks like it could be a stripper dance pole, but remember, it's not).
Here's another gravel shot. There were so many beautiful sights on our vacation.
We have finally moved all 14 tons, and we are now very muscular. Our friends and neighbors are starting to ask if they could have helped.
Finally yesterday we poured concrete into our Handiforms. We consumed 17 bags of concrete mix. We rented a cement mixer from Home Depot for the job. Jo-Anne warned me against using our washing machine and I saw her point. (Hint for you liberals and wealthy urban socialists: a "cement mixer" is what those people "in the trades" use to make your swimming pools and east patios. Or Google "Sponsorship Programme").

Actual photo of Joel mixing cement (left), and some concrete results (right). While I was at it, I did a load of laundry.
Soon we will grace our driveway with 14 cubic yards of topsoil, then another load of probably the same size, for the next leg of our summer vacation '08. Friends and neighbors will once again pick up the speed past our place. That topsoil will be wheelbarrowed (liberals: see above re immigrants) to the back yard and go on top of the gravel. Then instead of the usual cedar trees we'll plant some bamboo and lemon trees and palm trees and banana trees and olive trees to be one step ahead of the "man-made global warming". We're calling this leg of our vacation the "Green Shift", which we have already decided we will say like this: "Green Shift wahahahahahahaaaazzzifff".
Then it's just a matter of moving the fence to the new concrete fence posts and engineering some sort of support structure like a pergola and benches to hold the fence up. Liberals and socialists: think of this as sort of like a series of nanny-state government social programs for the fence.
Don't worry, I'll take more vacation photos if I can.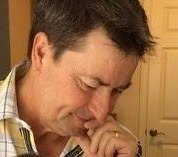 Latest posts by Joel Johannesen
(see all)