Hypocritical much?
CTV.ca
MONTREAL — The NDP has suspended a member from its shadow cabinet because of his chronic, long-term failure to pay taxes.

Tyrone Benskin has been stripped of his role as official-languages critic until he pays the taxes he owes.

The announcement follows a report that Quebec's revenue agency has contacted the House of Commons to seize part of his salary because of more than $58,000 he owes the province for unpaid taxes between 2007 and 2011. …
Well at least they suspended him. But yes, it's hypocritical much. It's a veritable hypocritical sandwich, on a stick, a la mode, au gratin (he's from The Nation Of Quebec). Or it at least it could be. The trouble is, the way the CTV news tells it (and the NDP's CBC news division), it's served-up as a sort of a tiny vegetarian sandwich-ette.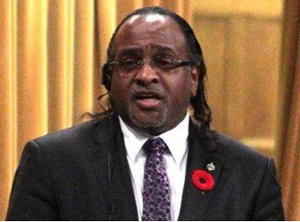 The fact that CTV and others have dared to reveal just one tiny story about the truth with regard to one of their fellow progressives, at all, amazes me. But their stories are all like a sandwich with the crusts cut off and lacking the juicy red meat sitting right there on the counter, uncovered.
They should have (and I'm damn sure they would have if he were a conservative) made a much, much bigger sandwich. If he were a conservative, they'd have made a club sandwich with which to literally club all conservatives over the head. For this one, for the filling, they could have at least threw in a slice of the fact that Tyrone Benskin (an actor, so probably already a huge beneficiary of copious tax relief — hello!), who failed to pay his "fair share" of taxes (hello?), recently tried but failed to introduce a tax-related bill in parliament which would be totally self-serving with regard to his own tax-paying problem, namely a private member's bill, C-427 (here's a PDF: Bill C-427: Income Averaging for Artists). That new tax law for all Canadians would have helped him personally. With his tax problems. Hello? Is this thing on?
That's some red meat right there.
Additionally, as it turns out, Benskin isn't the only NDP MP allegedly caught allegedly not paying their fair share of taxes, at least not when they were due to be paid. (Yeah, lots of "allegedly" sauce. I'm not going to give them any red meat to sue me with, here).
In a story which even further exemplifies the even more crass and strident hypocrisy of socialists and progressives generally and the NDP specifically, another tax and spend NDP MP has, according to a report by Sun News, allegedly been caught not paying his own FAIR SHARE OF TAXES. This one, Hoang Mai, is known (by at least one person in the NDP, I guess) for his active campaign to  —  get this  —  fight tax evasion.
Seriously. Well now it's a sandwich buffet.
He built a whole campaign and continues to fight this overtly populist (particularly among the progressive left and far-left) campaign to fight those tax evaders (you know  —  the "1%") who all hide their money in those scarey "tax havens." But hey who knew Canada and credit unions in Canada were also tax havens? Well I guess the NDP knew!
Here's a page from the NDP.ca web site, dated April 24, 2012. I screen-grabbed it because I can't imagine the NDP not deleting that page, just to avoid the shear irony of the situation.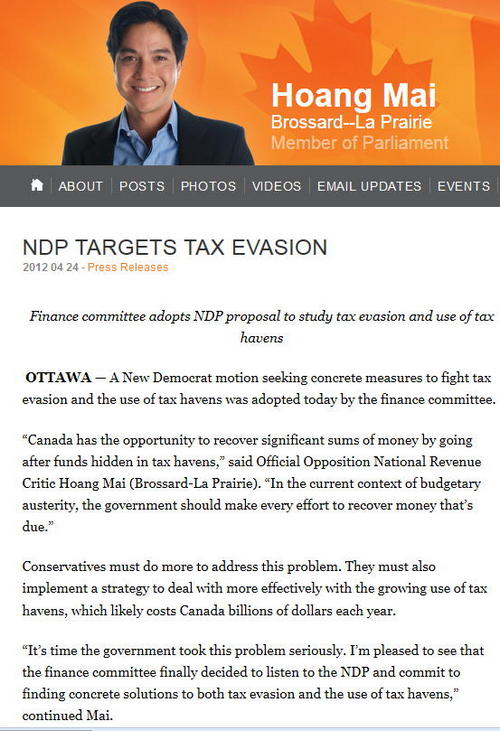 As you can see, so compelling is Mai's campaign that the whole NDP is behind it. They call it the "NDP proposal" in the sub-head of the article at NDP.ca. I wonder if the NDP are really behind their own li'l 1% club when they  —  just like the much-hated, income-paying "rich"-folk  —  don't pay their own "fair share" of taxes in a timely manner. Well I bet they are, actually. Because in private, they'll eat anything that tastes yummy, even if it contains trans fats and salt.
The story about Mai piqued Sun News' attention when they found that Hoang had filed, with the federal authorities, information which acknowledged his latent debt to the tax-collectors of his home province of The Nation Of Quebec.
The allegation is not that Mai is a tax evader, of course. I'm sure he's not. I'm sure neither Hoang Mai nor Tyrone Benskin are tax evaders. The stories are about irony and hypocrisy and embarrassment. But they do serve as a good lunch for people who aren't allergic to truth and honesty and openness and actually standing by the principles they claim to believe in.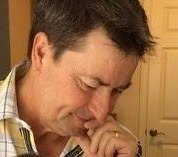 Latest posts by Joel Johannesen
(see all)