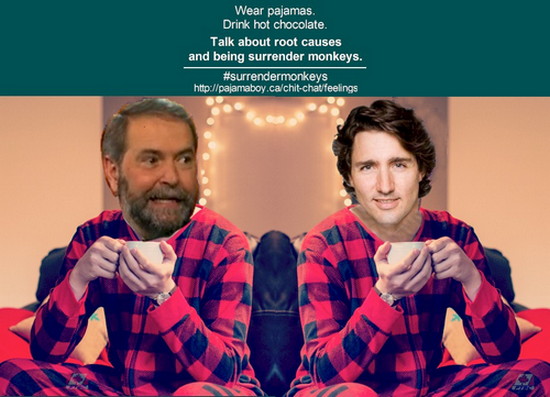 Today we hear that one of the two soldiers run over with the car of an Islamist ass in Quebec, has died. Oh and here's a clue that left-wing politicians refuse to acknowledge:
On Sept. 21, ISIS spokesman Abu Muhammad Adnani explicitly called for attacks against Canadians. In his 42-minute audio taped message, Adnani urged his fanatical followers to single out a victim and "run him over with your car."
The far-left NDP leader Tom Mulcair is suddenly very, very cautious about calling what appears to any sane person to be Islamist terrorism, "Islamist terrorism."
He's still looking for root causes, possibly in his pajamas, drinking hot chocolate, with fellow leftist/pacifist/terrorism denier Justin Trudeau.
I think it's a mistake to start drawing conclusions on such limited information, especially as to motive. … Let the police do their job and then we'll know whether we're dealing with the type of situation they've described.
But Mulcair is only so cautious and protective of Islamist terrorists. He's never so cautious or shy when it comes to calling Stephen Harper or any random conservative a liar, a cheat, corrupt, inept, or otherwise destructive of Canada.
So we have to ignore such ignoramuses.
A National Post article says:
A Twitter account under the name Ahmad Rouleau featured the banner of the Islamic State of Iraq and Al-Sham, the terrorist group that last month called on its followers to kill Canadians because of Ottawa's role in the anti-ISIS military coalition. …

… As recently as Monday, calls to attack Canadians for joining the anti-ISIS coalition continued to surface. A Canadian extremist who converted in 2010 and now goes by "Abu Khalid Al-Kanadi" posted a message inciting attacks on Canadians. …
But Mulcair and Trudeau will just wait and see. Because this Islamist terrorism thing is all so new to them.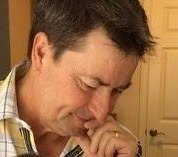 Latest posts by Joel Johannesen
(see all)