Here's a story of Canada today. Not just a story of a sex crime but a story about the story. They're reporting the wrong story. See? I told you it was a story of Canada today.
The innocent victim's name is Mr. Beiswanger. He was in a park in Dartmouth Nova Scotia, just enjoying his day and engaging in healthy outdoor activities, in a park, in Canada, the way you'd think it would be perfectly acceptable to do, being a park, in Canada.
The alleged perpetrator was a bigshot in the Canadian Coast Guard, which is important, but not the point.
Wilson is the alleged perpetrator's name.
He was hanging out, um, quite literally, in this park, which he, but not the victim, apparently knew to be a good "gay cruising area". That's part of the real story.
The victim Mr. Beiswanger who is just there enjoying his day is obviously oblivious to the ways of Gay Canada, and doesn't know that there have been numerous police complaints on record of people (presumably gays) having sex in what he obviously didn't know was a "gay cruising area"— openly, it being…
…a park.
In Canada.
With guns.
Well OK not with guns, but with "things" more dangerous in many ways if not used accordance with its intended use and according to some well-established instructions.
The city of Dartmouth isn't alone. Vancouver's famed (once, for its beauty alone) Stanley Park also has sections that are very well-known amongst the gay community (probably nation or continent-wide) as places where they can find others who are willing to have gay sex, openly, between, well, whomever else happens to be there with a fly unzipped.
In our parks, where we play, in Canada.
That's the real story. But anyway, let's play along with the media while it fumbles the ball once again and struggles to steer you away from the real story here.
[…] According to Mr. Beiswanger, he was in the Spectacle Lake woods on the morning of Dec. 17 playing a global positioning game called geocaching—a sort of high-tech orienteering treasure hunt — when he was accosted by a middle-aged man exposing his penis and touching it.

"He kept proceeding toward me, so ….. I waited until he got to within probably three or four metres of me and then I dove for his throat," Mr. Beiswanger said.

He said he chased the man back to his car, copied down the licence plate number and contacted police.

The area around Spectacle Lake is known as a gay cruising area and police have launched a couple of operations in response to complaints about people engaging in sex in public.
Perhaps they should erect signs indicating the boundaries of the "gay cruising areas" in all our nation's parks, for those of us who aren't up-to-speed on all the "progressive".
Read the whole report here. (Hat tip to Mister Kim.)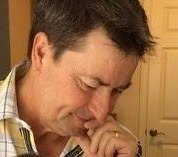 Latest posts by Joel Johannesen
(see all)