The news media is weird. But anyway, here's some real news.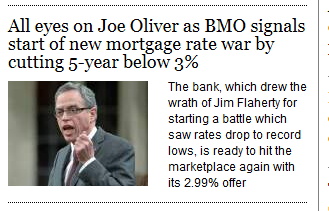 Their tease on their front page   —  in this case the National Post, but it doesn't matter  —  tells you BMO is lowering its five-year fixed mortgage rates to below 3%.
That is fantastic news for people and families. All eyes will be on saving money and living the Canadian dream. Right?
Wrong! The news editors think it's all about the government. "All eyes on [finance minister] Joe Oliver as BMO signals start of new mortgage rate war by cutting 5-year below 3%."
The government shouldn't have the slightest thing to do with this, since it's none of their damn business; and also, this isn't the Soviet Union.
I do understand that the story reflects one not long ago wherein then-finance minister Flaherty wagged a finger from his big-government bully pulpit at banks who dared to lower rates (and convinced them not to!), at a time when the big nanny-state wanted to calm (actually, control, full-stop) the housing market. But oh hey, by the way, what the hell was the government doing trying to control the free market anyway? Don't they control enough? They want more control over us and our personal  and business decisions? Why yes they do. Thanks for asking.
They should get out of the mortgage business entirely, as they have no business being in business of any kind. Not the CBC, not insuring mortgages, and not controlling banks.
Bear in mind the big nanny-state government we're talking about is not the socialist NDP or the slightly less socialist Liberal Party  —  but imagine if it were… and now please stop torturing yourself with that dreadful thought looming over you like a big Russian bear. We're talking about a so-called Conservative government. Alas Rand Paul and Ted Cruz would laugh at this one, even if you won't. I merely freak out.
"Finance Minister Joe Oliver again warned Thursday that he is monitoring the mortgage market closely."
– Financial Post
That Oliver remark is  supposed to provide comfort? Sounds more like Ronald Reagan's line,
"The nine most terrifying words in the English language are: 'I'm from the government and I'm here to help.'"
–Ronald Reagan
So yeah, no, Joe Oliver is not where my eyes are at all, with regard to this news, except to make sure he stays out of my business. Most eyes  —  I won't even venture "all," but pretty much all  —  are actually on their own mortgage, where people are paying more than 3%, and would benefit by refinancing now. And many Canadians could now buy their first home… unless the government stops them, seeing as they think they know better that you about, well, you.
Their eyes  —  the media's and all progressives' eyes alone  —  are on the government, looking for their wisdom and guidance and motherly protection, as a reflex reaction. Because everything in life revolves around the government, to progressives.
As a secondary matter, why does the Financial Post see a mortgage rate war  —  something which benefits all normal, responsible consumers  —  as something that "looms?"



What brooding has inspired this sullen headline? Only someone tainted with the stink of the anti-free-market set, and progressives, and full-on socialists, would view a mortgage rate drop and competition for the lowest rate, as a war that "looms" over us.
I'm sure it wasn't a brooding author, who's bio begins "Garry Marr's cheapness dates back to as early as age seven, when he swallowed a dime and demanded the folks at the Hospital For Sick Children return it."  Maybe one of the paper's editor learned to brood over free market competition at their journalism schooling, and become obsessed with a big-government reaction to a free-market activity. My wary eyes are often cast at those institutions of left-wing propaganda. True story: I swallowed a penny, and demanded the Lion's Gate Hospital return it, never went to journalism school, and I love mortgage rate wars, and I am inclined to advocate for small government, and free enterprise.
It isn't a mortgage rate war that "looms" over us, it's government which looms over us.  So let's get that straight, even if the progressives now dominating the media, can't.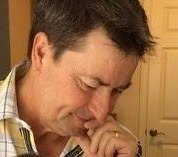 Latest posts by Joel Johannesen
(see all)