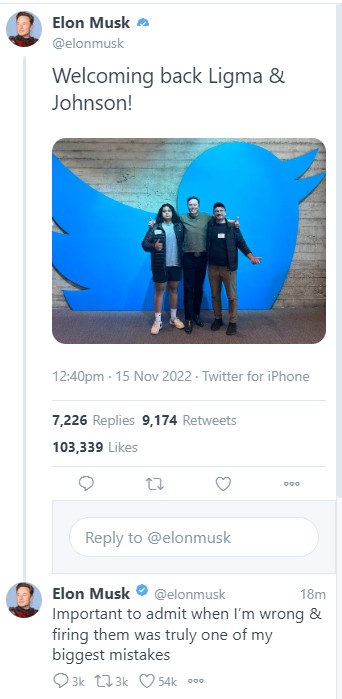 There are a few levels of fun misinformation contained within the Tweets. In case the humor doesn't explain itself, here's a primer: TheVerge.com partially explains (they leave out the Johnson!).

It's that time of year again! What time of year? Christmas? Nope! MaskTime! At least to the liberal-left government-control freaks! Appropriately it is written up in the Trudeau Liberals' Globe and Mail division: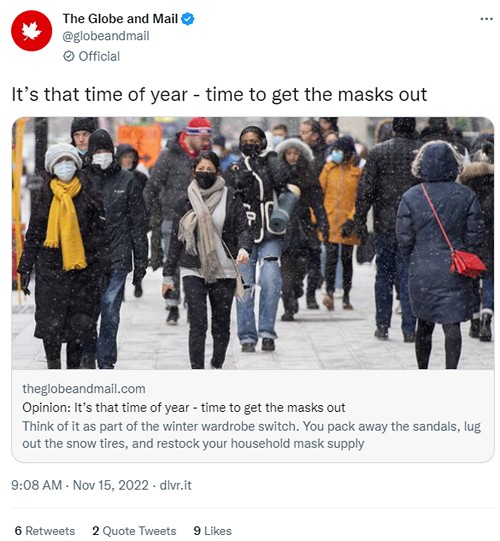 Never mind "two weeks to stop the spread!" and Biden's inglorious misinformation when he said:
"If you are fully vaccinated, you no longer need to wear a mask."
Biden said it twice for emphasis, quoting the CDC. Nowadays, wearing a mask is… why it's just like Christmas time! (Or as the lefties call Christmas, "holiday time to express seasonal values and display a happy tree of equity and rainbow colors for social justice" — or something like that.)
Wait for springtime to become spring on a mask! time. Chrystia Freeland will get on the state-owned CBC and inform Canadians: Plant your bulbs and remember, spring on that mask! Summer will be the sunny season to mask up. Autumn? Get stocked-up and ready for masktime!
An anecdote about masks: wherein "MAGA" caps supposedly designate your affinity for Donald Trump, masks are now the MAGA hats of the Left.
Oh yeah and remember folks, vote liberal. Merry Masktime! And a very merry Misinformation!

What's this? Trudeau destroys his own misinformation before getting his account suspended or canceled by Twitter? Or before getting fined by his own future Canadian Government Internet Police as would appear to be his wish if or when his Government Control Of The Internet Bill C-11 eventually passes into law? Or maybe he was trying to get his account suspended by Twitter for spreading false information, so he could bow out gracefully, rather than continue to use awful Elon ("Free Speech") Musk's Twitter despite the Trudeau Liberals being tacitly against free speech.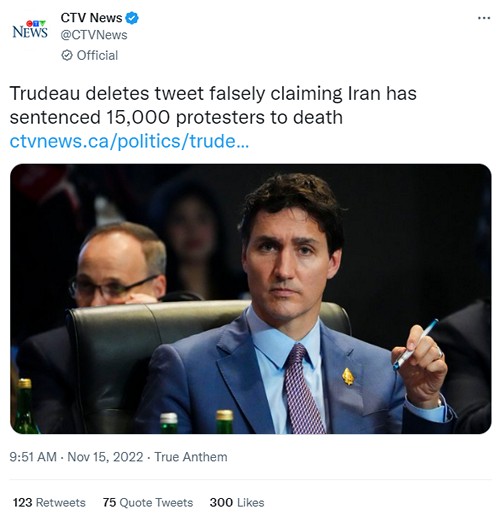 Must have been hard for liberalvision CTV to acknowledge this misinformation. But at least they had 85,000 glam shots of their boy Justin at the ready to accompany the story (even though the photo they attached to the tweet has utterly NOTHING whatsoever to do with the story)! Anyway, here's hoping they get lots of support and grief counseling for this Trudeau trauma.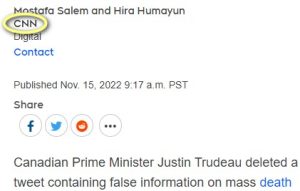 WAIT: On further review, the CTV story was, get this — and speaking of misinformation — not a liberalvision CTV story at all (even though they tweeted it out as if it was) — they posted a story on their CTVNews.ca website written by… CNN! Oh my. Trudeau, CTV, CNN… it's like misinformation diarrhea.
For their part, Global News went on to explain how the misinformation was left up for almost 12 hours before the Canadian Ministry of Twitter finally destroyed the evidence, which speaks to a major problem inside the Prime Minister's Office and his 300-person Twitter secretariat.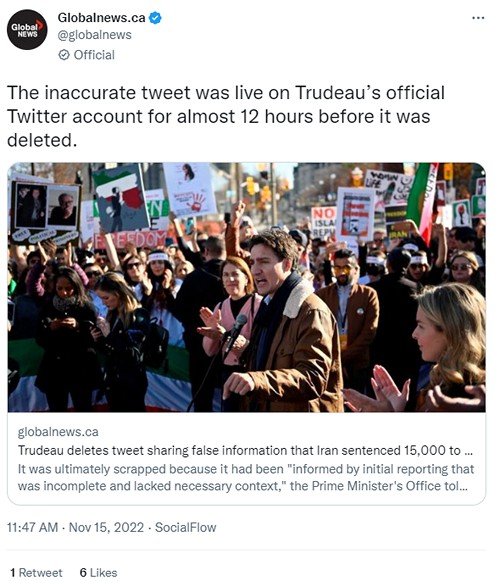 And more seriously, it also speaks to how and why the "news" media and many governments — and government "leaders" themselves — have lost credibility amongst the public. They all erode credibility by doing faceplants such as this.
For a national government leader to blurt out crap like this also demonstrates a level of incompetence or even mayhem in the PMO, and an office being used politically in an obviously desperate attempt to get the heat off of Trudeau and his myriad growing problems. I mean how else can you even explain a tweet like the one he tweeted? They don't need to "inform" us about news and events around the world! Did they get themselves confused with their CBC News division? (Is it the same people tweeting? Serious question!) I mean the tweet served no other purpose than to say "Never mind me — look at Iran!" Kinda like your common sleazy politician (say, Trudeau) shouting "squirrel!" when a rogue reporter asks a tough question (this practice is illegal in Canada, IIUC).
No word on if or when CTV News and Global News will delete any of their own tweets over the past several years.

The Girl Guides decides to cancel Brownies, because racism. Or something. I looked up brownies on Google to get some of the stories. Featured on the Google search page among the many "news" media reports is an article about brownies, the delicious chocolate dessert treat. Proving once again that liberals and leftists are really getting scarily susceptible to cult-like nonsense movements. Sometimes a Brownie is just a Brownie. And a girl is a girl.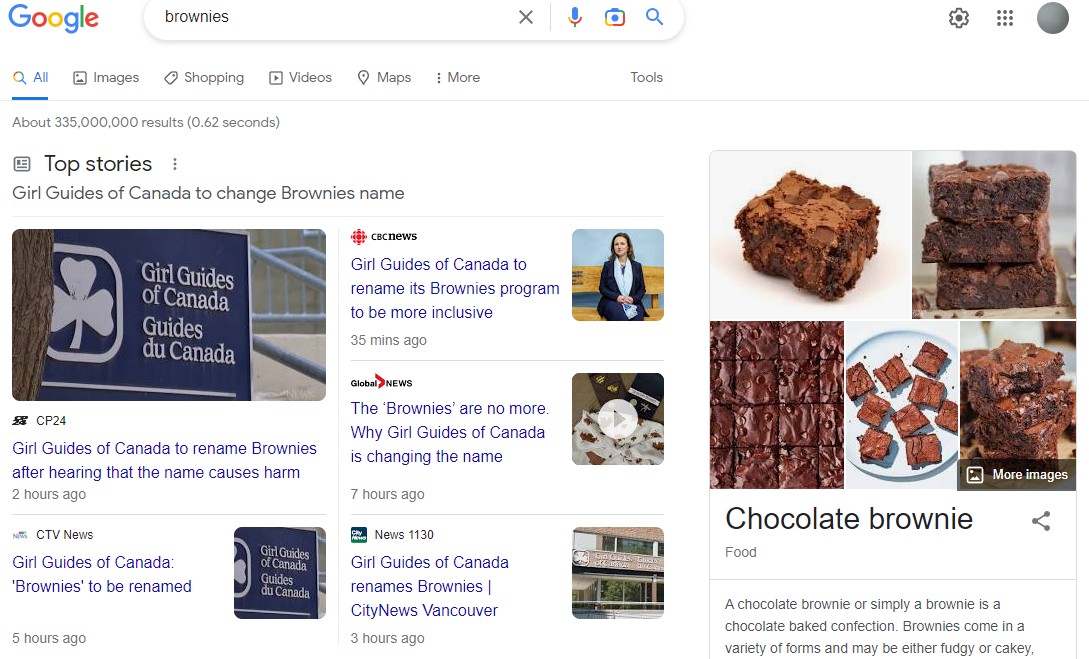 By the way: How do the Girl Guides even know what a girl is? Or is "girl" simply whatever anybody "identifies" as now? Also, will Brownies (or whatever their new name will become) drop the cute little brown uniforms because of "cultural appropriation"? What color on God's green Earth will be acceptable? Not white! Not gray (the oldies!). Not black. Not orange, not red, not nothing. Idiots.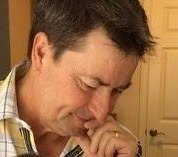 Latest posts by Joel Johannesen
(see all)