Intellectual Anders wears his conservatism on his sleeve
I tell Calgary West's Rob Anders he is undoubtedly the most successful MP that constituency has ever had.
And easily the most controversial MP of any in the entire province.
He defers on the first assertion even having won four landslide elections with some of the largest majorities in the nation.
"Don't forget," he says, "Stephen Harper won the riding in 1993 and went on to become prime minister."
Well, yes, I guess you would call that successful.
That said, Anders fully admits to his controversial image and isn't about to apologize for it.
"It's because I'm a real Conservative. I wear my conservatism on my sleeve and my conservatism pounds through my heart. I'm not in this for any personal gain, or accolades, I'm in it to do the best for my country."
My chat with Anders followed my column "All bets are off" (Oct.1) in which I noted he has virtually memorized the entire 12-volume work of Arnold Toynbee's monumental A Study of History , which traces the rise and fall of 26 civilizations, and readers phoned wanting to know more.
In those volumes, written between 1934 and 1961, Toynbee divides history into 26 civilizations and analyzes how they rose and then collapsed.
My friends, when an individual such as Anders, and there can't be many like him, can digest Toynbee's work and discuss every aspect in it in detail he's obviously got an intellect that has to be one of the finest—perhaps the finest—in the entire House of Commons.
So critics—those who whine about him and whimper about the failure of candidate after candidate, including Mayor Dave Bronconnier—to unseat him should start to realize he's far more formidable than they'd like to think.
Anders see parallels in Toynbee's assessments of why civilizations collapse in our own era.
The main culprit: Liberalism.
Or as I now refer to Liberalism: Nihilism.
"You can take either the Romans or the British. When they were building their empires, the mightiest in the world, they conquered lands by whatever means they had to use, built roads, built administrative systems, built educational systems and put in place whatever structures were needed to make a society work. They never had self-doubt about what they were doing. They just went ahead and did it."
What happened when they started to have self-doubt—their societies started to rot from within. They lost their self-confidence and they lost their grasp.
Under U.S. President Jimmy Carter—whose era was one debacle after another—the U.S. lost its self-confidence and became a laughing stock.
Then came President Ronald Reagan with vision and nerves of steel—and he gave the American people back their self-confidence and toppled the once awesome Soviet Union.
Today, after 13 years of stagnation under the Jean Chretien/Paul Martin regimes, Anders believes Harper is putting our country back on the world stage again.
"We're gaining respect from our allies. We're becoming a player again. We're becoming a power in the world once more."
Toynbee, Anders believes, if around today, might truly assess that our nation has stemmed its decline and is on the rise.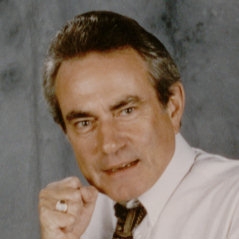 Latest posts by Paul Jackson
(see all)