Move over Hedy Fry (Liberal MP, Vancouver Center). "As we speak," the Rogers Cable conglomerate's Maclean's magazine division (or is it the liberals' Maclean's division – the left is so confusing with their complex corporate and political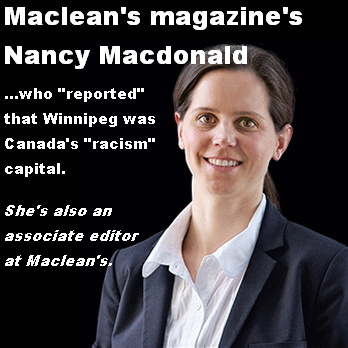 structures) gets $1.5 MILLION in annual taxpayer subsidies for… things like seemingly faking "news" reports on "racism."
These millions upon millions in accumulated taxpayer subsidies – to a giant profitable private news and media corporation like Rogers' news magazine – are not designed to promote a "racism" meme, we thought, but rather to "help Canada" – whatever that means (and let's be clear: it mean exactly nothing. It's a liberal/progressive thing.)
We mention this because the article written this past week by Maclean's awful "reporter" – and associate editor – Nancy Macdonald, is headlined "Welcome to Winnipeg: Where Canada's racism problem is at its worst." 
Inasmuch as the premise of the article is arguably totally false, and it appears the writing could be driven by the largely phony left-wing (and now stale) "racism" industry agenda, rather than by facts, you can see how that would "help Canada." Yeah no, it actually seems kind of harmful to everyone in Canada, especially Winnipegers. But remember, your Canadian tax filing deadline is April 30, you racist idiots!
Play this interview she did with Winnipeg's 92 CITI FM's Dave Wheeler about her article. It's fun because it's so embarrassing for the liberal and her media cabal:
I don't know how Wheeler maintained his cool while deftly dismantling Nancy Macdonald's seemingly phoney meme, and coping with all her weaving and dodging. As I tweeted to someone, it seems Nancy Macdonald has only ever done interviews on CBC radio or TV, where her sort of calculated non-answers to hard, liberal-meme-hurting questions get a pass, and the CBC host actually helps her to whitewash or obfuscate to help protect The Party, and its ideology, and its agenda. She definitely seemed out of her element, here, where the host is seeking the actual truth.
This Wheeler interview is an object lesson in coping with liberal reporters. As a free bonus, thanks to the privately-owned radio station 92 CITI FM (irony alert: owned by Rogers!) and Dave Wheeler, we're shown that Winnipeg must obviously be a city of Canada's coping and fact-finding and truth-telling best, to say nothing of how the city actually exemplifies Canada's racial tolerance at its best. It is also shown how, as we speak, Maclean's magazine may be, with the possible exception of the state-owned CBC, Canada's phony liberal propaganda problem at its worst.
The article itself also provides a little lesson about how Maclean's publishes its "news" articles: apparently the Maclean's associate editor edits her own stuff, and nobody else even reads it, much less vets it for truth and facts, before publication.
Liberals like Fry chose to "serve Canada" by taking tons of taxpayer dollars to talk about phony racist "crosses burning," and the liberal tradition carries on – but much like before, the only things on fire today are Nancy Macdonald's pantsuit pants.
Also see this, regarding Nancy Macdonald's article:
Many flaws in Maclean's story about Winnipeg's race problem by Tom Brodbeck;
And this, regarding Nancy Macdonald's article: Ezra Levant's excellent coverage, replete with actual facts and stats, rather than phoney left-wing bluster and agenda-driven "cross-burning"-style bullcrap: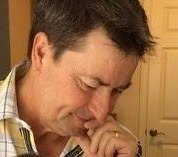 Latest posts by Joel Johannesen
(see all)