Revolt gave West chance to topple Soviets 50 years ago
Fifty years ago around this time, my tiny home in Britain was crammed full with Hungarian refugees invited by my anti-Communist father to share all we had in the way of food and beds.
Meanwhile, tens of thousands of Hungarian freedom-fighters were on their way to Canada in one of the largest waves of immigration this country has ever witnessed.
These thoughts came back to me on Saturday as Bela Balaz, honorary Hungarian counsel in Calgary, and Tibor and Livia Fekete, two of our city's most prominent Hungarian-Canadians, invited me to the Jack Singer Concert Hall, where the Calgary Philharmonic Orchestra, and a prominent classical artists held the audience in rapture as they celebrated Hungarian musical culture in remembrance of the Hungarian Revolution against Soviet domination which ignited 50 years ago today.
The Hungarian revolution was a startling event, and one that does no honour to the western democracies of the day, especially the U.S. and Britain, which urged Hungarians to fight the enslavement of their nation by Moscow, even suggesting if they did, they would be militarily supported.
In reality, hundreds of thousands of Hungarian freedom-fighters were left to be shot, imprisoned for years, or lost their livelihoods forever.
Incidentally, you can read about this in a remarkable new book by Michael Korda, Journey to a Revolution (HarperCollins, $32.50). Kor-da was an active par- ticipant in the revolt.
The Hungarian revolution was not the first uprising by a Soviet slave state against the Kremlin.
The East German workers uprising in 1953 holds that distinction. Nor was it the last, being followed by Czechoslovakia's "Prague Spring" in 1968, and then by Solidarity in Poland in 1980, but it was the first tumultuous attempt by an nation to shake off the shackles of Communist domination.
The uprising started when security forces suddenly opened fire on a student demonstration. Soon factory workers went to the aid of the students, and a move was on to turf out the Communist government imposed on the nation by Moscow.
Initially, Moscow, led by Josef Stalin's heir, Nikita Khruschev, hesitated. The Soviets didn't know how to handle the situation. They had heard Radio Free Europe broadcasts urging the Hungarians to throw off their shackles, and knew British intelligence was also instigating an overthrow.
Khrushchev actually began to with- draw Soviet troops and tanks stationed in Hungary. But when, after two weeks of street fighting, the western democracies did nothing, Moscow decided to chance it and sent a vast military force into the captive nation.
The bloodshed was a nightmare, the reprisals vicious. It would now be 1990, with the absolute collapse of Soviet might, before Hungarians were free.
The shame of the western democracies is they misled a valiant people.
The tragedy is if they had gone to help the Hungarians, the Soviet slave state empire would've collapsed 35 years before Ronald Reagan, Margaret Thatcher and Pope John Paul—aided by Lech Walesa—brought it down.
A lesson here is unless we have the guts to tackle madmen such as North Korea's Kim Jong-Il and Iran's Mahmoud Ahmadinejad now, it will be far harder—and cost more bloodshed—to tackle them later.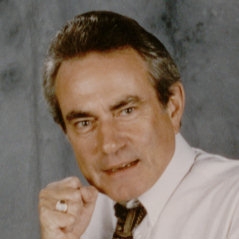 Latest posts by Paul Jackson
(see all)