Global News' Sam Cooper opened the eyes of many Canadians a couple of weeks ago when he reported that Trudeau had been briefed on Chinese Communist election interference in Canadian elections in 2019 (and presumably in 2021); and that Trudeau was briefed on this by national security officials as recently as January of this year. Trudeau sat on the information, presumably because the interference helped him and his party. Cooper's news was news to almost everybody outside of the Liberal cabinet room.
Trudeau went to the G20 Bali conference while this Cooper revelation was breaking and told the adoring Canadian "news" media that he'd dutifully brought this up with China's top communist, Xi Jinping, which led to Xi publicly balling out Trudeau, as we've all seen by now. "Trudeau raised concerns about "interference activities in Canada,"" Trudeau's state-owned CBC helpfully reported at the time.
Then in a bizarre turn, Trudeau seemed to back-peddle and run for cover. He denied ever being briefed by anyone on this. He's now been asked over and over, and he has denied it each time. Yesterday the Conservatives in Parliament asked again, over and over, and each time they were met with denials.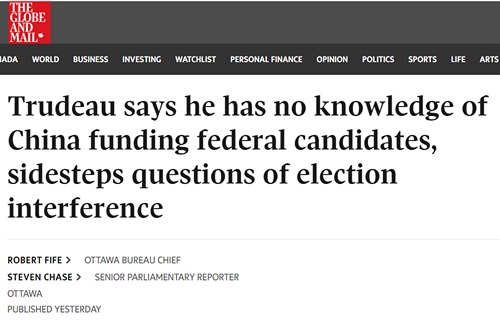 Here's part of the Globe and Mail article today:
…Mr. Trudeau said he has never been given any intelligence briefing that China had "directly or indirectly" provided money to help elect federal candidates.
"I have never gotten any information from any of our security agencies or police officers or intelligence officials or public servants any information of a federal candidate receiving money from China, as the allegations highlighted," he told Question Period. …
Xi Jinping must be as confused as we are.
Without directly calling into question what seems to me to be Trudeau's latest lie, the Globe article does include this tidbit in the middle (notably missing January 2022, which Cooper specifically mentioned):
Heavily redacted documents from CSIS show Mr. Trudeau was briefed on foreign interference in January, 2020, and January, 2021, and February, 2021.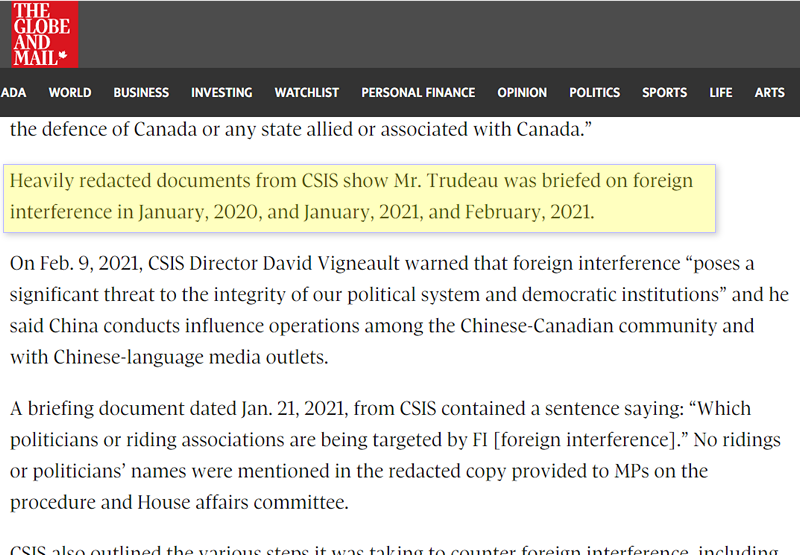 Is the G&M curious about the denials of Trudeau now? Seems not. I am. I figure he ran for cover because the best rationalization one could use to explain him sitting on this information is that he was trying to hide it, which he did because he knew it was him and his party that benefitted from the interference the most. And in his hindsight, sitting on it was a terrible decision, I mean now that he's been found out. He's certainly offered no other explanation that makes sense. When faced with competing explanations for the same phenomenon, the simplest is likely the correct one.
But Trudeau aside (if only!), it may not start or end with China or communists (inside or outside of China).
It is now becoming established that the overt suppression by the "news" media of the Hunter Biden laptop story was nothing less than a concerted election interference operation. When I say "established," I mean established by me (and a few others who are not inherently stupid) by employing my whatcha call "reasoning skills" and a semblance of a "recollection" and a "recounting" of the history of "news" media lies.
Hunter Biden's so-called "laptop from hell" allegedly contains evidence of foreign influence peddling by both Ukraine and, as I understand it, China, allegedly using then-Vice President Joe Biden as a conduit.
…The laptop contained caches of emails detailing business dealings with Burisma [Ukrainian oil & gas company] and state-owned CEFC China Energy Co, from which his firms received $4.8 million in wire transfer payments from its founder, Ye Jianming, according to a Senate report…
The story was broken by the New York Post just two weeks before the 2020 election, but it was stifled by just about the entire "news" media, plus Twitter and Facebook, both of which officially banned any speech about it. The White House officially declared that it was Russian disinformation. More than 50 former senior intelligence officials signed on to a letter saying that the story "has all the classic earmarks of a Russian information operation."
"Yes, yes, yes," Biden responded to a question about if he believed the laptop was Russian disinformation in a press conference following his electoral win. …
"Hunter Biden story is Russian disinfo, dozens of former intel officials say," White House press secretary Jen Psaki wrote in October 2020, which was retweeted by now-Domestic Policy Council director Susan Rice.

— Fox News: FLASHBACK: Biden officials pushed angle that Hunter laptop was 'Russian disinfo'
But several "news" organizations have admitted in the past week or two that the story was, in fact, true; a real story, based in fact — which is something the "news" media could have done two years ago, and probably did, at least internally. They haven't yet had the balls to publicly acknowledge that they always knew it was a true story, and that they — not the Russians — were, in fact, manipulating an election. But we're not all completely stupid.
This week, during an interview with Kara Swisher, the left-winger tech maven at the left-wing New York Times, with the now ex-Twitter safety chief Yoel Roth, Roth confessed that it was a mistake to banish the Hunter Biden news and the New York Post itself from Twitter as they did — for reporting on it or even just discussing it. He said that he was against it at the time. Huh. First we've heard of that tidbit! And so timely now that the election's over! So… a "mistake?" Well, it's certainly a mistake for people to find out what you did, I guess. Election interference? The smart money says retweet.
Most "news" organizations refused to cover the story too, claiming, as if by shear coincidence, that it was "Russian disinformation" (if you've got nothing else — and they didn't — blame Trump, the Russians, "the extreme right" or "Q-Anon," always quoting "sources" to back it up). But lately, CBS News, the New York Times, Washington Post, NBC News, Politico, and others have all sheepishly confirmed the original New York Post story —which they could all have done two years ago and, as I said before, probably most certainly did, internally. And they covered it up. To interfere in an election.
Twitter owner and CEO Elon Musk on Wednesday acknowledged that prior to his takeover, the "obvious reality" was that Twitter "has interfered in elections" through its content moderation policies.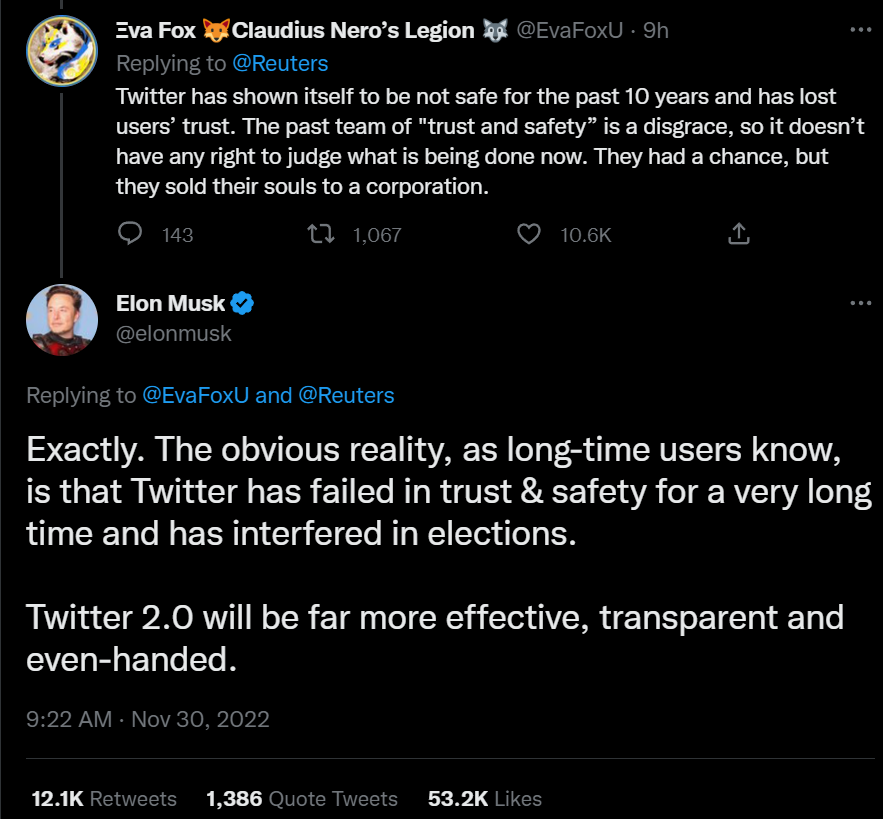 Musk promises to release the entirety of the history of Twitter's blocking and banning — the censoring — of this story. "This is necessary to restore public trust," Musk said on Twitter. The story behind Twitter's part in covering this up will be a very interesting read, but I assure you, no other organization or "news" outlet will do the same (again, based on my wacky "reckoning" skills). Owning up to their part in election interference isn't in their "trust and safety" manuals. Covering up for Joe Biden and interfering in elections apparently is. China is only half the story.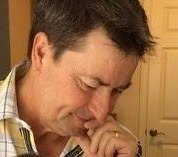 Latest posts by Joel Johannesen
(see all)