I've mentioned how impressed I am at Sam Cooper of Global News and his outstanding reporting on the Chinese Communist Party's election influence campaign targetting Canada in (or at least in) 2019.
The first report he filed on it resulted in huge backlash from the Liberal Party and Liberal MPs because Cooper insinuated that Justin Trudeau was briefed on the situation back in January of this year. Trudeau has himself denied being briefed on this. But Global News is sticking with their reporting.
If he was briefed, it means he's sat silently on this vital information for months, which leads to speculation that it's because the interference had helped the Liberal Party in their election win in 2019 and again in the totally useless power-grab election of 2021, and may continue to do so into the future.
Help from (the old) Twitter employees and other social media employees and nearly the entire Canadian "news" media isn't enough — now we also have the Chinese Communists helping them?
A little background in case you're stupid: Liberals were, until just a couple of weeks ago, gung ho (is that a Chinese expression? Sounds like it!) on China and treated them as a viable partner to Canada, in some weird, inexplicable way, and as something of a replacement for the United States in terms of trade —and who knows what else. Conservatives have too, but to a radically lesser extent and with far less trust, which, presumably, the Chinese Communists and their spies in Canada have taken notice of. The Liberals have very recently done a complete backflip and are now walking back every whisp of praise — and there has been tons — they have been heaping upon China for the past seven years, and making out like China's suddenly revealed itself as a threat to Canada. It's a lie. Of course, the threat isn't "sudden" at all whatsoever. The Trudeau Liberals have been either been duped and they're suddenly waking up; and/or their polling suggests they do an about-face in spite of their admiration for that basic dictatorship.
Today Cooper is on it again having heard more details in a Committee session:
Ottawa hears of "active foreign interference network" in secret Privy Council Office memo – National | Globalnews.ca
…Sources with knowledge of the redacted February 2020 Privy Council Office memo say it determined that some of "at least 11 candidates in the 2019 election" are likely unaware of China's influence efforts, but some have knowingly cooperated with the clandestine interference schemes, according to the document.
Cooper [the reference here is not the reporter Sam Cooper, it's Michael Cooper, Conservative MP] asked Liberal Dominic LeBlanc, the minister of intergovernmental affairs, if he had been briefed on China's alleged election interference in the 2019 election.
LeBlanc said he has been briefed generally on foreign interference, but citing security reasons, he said he could not disclose whether he has been informed of "specific cases."
Leblanc added this tidbit, which answers a huge question of mine these past few weeks, and which I think we should file away for future reference, in a file called, I don't know, "POTENTIAL LIES":
"I don't have this supposed list of 11 candidates. In my discussions with security officials, they did not provide these names," he said.
And Sam Cooper tweeted this slightly cryptic little advisory out today, as a part of his eight-part thread about his article published at Global:

I think he's referring to this:
While Cooper did not cite the document's source, intelligence sources say it comes from the Privy Council Office's Intelligence Assessment Secretariat. Cooper said the redacted "Daily foreign intelligence brief" was published on February 21, 2020. …
…which seems to imply that it being a DAILY BRIEFING, Trudeau must surely have read it — and read it as far back as February 2020, as hasn't mentioned it since. And if so, I have questions. I mean unless Trudeau isn't reading his national security intelligence briefings, for some reason that beggars belief. Which prompts more questions. I mean when the "news" media is done reporting that Musk was booed by woke idiots in San Francisco.
P.S. I quipped about it on the Twitter: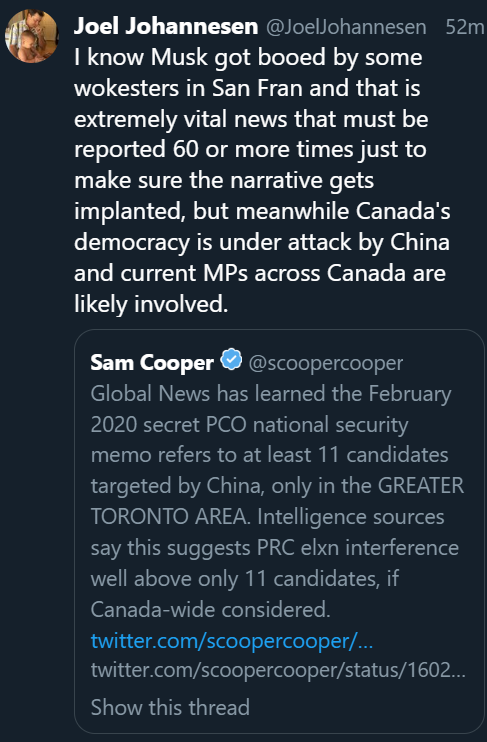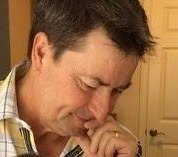 Latest posts by Joel Johannesen
(see all)