It's an outdoor wedding today and the skies are blue. It was supposed to go up to over 30 degrees today but the weatherman mercifully downed it a bit to 24 or so—perfect. I think it's rock-solid scientific evidence of global cooling.
Here's a picture my wife took of me yesterday, mid-golf-swing, and experts will tell you that judging from this picture, it's a terrible swing. I actually learned a lot looking at the pictures. My left arm should be a little straighter and it looks like I'm about to hammer down on the ball. But, it turned out OK and I birdied the hole. No really I did.
We golfed with our neighbours from down the street. One of them, Kim, took a shot and hit a squirrel. The silly squirrel just sat there as the ball rolled up and smacked into it. These are things you just can't get on camera. We will immediately report the matter to PETA and face the wrath of Pamela Anderson, who will no doubt come down against golfing from now on.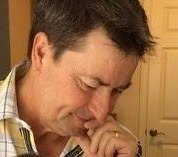 Latest posts by Joel Johannesen
(see all)