It's all about communications, and nuance. These skills are badly lacking with these candidates. Getting only a passing mention today in the mis-communicative news media, in contradistinction to what would be occurring if they were Conservatives (I mean really… can you just imagine?) these candidates are toast before even being put in the toaster:
Green candidate Erik Schomann is reportedly getting roasted for a communications failure, of sorts: posting something pretty shabby on Facebook back in '07. It was a post of himself and a couple of buddies in a picture of them roasting a pig, along with the ever-so Muslim-friendly caption: "we sent the left-overs to Denmark in support of the protesters of the Muhammed comic."
For those who don't understand the nuance of sending pork products to Denmark in 2007-ish, for example you're too young or you were or are being educated in public schools, there wasn't any nuance in this blunder of a post. (Here are a couple of links to edify you.) The idea was never to insult Muslims like a dumbass child might do, it was to take a very grown-up, bold stand for freedom and for our western values.
That post did not communicate those values.
Also, GlobalNews.ca writes, incoherently:
The post in question is backdating, meaning the publication date on it has been changed to Oct. 31, 1983.

But Facebook also still makes it possible to see the real publication date, which was March 15, 2007.
I presume they meant "backdated." And if Schomann tried to obstruct and obscure the truth or the record of history of his communications in this way, it's pretty damn bad. Of course it would be fitting behavior for a leftist, as a general matter; or for someone wanting to be in today's Trudeau/Liberal style of government — and maybe he took a lesson from the Liberals on this — but you're not supposed to be so blatant about it.
All in all, a political candidate is getting wrecked over what would seem to be a very old, and dumb, communications failure. 
UPDATE: He just resigned. Couldn't even wait until I finished my post. So it's back to his day job, which is, and I kid you not, as a professor of Communication Studies at the Faculty of Communication, Art, and Design at Seneca College in Toronto. Communications, folks. Do teach us about the communications, professor. Anyway, toast.
An NDP candidate named Dock Currie is being accused (and well, the guy admits it, so it's not just an accusation), of telling (online) a writer, with whom he was arguing about an oil pipeline, that he would "like to break his jaw." He reportedly told another guy some slightly less harsh, but still "physical violence" stuff (to quote the recipient of the remarks).
That's some fine communications and nuance there, folks.
But at least the NDP are very compassionate and caring and appreciative of diverse views, you guys. And democratic 'n stuff. Agree with us, or we'll break your jaw! The main problem is that it's not as nuanced as it could be, as in Justin Trudeau's Agree with us about abortion, in writing, with your signature, or you won't get federal summer jobs funding; and his ever-so popular new Agree with us and you will get news media sponsorship funding! Jaw-breaking is a bit obvious.
He "agreed to resign" from the candidacy, with no apparent violence. Toast.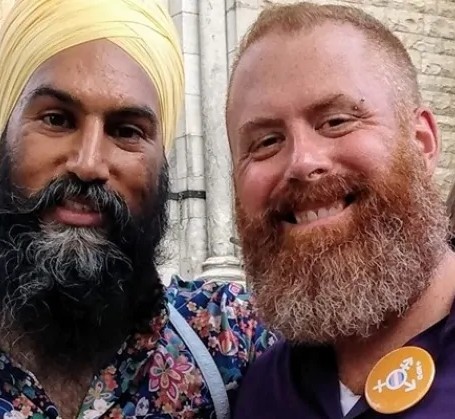 Another NDP candidate, Olivier Mathieu, seen here wearing a gender neutral, or "other" gender, or  "gender whatevers" badge in this picture with NDP leader Jagmeet Singh, is being accused, by a woman, if I may use that cisgender term, of domestic violence. This women apparently posted a photo of herself on Facebook, allegedly bruised and beaten, with this communication: "What message are we sending to our daughters, our mothers, our sisters; the women we love, live with, work with; to endorse a candidate who regularly abused his wife?"  The candidate totally refutes the allegation, and intends to prove it, somehow, but he's also withdrawn from the campaign.
I hope it didn't happen as alleged, but in the meantime, it does appear he does NOT #believeher as required by the leftist playbook, and I imagine he hopes nobody else does #believeher either. Which is awkward.
The Greens are struggling to get a foothold. The NDP is already in a crisis. Forget both parties' allusions to climate change being an "existential crisis" — which is grammatically stupid, to say nothing of the science (or lack thereof) behind it — for the NDP this is an existential crisis if ever there was one. They are still some 100 candidates short of a complete slate for the election. They can't even find enough candidates to run as it is, and we're now finding problems with some of those they have chosen. Forget the climate messaging for ten minutes: I'd declare an "NDP emergency" if I were them. Strike up a committee to study the hypocrisy and lack of principles that they're communicating to voters without any sense of nuance.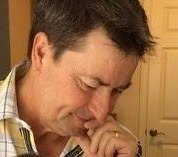 Latest posts by Joel Johannesen
(see all)