40 arrested and 31 others released on promises to appear.  Firearms involved. Firearms discharged. Many of them. Molotov cocktails stockpiled. The RCMP also referred to "explosive devices." "Like a pipe bomb," as the RCMP explained. "Improvised explosive devices … which would discharge shrapnel," he went on. "One packed with rocket motor engines, and a warhead-style projectile," he continued.
Yet in their "news" reports about the small-town New Brunswick anti-fracking riot, the state-owned CBC news/left-wing propaganda division have spoken about this terrorist attack in terms of "a clash" and "a protest," and how it made the terrorists and their families feel. They interviewed them. Oh, the crying. So sad that their little ones (fully-grown adult hoodlums and terrorists) are in jail now. If I were insane, I'd feel sorry for them too.
They did not interview any of the police officer's spouses, whose loved-ones were on the very brink of being brutally murdered by eco-goons. (And I say eco-goons, but really, I'm sure many were simply "goons," or terrorists.)
Notably, the ever-so balanced CBC also has not, for possibly the first time, referred to the firearms as "Glocks," or "AR-15's" or "military-style assault rifles," as they always do whenever they can possibly perceive any chance to advance their pro-gun-control and left-wing agenda.  In fact I don't know that they have referred to them at all. (UPDATE: until just now, since the RCMP just spilled the beans in their newser, that the media had been shown a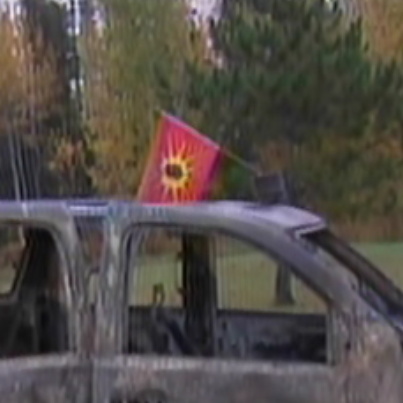 sample table of weapons seized. And so now they're calling them "firearms." Yup. Just "firearms." "Mostly hunting rifles.")
They featured video of a police vehicle  —  one of five or six  —  which was torched by Molotov cocktails or IED's stockpiled by the native terrorists and their accomplices.  The terrorists planted a native flag atop the burned-out cop SUV. Obviously they do this to symbolize their great pride in their terrorism, and to serve as a graphical warning that this is what law and order types and businesses can expect if police dare to control the rioters or terrorists ever again, or businesses seek to invest in oil or gas exploration. In other words, they're terrorists.
That "flag-planting" is an obvious terror symbol, and yet the ever anti-industry-appeasing (unless it's state-owned) CBC never called it terrorism.  Never even called it "eco-terrorism." Didn't identify the terrorists as being associated with the usual left-wing causes, or anything else. Until the weapons were revealed just now, the whole thing was being cast as just a normal response  —  a clash or protest  —  over the terrible fracking that the left is so against.
Even now as I write, after all we know, the CBC describes this terrorist attack as a "fracking clash," or alternately the site is a "protest site."

I think this terrorist riot is a bitter pill for the left and far-left extremists to swallow. I think they support the protest but don't like having to report their use of IED's and stockpiles of weapons and obvious terrorist tactics. They clearly can't bring themselves to report fully and honestly, and consistently. It's really actually embarrassing for them.