Here's a double dose of grassroots: a reader comment made by a grassroots citizen after reading Michelle Malkin's latest column at Townhall.com, called Colorado's Grassroots Revolt Against Gun-Grabbers.
Malkin's readers are like Malkin and the Coloradans she writes about: they're revolted by the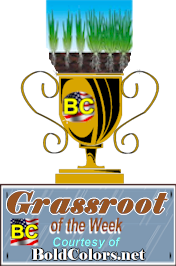 mindless excesses and extremism of today's liberals, socialists, left-wing fascists — progressives generally — including those within the mainstream media. This reader comment gets the award:
Moonbat Exterminator wrote:
The media tailors its coverage to match the ever changing agenda of the progs. Actually, I think they must have a scorecard that lists facts vs how to cover them. To wit

Black victim, white or hispanic perp = Racism!!!!
White victim, black perp, gun = Gun violence
White victim, any perp, no gun = no coverage
White blonde little girl kidnapped and or murdered = 24/7 coverage wall to wall, but only if the victim is cute.
That pretty much covers it.
Call it a scorecard, or call it a manual. The liberal-left mainstream media use a kind of style guide or code, whether it's in the form of a written manual or the code is simply wafting around in their media clubhouse's ether. This code determines their level of coverage, tone of coverage, and even the words used in their coverage of events.
Usually, the determination of how, when, or whether to cover any story, just glibly goes without saying in mainstream media newsrooms and editorial offices. The rules are usually unwritten simply because they need not be written. How and when or if to cover a story, and the words used, is all obvious to them. The newsroom is of like minds. No manual is required.
And that'd be great if their agenda was to fully, truthfully, and without bias, inform citizens. The problem is that mainstream media is not an objective place anymore. They're now more like campaign offices for the progressive movement.
The mainstream media is now systemically infected by liberals, or even further leftists, and so a sort of automated, reflexive liberal-left group-think takes place in media bullpens and offices in response to events. They all reflexively follow — sometimes unconsciously, sometimes not — the kind of code spelled-out more succinctly than me, by Moonbat Exterminator.
Like all liberals, no matter where they are — somebody's house, a restaurant or bar, anywhere — when they say something, they think everybody in the room agrees with them. But in the case of the media, it's actually true.
The brutal reality is this: the mainstream media generally cast aspersions, scandalize, hammer, smear, castigate, and mock the Right, whatever the truth; but they aggrandize, iconize, coddle and featherbed the Left, and whitewash their scandals (i.e., calling them "phony scandals"), in order to advance their progressive agenda. They are progressives.
Because they're so stuck in that liberal-left mindset, or they're peer-pressured by their co-workers, they also habitually, robotically, reprint — like they're Obama's own steno pool — the talking points of the Obama administration, or any left-wing organization, for that matter. And speaking of "matter", the far-left and rabidly anti-conservative organization Media Matters is a favorite source of info and quotes for the mainstream media steno pool. Mainstream media also refer to the reliably pro-Obama, progressive mouthpieces like the New York Times, Washington Post, MSNBC, MoveOn.org, Barack Obama's cult-like Organizing for Action, or any number of other systemically infected liberal-left-advocating outfits.
And they'll do it without question. Gone are the intrepid investigative, prodding, or even the mildly curious journalists — unless of course the story concerns, as Moonbat Exterminator said, a white-on-black crime, any gun crime, any conservative — a Republican, or worse, a tea party patriot.
For example, virtually no (non-Fox News Channel) mainstream media dare question Obama on any of his radical left-wing policies, his obvious hypocrisy, his blatant, outright lies, or the many stupid things he says or does, least of all the biggest and stupidest thing of them all, Obamacare; or about the stagnant economy, post the economy-wrecking trillion-dollar "stimulus" that we were assured would cure it. Yet Associated Press relied on a team of 11 reporters to try to dig up dirt on Sarah Palin and her best-selling book. Mark Steyn explained at the time:
By Mark Steyn
November 14, 2009 7:19 AM

If you wonder why American newspapering is dying, consider this sign-off:

AP writers Matt Apuzzo, Sharon Theimer, Tom Raum, Rita Beamish, Beth Fouhy, H. Josef Hebert, Justin D. Pritchard, Garance Burke, Dan Joling and Lewis Shaine contributed to this report.

Wow. That's ten "AP writers" plus Calvin Woodward, the AP writer whose twinkling pen honed the above contributions into the turgid sludge of the actual report. That's eleven writers for a 695-word report. What on? Obamacare? The Iranian nuke program? The upcoming trial of Khalid Sheikh Mohammed?

No, the Associated Press assigned eleven writers to "fact-check" Sarah Palin's new book, and in return the eleven fact-checkers triumphantly unearthed six errors. …
…and the "errors" were hideously inconsequential.
With few exceptions, the only people who "fact-check" Obama or the Democrats or any in their mob of sycophantic media, are grassroots, non-mainstream media folks. Or at least that's all who actually commit their findings to words or print. So keep doing it, people.
Everybody knows all of this, which, if you're keeping score at home, makes this article pretty redundant. But redundancy works well for the Left who shout "RACIST!" all day long at any Obama or left-wing opponent, to the point where the liberal media has now become emboldened by the phony mantra, and glibly, routinely, call conservative groups like the tea party "racist." So more people need to write the truth about the corrupt media, and say it out loud, and turn the tide.
As Michelle Malkin points out in her column, it's freedom which is at stake, and it's the grassroots that need to rise up to protect it. Forget the mainstream media. They're against you.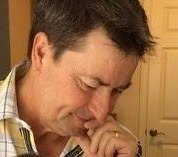 Latest posts by Joel Johannesen
(see all)