Tories would get the boot in any other province
The provincial Progressive Conservative leadership race is starting to tear the party apart.
Various candidates now admit the party—and Premier Ralph Klein's government—have lost touch with the people.
Some candidates confess spending is as out of control as a hurricane.
This so-called Conservative government now outspends every other provincial government in Canada on a per capita basis, even more than the federal government.
It has more government employees per capita than any other provincial government and the federal government.
Conservative? In name only.
Other candidates now confess the Heritage Fund—-which has been raided in the billions of dollars for pet projects—must be safeguarded in future. Put at arm's length from the politicians.
Even the issue of the
Klein team being rife with patronage and pork-
barreling is now being
quietly admitted.
In any other province, the government would be finished, no matter who the new leader is.
Klein lingers—on life support—only because he conquered the debt and balanced the budget.
Again, we need two-term limits for premiers.
If Klein had retired after his second full term after 1997, he would have gone out a hero.
Not, as today, a man who had to be forced out.
I could see the start of the rot way back after Klein promised the only way taxes were going in Alberta was down.
Then-Provincial Treasurer Pat Nelson hiked taxes $700 million a year—every year—and Klein sat back and said nothing.
The $400 "Ralphbucks" cheques were a pittance compared to the repeated $700 million yearly we all pay.
Liberal Leader Kevin Taft must be weeping.
He sees the rot, as most of us now do, but knows his party doesn't stand a chance.
Its brand name is cancer to voters.
Alberta Alliance Leader Paul Hinman must simply wonder whether he will pick up a handful of seats—five—or two hand-fuls—10—come the next election.
Right now, I'm told repeatedly MLA Ted Morton has nudged himself into the lead over former provincial treasurer Jim Dinning—who actually did eradicate the accumulated debt and balanced the budget—and Brooks MLA Lyle Oberg who appears to be in third place.
Forget current opinion polls.
They are based on public name recognition only, not on PC members with voting rights at the convention.
Morton is out there spreading the word and spreading his membership base.
Why Morton, and what's happened to Dinning?
Morton is talking tough.
He's a no-nonsense type.
Ted also knows the government needs a "cleansing" from the Klein patronage regime.
Dinning is talking platitudes, no real vision.
Also, there'll be no "cleansing" under Jim.
Klein's "gravy train" cronies will just move into Jim's entourage.
Indeed, some already have.
The "Anyone but Dinning" scenario is now coming ever more closely into play.
If Dinning fails to win on the first ballot, which seems ever more likely, who will the likes of Dave Hancock, Ed Stelmach and Mark Norris back—Oberg or Morton?
Not Dinning, for sure.
Can Dinning turn it around?
Is it possible to head off Morton—who would give the government a new look and the legislature a clean sweep?
Yes, it still is possible.
But Dinning would have to dump a stack of his advisers and individuals on his campaign team.
Plus, give us some no-holds-barred forthright policies.
And, Jim, a feeble "lobbyists registry" or weak rules are not enough to end the patronage and pork-barrelling image the Klein government has attained.
Anyway, Jim, it's up to you, or, as John Diefenbaker used to say after some debacle that ended a politician's career: "I told him to seek help, but he wouldn't listen."
Are you listening, Jim?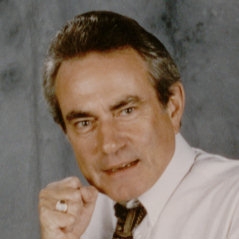 Latest posts by Paul Jackson
(see all)