It's all over folks. It. Is. Over. Forget about it. Like it never happened. Do not re-refer to it again, because like we said, it is over. It is so over. It is so 2019. In 2020, do not mention it. Mostly don't mention Trudeau in association with it. Or Liberals.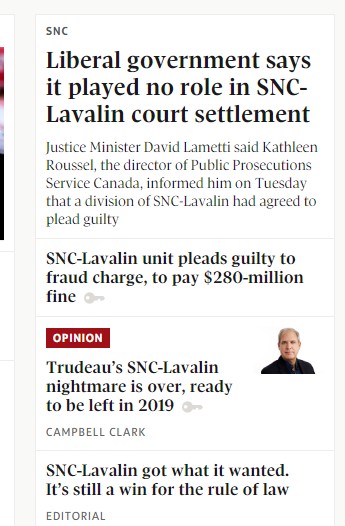 Among the top headlines in today's Globe (the others either celebrating or advertising Trump's (ridiculous) impeachment, or other articles about how we're supposed to forget Trudeau and SNC-Lavalin):
Trudeau's SNC-Lavalin nightmare is over, ready to be left in 2019
The Globe and Mail wants you to know that this is O-V-E-R.  Don't worry: another article acts as Trudeau stenographer, and dutifully informs you, dear reader, that Trudeau's Liberals "says it played no role…". So it's over and the Libs played no role. Well if they said so, then obviously they need not be questioned about it! Just report it! In fact, make their talking point the very headline itself! A "news" headline! Done.
Liberal government says it played no role in SNC-Lavalin court settlement
So you've been instructed and fully informed. It's all over. Libs had nuttin to do with it. In fact you've been repeatedly informed by several featured headlines in the "news." Bringing the subject up ever again is just so 2019 and so not cool.
(For their part, the Star is already so past all this non-story that they have virtually nothing on it today. Like it didn't even happen. Spot the one teeny tiny article way down the page out of 65 articles on their online page today, which only barely broaches the subject by way of Trudeau apologetics.)
Among the more ridiculous sentences contained in the Campbell Clark "it's over" article: "But the Liberals can celebrate that Canadians won't be reading daily headlines about the trial that Mr. Trudeau apparently never wanted the company to face, and the case that spawned the SNC-Lavalin affair."
The Liberals can celebrate? Whooboy.
And… what "headlines," exactly? We haven't seen headlines about this since, well, very shortly after the story broke. And certainly not since the election campaign even remotely got started and it became important to the liberal media to absolutely bury that story, and instead, hammer Andrew Scheer on mundate nonsense —which the "news" media absolutely did.
Not everyone agrees this is over, not least Conservative MPs and citizens who may demand a committee investigation or two, since any kind of investigation has thus far been stonewalled (I believe they call this "obstruction"). They're not mentioned in the articles. And there's just this one sentence buried deep within one of their "news" articles today: "The RCMP would not say Wednesday if they are still examining whether to launch a criminal investigation into obstruction of justice."
RCMP, shmarceempee. Am I right? Even if many Canadians including the RCMP aren't done yet, and may yet criminally investigate our prime minister for a felonious criminal act, these journalists are done. "The Liberals can now celebrate". Ce– le-brate good times come on!
The hideous irony is that Donald Trump is the one who was impeached for "obstruction" — of congress, not justice — not criminally, arguably unconstitutionally, not remotely fairly, based on no police investigation (FBI and others are themselves the subject of investigation and official rebuke by the FISA court), and largely on purely partisan, hateful, spiteful, divisive politics and a very cooperative left-wing media. This, on the same day as the SNC-Lavalin guilty plea story, replete as it is with credible but well-buried accusations of actual obstruction of justice at the hands of Trudeau and his Liberals and his PMO.
Golly I wonder if the Globe will simply forget about Trump's impeachment, too, now that it's identically "over."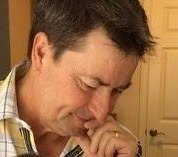 Latest posts by Joel Johannesen
(see all)