Words mean a lot. Like it's the National Post newspaper, not the National Pot newspaper. It's journalist, not politician.
Hat tip to Cathy who forwarded this email from Conservative Party MP Chuck Strahl's email list. Chuck Strahl is the new Minister of Agriculture.
[…] The interview went well, I thought. The photographer took photos of my starkly empty office, nary a wall-hanging, book, or staffer in sight. We spoke about the advice I had received about hiring people and how to conduct myself, and then we went down to the cafeteria for lunch. I try to be a casual guy, and enjoy a good joke with whoever is close by. So I'm standing in the lineup, swapping stories with some of the Ag [Agriculture] Canada staff, when it seemed appropriate to drop one of the oldies-but-goodies into the conversation.

"How many politicians does it take to grease a combine?", I ask the guy waiting for an egg salad on pumpernickel sandwich. "Only a couple – but you have to feed them in nice and slow".

As long as you know what a combine is, and that you need to 'grease it' for maintenance, the joke is fool proof. Farmers love it, although they tend to think it's simply a statement of fact, rather than a real joke.

The article appeared in the Saturday Post, and everything went as interviewed except (I'm suffering angina attacks just writing this) EXCEPT the journalist retold my joke and mistakenly used the word "farmers" instead of "politicians"!! Thank goodness I wasn't eating when I read it or I would have choked for sure. Imagine! It sounded like the new Agricultural Minister was mocking his farmers!

I phoned the journalist immediately, not to get mad at her (the article is printed – what can you do?), but just to give her a hard time about getting her quotes wrong. She didn't pick up her phone, so I left a message threatening to give out her phone number to every irate farmer who phoned me in the middle of the night.

I won't change my style, so I'll just have to hope any subsequent interviewers get the lines right. Or perhaps, just maybe, I simply need some new material.
I sussed out the actual article—it's here. The wordsmith was Julie Smyth. She wrote:
[…] Then, while in line at the cafeteria ordering a sandwich for lunch, he tells departmental staff his "how many farmers does it take to feed a combine" joke. The punchline, which ends with something about feeding them in slowly, is not in the best taste, but generates laughs from the employees who seem to be aware he is the new boss. […]
Golly gee whizzakers! And the honeymoon is already over with the new Conservatives? Ya don't say! How do these things happen?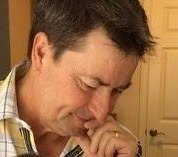 Latest posts by Joel Johannesen
(see all)