By Michael Coren
Last Thursday evening, I received the following e-mail from a CBC researcher/ producer named Ghazala Malik: "I am mailing you from CBC News Sunday—hosted by Evan Solomon and Carole MacNeil. I was wondering if you would be available to take part on our Political Panel this Sunday the 6th of May.
"You would have to be at the CBC Toronto Studios by 9.30 a.m. EST and should be done within an hour. There will be two other panellists. It will be on live and the length will be approximately 10 minutes. The topic of discussion is the budget."
This came a few days after an e-mail discussion I had had with Ms. MacNeil, the extremely talented co-host of the show, in which she had told me that she'd like to have me on as a guest.
I replied by e-mail to Ms. Malik that I would be delighted to appear, and we discussed various details by e-mail. I then spoke to her by telephone to confirm my appearance and she told me that Brian Laghi of The Globe and Mail was also on the panel and that she was still looking for a woman to join us.
I suggested some names, particularly of women economists on the left of the political and economic spectrum, who had appeared on my own television show and had performed well. All was agreed and, for a second time, confirmed.
At 6 p.m. on Saturday I received a call from a seemingly embarrassed Ms. Malik. "I'm afraid I have to tell you that we're cancelling you for the morning. I'm so sorry. I do apologize for the inconvenience."
I replied that it was indeed rather inconvenient because I had rearranged my Sunday to accommodate her, and that it was purely fortuitous that she had caught me at home. But, I continued, the greater point was why I was being cancelled.
"Well, we've just had our meeting and it was decided to change the panel."
I asked if the panel was being changed because of me. There was a pause. And then, "I have to be honest, I'm not going to lie or beat around the bush. Yes, it was."
I asked how many people were at the meeting and was told there were "about 10." I asked who some of them were but was told, "it would be unprofessional of me to tell you that."
When I pushed for a more full explanation, the thickness of the plot became ludicrous. "We have to book panels that work together." Fine, I replied, you don't actually have a panel yet and the only person you are cancelling is myself. Mr. Laghi, the other panellist and someone I don't even know, has not been cancelled and no third panellist yet booked. And, anyway, why would this panel not work?
There was no explanation.
I reassured Ms. Malik that I wasn't angry with her but emphasized that this had happened to me in the past at the CBC, and that it was obvious that I was being cancelled because of people who objected to certain conservative, particularly morally conservative, voices in the media. (As readers of my columns will know, I am an advocate of traditional Judeo-Christian ideals. In particular, I oppose both gay marriage and abortion.)
I continued that I had not been pre-interviewed and that the people at the meeting didn't even know where I stood on economic issues—in fact I am extremely progressive on certain policies, such as forgiving Third World debt and a massive public investment in psychiatric medicine. There was no logic but piles of guile in such a decision.
I shouldn't, however, be surprised. I was once cancelled at the actual reception desk at the CBC, the show's booker telling me, "the union don't want you on." That incident produced an apology from the head of Newsworld.
I had an entire CBC radio interview prevented from going to air because, according to the producer, "it's extremely good but there are people here who simply hate you."
Nor am I alone. Dozens of genuinely conservative commentators in the country could tell you similar stories.
It's certainly not the fault of Carole MacNeil or Ghazala Malik. It's not even the fault of the liberal gatekeepers who so fear and despise contrary opinion. It's the fault of a culture that we have allowed, by our indifference and our tax dollars, to smother what could have been a balanced public broadcaster.
People used to run away to sea. Now they run away to the CBC. Well, at least the ones who don't like freedom of speech do so. The rest of us simply have to learn how to swim. With sharks.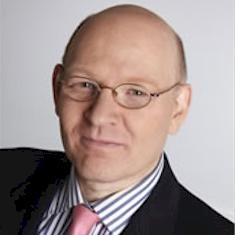 Latest posts by Michael Coren
(see all)