Life is much too short for pettiness
A decade or so ago I used to drive my ailing and aging friend Morty Milner to schul on a Saturday morning at Beth Tzedec Synagogue.
Now and again, I'd drop into schul myself, not only did the long, long service give me time to quietly think, it was reminiscent in many ways of a traditional Roman Catholic Latin mass.
Quite beautiful.
Now, when Morty realized his time was coming to an end, he told me he'd like to leave me some money for all the kindness I'd shown him and the help I'd given him.
I said, no, and to give it to some Jewish charity instead.
Later, on finding out just how much Morty had planned to leave me, I could have kicked myself, for the bequest would have solved my financial woes for some time to come.
That said, various Jewish friends had planted so many trees in Israel for me, they must make up a forest.
One year Saturday fell on the modern—but not Jewish—New Year's Eve and the rabbi at that schul gave a sermon I have never forgotten.
He was speaking against "fortune" tellers—palm readers, tea cup leaf ponderers, card shufflers or other types who make a living predicting someone's future.
The rabbi's main point was so many bad things might be headed our way—from big disappointments such as job losses, broken hearts, stock market plunges, or real tragedies such as dreadful illnesses and the deaths of loved ones—that if we knew in one fell swoop about all of them, we wouldn't be able to take it.
One at a time we can, because in between those mishaps, good things also happen that soften the blow for the next mishap.
Think about the rabbi's message—what wisdom.
Coincidentally, the Roman Catholic Church frowns on such "fortune tellers" too, but not for the same reason. The Church believes if everything is predestined, individuals have no free will.
Life is set in course for them and they can't change it. If that's so, evil individuals have no choice but to be evil.
Hence, even a serial killer deserves no punishment, only understanding.
Which is preposterous.
One of the finest books about how to get through troubled times is When Bad Things Happen to Good People by Rabbi Harold S. Kushner. It was deemed so remarkable, the Christophers, a Roman Catholic group, named Kushner one of the 50 people who made the world a better place in the last half of the 20th century.
The good rabbi has published other inspirational books, and his works are reminiscent of the Protestant minister Dr. Norman Vincent Peale, most famous for The Power of Positive Thinking and The Tough-Minded Optimist.
Somewhat in the same vein was Roman Catholic Bishop Fulton J. Sheen who penned more than 50 books before his death in 1979, and had a nationwide radio show that started in 1930 and during the 1950s his Life is Worth Living series on television.
Amidst the current chaos and uncertainty of the world, I have my own little philosophy. It's built on the concept if you are nice to people, life will be nice to you, but if you're mean to people, one day life will knife you between the shoulder blades.
On this basis, I do not care if someone is white, black, yellow, coffee-coloured or polka-dot, if they treat me decently I'll be their friend.
Likewise, it worries me not whether someone is Christian, Jewish, Muslim, Hindu, Sikh or Buddhist, if they treat me decently I'll be their friends.
And, finally, one of my witty, but true—well, I hope both witty and true—sayings is that while I'm paid to be a right-wing conservative columnist, and believe fully in what I write, when the bell rings at quitting time I do not take politics into my personal life.
Life is too short for pettiness.
And I do not have so many friends I can't use a few more.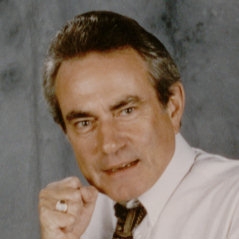 Latest posts by Paul Jackson
(see all)