Pollution of the mind real threat to society
I'm a dedicated Conservative, partly because I do not want sanctimonious, meddlesome busybodies telling me how to live my life.
Which definitely puts me at great odds with Calgary Lougheed MLA Dave Rodney.
Dave, in my book, is very clearly a Conservative by convenience rather than conviction.
Right now, he's gone off on another overly-zealous tear to have a province-wide draconian Smoke Free Places Act forced down our throats by 2007.
That's even though smoking in all commercial and non-commercial places to which the public is admitted will be banned as of Jan. 1, 2008.
That's not good enough for Dave. A year or so ago, as a rookie MLA, he tried to push a private member's bill into law, only to see a revolt by far more rational and longer serving members.
Now, aside from the occasional cigar with a sniff of snuff and a glass of port at a military banquet, I don't smoke.
Don't advise anyone else to smoke, either. It's hardly an endearing habit, and a dangerous one, too.
A bit like voting Liberal or New Democrat.
Yet I'm tired of puritanical, pompous types shoving their personal preferences down my throat.
The truth is, the anti-smoking fanatics are only the tip of the iceberg to regiment society from top to bottom.
They—although Rodney may not yet know this—have already turned their attention to snack food and fast food restaurants.
Prominent and influential people, including the president of the Canadian Medical Association, Dr. Ruth Collins-Nakai, are calling for a special tax on snack foods in order to make us eat celery and carrot sticks rather than candy bars.
In the U.S., outfits like McDonald's, Burger King and Wendys are already under the gun from pressure groups and face potential class action lawsuits from individuals who claim obesity is poisoning and killing people.
At the extreme end of these radicals, animal rights types want to ban anyone from having pets, claiming that to have a puppy, kitten or budgie is enslaving these animals and birds.
Meanwhile, filth pours from our movie and TV screens.
Obscenities roll from the lips of rap singers.
Go to any number of movies or watch any number of late night TV shows and a deluge of non-stop violence and four-letter words pour from the screen. Pornography is rampant.
It's pollution of the mind, and we see the results in the lack of morality and growing savagery amongst our young people.
Do the holier-than-thou types who are off on their anti-smoking, anti-snack food and anti-fast food campaigns, pay any attention to halting the real rot in our society?
Not to my knowledge.
Now, I'm not hinting at all that Dave is connected to any of the wing-nut types mentioned above, but he should know there is dangerous territory out there inhabited by some very totalitarian mindsets.
OK, OK—the anti-smoking types bleat about second-hand smoke harming non-smoking individuals.
What about the "second-hand" harm pollution of the mind does to innocent people?
Homes are broken into, cars are stolen, girls are raped, others become pregnant and are ditched by the procreator and left to fend for themselves.
Their kids grow up in poverty, and also with few values.
Drug use is a real scourge in our society, ruining tens of thousands of lives—but who campaigns to get the death penalty for drug pushers?
For sure, Rodney is chairman of the Alberta Alcohol and Drug Abuse Commission, which is indeed trying to do some good work. But rather than try and turn youngsters around after they've become addicted, shouldn't we be preventing them from becoming addicted in the first place with draconian penalties for drug trafficking?
Just recently, the Supreme Court of Canada decided "swingers" clubs and wife-swapping clubs were not an affront to community standards.
Hence, you can join a commercial club and indulge in all kinds of sexual depravity—just don't have a relaxing smoke after you've done you know what.
Why have we heard no outburst from the nitpicking types against an abomination such as this?
Dave, my friend, your colleagues and yourself may well have many commendable virtues, but if I lived in Calgary Lougheed I'd be voting for a real 100% Conservative come the next provincial election—likely the Alberta Alliance candidate.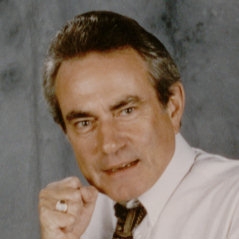 Latest posts by Paul Jackson
(see all)