Hey @CBCAlerts! Look! That ignorant self-absorbed Sarah Palin is taking a selfie at Mandella's funeral! REPORT!http://t.co/TGjfdJjYaI

— Joel Johannesen (@JoelJohannesen) December 10, 2013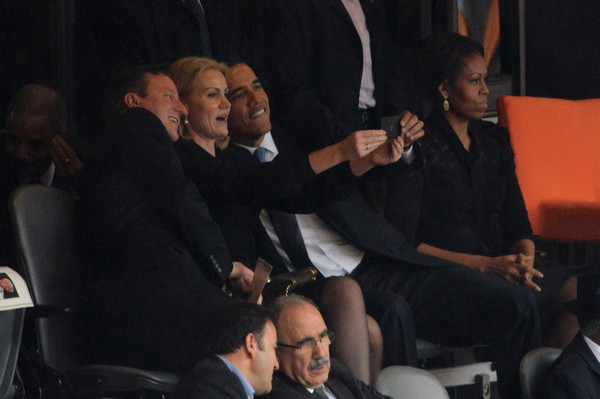 Oh sorry CBC, I made a typo in my tweet to you (@CBCAlerts) about this. It was actually your Barack Obama taking a selfie complete with that lip-bite pose (better than the duckface, I 'spose).
But you'll still report it exactly the same way, right? Naturally, in this case, he is of course to be described as a genius, gaffe-less orator and a brilliant leader who thinks only of a better America for the working woman, and a grand man who took this selfie only in pursuit of the noble, historic significance of his being there at Mandella's otherwise all-too-sombre funeral; and not an example of an abjectly self-absorbed left-wing "whackjob"…
Yeah  —  a "whackjob"  —  as you called a Republican presidential candidate and congressman , Michelle Bachmann, in one of your displays of that famous liberal-left nuance, and intelligence, and tolerance, and understanding, and diversity-luvin' (and definitely NOT another example of a "war on women"!):
…According to the CBC news anchor Kim Brunhuber this morning, quite possibly, Republican candidate Michelle Bachmann "has 'outwhackied' Sarah Palin, which is hard to do…" clearly implying – no not implying, clearly LABELING — Sarah Palin as a whack job; and Michele Bachmann an even bigger whack job.

Nice smear. On the news. By a news anchor.
Ironically, the man representing the state-owned CBC in South Africa today is none other than that same Kim Brunhuber, who must have seen that selfie of Obama making the rounds on the internet today, since I know he loves the Google for his prime research as an investigative political reporter.
So I'm waiting for that smear of their man Obama. Any time now. I'm so sure they'll be reporting on this, and fairly, too.
 P.S. I'm not sure if the Obama selfie happened before of after the handshake with the communist dictator of Cuba, Raoul Castro.