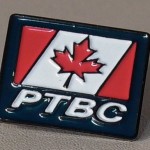 UPDATE:
We have decided to stop selling the PTBC lapel pin, because it was made in China. We're sure you understand.

You can still contribute to PTBC using cash! Click here.
---
The idea is to vote with your dollars and support PTBC, in addition to demonstrating your Canadian patriotism. Do it right, with a distinctive, properly right-leaning Canadian flag —as depicted in the PTBC site banner. If you don't like our website, or you aren't proud to be Canadian, you can pretend PTBC stands for Progressives Tax Butt Cracks. Which they would if they could.
Details:
See the big pictures below.
• They're 5/8" across, 1/2" top to bottom.
• They're black oxidized plating on metal, enamel painted in PTBC colors (essentially our red and white flag atop a navy blue background), with the flag graphic and PTBC letters raised slightly.
• The fastener is a "butterfly" clip on sharp thin pin.
Cost:
$20.00 each. Cheap at twice the price. Your purchase supports the PTBC web site.


Pay by PayPal or your credit card using the Add to Cart button, below-left. You don't need a PayPal account. Through PayPal, you can also pay directly with your Visa, Amex, or MasterCard, all without revealing any of those account numbers to us. You'll be asked for a mailing address so the pin can be sent to you.