Vancouver Sun
The BC NDP occasionally betrays its native instincts, wherein they play out their perceived role as big yummy socialist mommy to the people (or daddy, or whatever these woke trendies call moms and dads these days — I think it's "non-binary parental unit" or something). They sincerely believe the government's role is to look after the plebeians like they are their helpless children, and provide everything from healthcare to housing and basic income and food and liquor and safety and entertainment and pot and car insurance and all the way up to emotional support and comfort… to all the stupid people (which is all the people aside from themselves who are super smart and far more capable and more mature and super-elite, make no mistake).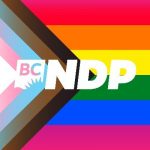 ¶ Some small towns are suffering from an unusually troublesome wildfire season, and the nobs at the NDP tweet this out: "Wildfire season is scary, and that's OK."  It got a lot of backlash, and what did the NDP do? Delete it and grovel out an equally sucky apology, as if I had to tell you.
¶ Aside from that sickeningly patronizing, paternalistic (or maternalistic, or non-binary or [email protected]%@) and gratingly condescending tone, they of course had to do it with that equally vomit-inducing and ever so trendy and woke-aware pro-gay Twitter logo.