Quick start from Harper's Tories sets Canada in right direction
Prime Minister Stephen Harper's Conservatives have just about sewn up a majority government come the next federal election.
This is quite a remarkable—even stunning—achievement for a government in power barely three months.
The Bill Graham Liberals are now reeling, Jack Layton's New Democrats are exhibiting feigned outrage, and Gilles Duceppe's Bloc Quebecois, realizing Quebec now has a conciliatory voice in the federal cabinet, isn't going to do anything that might undermine Harper's government. Hence the immediate decision by Duceppe to support the Conservative budget.
Harper is simply steering a new direction for Canada and even doubters are now realizing the nation is in far better hands than in the previous 13 years before Jan. 23.
There's been barely a stumble, and any stumbles there have been, have been quickly forgotten as Harper and his team strike boldly forward.
Yes, I know British Prime Minister Harold Wilson's dictum that even a week is a long time in politics, but as the weeks and months start to pass, Harper is simply going to solidify his reputation with Canadians as a leader who can lead.
The outside world is already beginning to notice we have a youthful, vibrant leader in Harper, with a vivacious blonde wife, Laureen, and two delightful kids, Benjamin and Rachel.
The optics, as they say, can't be beaten.
Look at Harper's two predecessors, the ruffian-looking Jean Chretien and the dithering Paul Martin who tried to shout his way out of any dispute.
Neither were Page 1 material for the mass-circulation colour mags.
Harper's early visit to Afghanistan had the Liberals and New Democrats spluttering.
How could they criticize that?
Now, we have the visit of Foreign Affairs Minister Peter MacKay to Kandahar.
The message is twofold: These are men of action, and men who care about our troops on the frontlines.
Queasy individuals such as Chretien and Martin avoid danger like the plague. Gutless, both.
In less than three months, the disastrous relationship with the U.S. has been repaired.
Neither Chretien nor Martin—due to their heinous behaviour—could hardly get a phone call returned from President George W. Bush, nevermind getting a foot inside the White House door.
Now, the doors are wide open for Harper and Canada's ambassador to Washington, my old colleague Michael Wilson.
And "voila!"—as Harper in his superb French might say—the softwood lumber deal is settled
Just cringe, Chretien and Martin.
MacKay cuts federal funding to the Palestinian Authority, now led by the terrorist group Hamas, and Canada now backs Israel in the UN.
Public Safety Minister Stockwell Day quickly builds a rapport with his U.S. equivalent, Homeland Security Secretary Michael Chertoff, and slams the hoodlums in the Tamil Tigers on the banned terrorist list.
The nihilistic Liberals, who squirmed at the word 'principle' and didn't have the mettle to do any of these things, just gasped.
Defence Minister Gordon O'Connor, who actually pulled on a uniform for 30 years during his time in the military and rising to the rank of general, announces a boost in spending of $5.3 billion over five years.
Another election or so and we'll double the military budget, which Martin slashed by fully 25% in cash and personnel.
We'll soon walk proudly on the world stage, again.
Environment Minister Rona Ambrose is tearing up the bogus Kyoto Protocol and hints Canada will join the likes of the U.S. and Australia in the Asia-Pacific Partnership on Clean Development and Climate (AP-6).
Under AP-6, so-called greenhouse gas emissions in the U.S. have risen only 13% in recent years, Canada's by 24%.
Which system is most efficient and effective?
The figures speak for themselves.
As an addendum, the taxpayers' money being doled out to dozens of phony environment groups supposedly promoting the equally phony science of Kyoto is being halted.
Howls all around from the pseudo-scientific types.
Perhaps the money will go into more tax cuts. Or to reduce the $486-billion accumulated debt so our children will pay fewer taxes.
Graham theatrically lashes out at the Conservatives, hypocritically blaming all the ills of the past 13 years on a party that has been in power for only 14 weeks.
Well, even Harper and his team—superior in every aspect to the Chretien and Martin cabals—can't clean up more than a decade of Grit mismanagement and malfeasance in less than four months.
But give us a couple of years, and we'll be well on the way.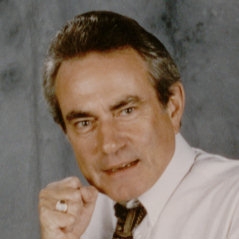 Latest posts by Paul Jackson
(see all)