Until just recently, the UNCW administration was trying to deprive me of both a) my right to appeal their decision to deny my promotion to full professor and, b) my right to a written explanation of that decision. Now, the leader of our local communist dictatorship has given me a written explanation although I am told by university officials that I have no right to use it in an appeal. In fact, here at UNC-We Hate Due Process, I can't appeal the decision with any documents at all. There is no appellate process whatsoever.
Given that I have won several teaching awards and wildly exceeded the average productivity of my colleagues – even in refereed or "scholarly" journal publications – it was assumed by most observers that my denial would be explained on the grounds of "collegiality," or lack thereof.
Those observers were wrong. According to the written explanation I have now received, I am deficient in all areas; teaching, research, and service.
As I sat back in my office – with my 1998 UNCW Professor of the Year Award hanging just to my left and my 2000 Faculty Member of the Year Award hanging just to my right – I read carefully the portion of the letter saying my teaching "does not satisfy the standard" of promotion to full professor. By the time I finished the letter, I was struck by an awesome realization:
THE POWERS THAT BE AT UNCW ARE PUNISHING ME FOR MY PUBLIC CRITICISM OF THE UNCW DIVERSITY MOVEMENT.
Given this new revelation, I have decided to conduct myself in a manner more consistent with the character of my colleagues and my so-called superiors. Specifically, I have decided to imitate and perhaps even surpass my colleagues in two crucial areas required for promotion to full professor: 1) Individual Cowardice, and 2) Intellectual Dishonesty.
In order to accomplish the first of these two goals, I hereby offer the following apology to my colleagues at UNCW: I am sorry for criticizing the UNCW diversity movement. I really mean that.
In order to accomplish the second goal – of matching the near-total intellectual dishonesty of my colleagues – I am going to demonstrate the sincerity of my apology by focusing only on the positive aspects of the diversity movement.
Today, I begin my new career as a diversity proponent by telling you three stories – each one about a different UNCW student whose life was forever changed by the diversity movement at UNCW.
The first story is of Ashley (not real name) – a girl I met the other day in the parking lot by the Cameron School of Business. When I first saw her, she was making out with her boyfriend in his Chevy Blazer right in front of the entrance to the parking lot. I waited until the line of cars behind me was eight deep before I even thought about tapping the horn lightly to let the young couple know they were holding up cars waiting to get in the rapidly filling lot.
Just before I hit the horn, she got out of the Blazer and started to walk away. After three steps, though, she decided to return to the Blazer for one last kiss. That's when I tapped the horn as lightly as possible to let her know there were other people in the world besides her and her boyfriend.
But, apparently, Ashley didn't like that little tap on the horn. After she slammed the door of the Blazer she shot me the middle finger and shouted "f—k you!" at the top of her lungs. But she wasn't through. After taking a few steps, she stopped, turned around, and flipped me the bird again shouting "f—k you!" as loud as she could.
So, naturally, I did what any white heterosexual Christian male would do under the circumstances. I kept a close eye on her, parked as fast as possible, and chased her down before she got inside the Cameron School of Business. When I caught up to her, I thanked her for her contribution to diversity at UNCW. The cultural norms regarding consideration of others and use of profanity and crude hand gestures in public are all antiquated norms developed by an oppressive white Christian patriarchy. By rebelling against them, she was showing us that each individual must carve out her own way of doing things, regardless of the tradition of the dominant culture.
The same thing can be said of Eric (not real name). I kicked Eric out of one of my classes the other day for bring a cell phone into a test. He ran down to the office to put the cell phone on the secretary's desk in our main office and then ran back to get seated before I passed out the exam. But, unfortunately, after the test was over Eric found out his cell phone had been accidentally locked in the secretary's filing cabinet. That's when Eric showed us that he has a unique perspective on the laws of trespassing and intentional destruction of personal property.
Without hesitation, Eric began pulling on the file cabinet door in an effort to break the lock and recapture his cell phone. He knows that the laws he was breaking were written by white Christian men who probably owned slaves. Not only that but he was ten minutes overdue to call his girlfriend. If he didn't call her soon, he knew he wouldn't get any action later on that night. Eric likes to fornicate outside the confines of marriage in order to contribute to the diversity movement's emphasis on sexual freedom. Since he's white and he isn't gay, his ability to celebrate diversity is somewhat limited.
And, finally, there is Chastity (definitely not real name). She came to UNCW last year as a very conservative Christian girl from a rural area. But, this year, her life has taken a different turn. My wife ran across her profile on the internet and found pictures of her smoking pot out of a water bong. She had also posted comments (in chat rooms) littered with the f-word and every other imaginable form of profanity. And she posted pictures of herself – always holding a beer bottle or a shot glass – with her breasts falling out of her shirt.
After just one year at UNCW this nice conservative Christian girl has turned into a pot-smoking, foul-mouthed, drunken slut. And that's cause for celebration at the Diversity Office where kids are encouraged to discard their parents' values in exchange for the philosophy of moral relativism.
So those of you who thought I was incapable of saying anything nice about the diversity movement were clearly wrong. When I speak at The University of Minnesota-Morris this Thursday night – October 26th at 7 p.m., free and open to the public! – I'll do the same thing for the feminist movement. Can anyone loan me a bullet-proof vest?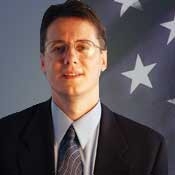 Latest posts by Mike S. Adams
(see all)