B'nai Brith has written up a quest for disqualification of a Liberal Party candidate in Quebec — an Islamic religious leader (an Imam) — who sounds very much like an anti-Semitic, anti-Israel extremist to me. Not very sunny.
They write:
… In January of 2017, [Hassan] Guillet celebrated the release of Raed Salah, a Hamas-aligned activist who has accused Jews of staging the 9/11 terror attacks and has claimed that Jews use children's blood for baking "holy bread." The candidate went on to hail Salah as a "jihad-fighter" and "frontier-fighter" whom "Allah will surely support." Guillet offered his congratulations to Salah on being freed from "the prisons of occupied Palestine," and prayed that he will some day be successful in the fight to liberate "the whole of Palestine." Salah had been serving a nine-month prison term in Israel for "incitement to violence and racism."

These posts no longer appear on Guillet's social media.
…But I went ahead and made a screen capture of an archived version of one post for you: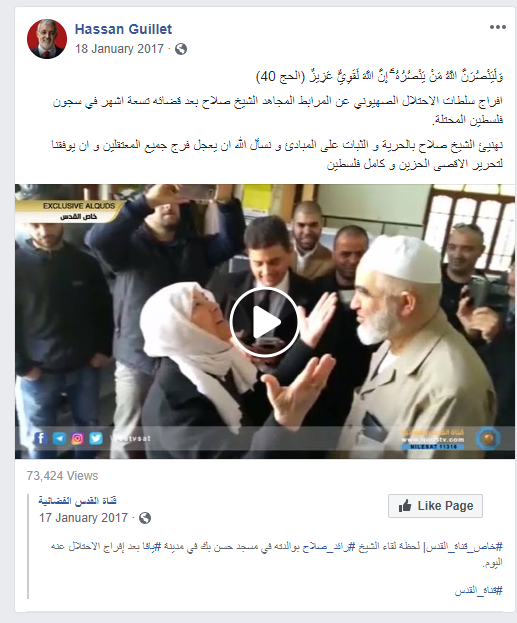 Translated from Arabic via Google: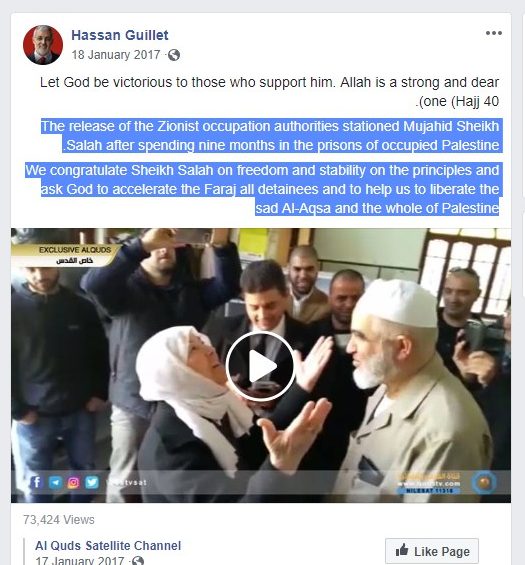 Those remarks doesn't seem to align at all with either Justin Trudeau's or the Liberals' stated — stated — policy on Israel. Does Trudeau have a comment on how this doesn't align with party policy? (The media – especially the state-owned CBC – is extremely (and I mean EXTREMELY) interested in getting to the bottom of a slight disagreement between one Conservative Quebec candidate and Conservative/Scheer policy on abortion, to the point where they are literally obsessed with it, focussing on it with endless lengthy segments featuring various talking heads and reporters, on their "news" channel. It's fake news, as if I had to tell you.) So, does Trudeau agree with him? Do the Liberals call Israel a "Zionist occupation of Palestine?" Please clarify. And news media, please get your heads out of your butts. Thanks.
It goes on:
In a late 2017 interview with Radio Canada International, Guillet called Israel an apartheid state. Guillet also accused Jared Kushner, the Jewish son-in-law of U.S. President Donald Trump, of directing his government to support an "Israel first" agenda. He accused Kushner of dual loyalty because of his Jewish background and inaccurately described him as an "ultra-Orthodox" and "fundamentalist" Jew.

Guillet has also stated on Facebook that "the Zionists control American politics," promoting the common antisemitic trope of Jews manipulating world governments.
…And here is a screen capture of that one, similarly from an archived version of Facebook and translated from French by Google:

"The antisemitic tropes of 'Zionists controlling governments' and of 'dual loyalty' are two of the more abhorrent expressions of paranoid anti-Jewish conspiracy theories," said Michael Mostyn, Chief Executive Officer of B'nai Brith Canada. "Radical and racist statements such as these must result in the immediate disqualification of a candidate for political office. It is unacceptable for any candidate to speak in this deplorable fashion toward any religious minority." …
Anti-Semitic tropes almost exactly like these, made by one or more of the extreme left-wing Democratic "Squad" of Alexandria Ocasio-Cortez, Rashida Tlaib, Ayanna Pressley and Ilhan Omar,  have been roundly condemned in the United States even by Speaker Nancy Pelosi (D) and other Democratic leaders; and Congress itself has even been forced to take extraordinary steps to officially condemn such anti-Israel stances.
A good chaser to this article is this: "Criticism of anti-Semitism resolution misses the mark", which helps dumb-dumbs and the willfully ignorant understand the difference between anti-Semitism and simply making fair comment about a nation's political policies.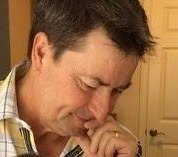 Latest posts by Joel Johannesen
(see all)