I sat down for lunch with Calgary Northeast MP Art Hanger the very day it was revealed Spain had overtaken Canada to become the eighth-largest economy in the world and is now expected to become a member of the prestigious G8.
So much for Shipping Tycoon Paul Martin's flimflam about the great economic might of our nation since 1993 when the Jean Chretien/Paul Martin regime came to power.
The influential Financial Studies Foundation assessed Spain's economy, now in its 12th year of uninterrupted growth, was now so strong it had leapt over Canada and would be applying to take over our place in the eight-nation biggest industrial nations organization.
Well, we all know, under the Chretien/Martin duo, our nation's productivity and prosperity has been slipping dramatically behind that of our neighbour, the U.S.
Right now, the average Canadian has 20% less spending power than our average American cousin.
The state—or the Liberal regime—has taken that spending power for itself. And with it the freedom that loss of spending power would bestow on us.
Art is quite a fellow, having won four straight elections in Calgary Northeast with majorities putting his Liberal and New Democrat opponents to shame.
No other candidate has even come close to him in the riding since 1993.
His opponents in this election are on a political suicide mission, since it's virtually impossible for anyone who opposes the former veteran Calgary police department serious crimes investigator to win.
Hanger, now 62, contends this time the shipping tycoon is really adrift in uneasy waters of his own making.
It's not just that our economy is sinking—everything Martin touches springs leaks, points out Hanger.
Mr. Justice John Gomery's investigation into AdScam showed the Liberal party and government awash in corruption.
As finance minister, Martin cut the cheques that were laundered into the pockets of Liberal advertising and public relations company officials—and Liberal party bank accounts—but even as Quebec's most senior cabinet minister Martin was so incompetent, or lazy, he pleaded he knew nothing about these nefarious goings on.
Under his watch, the separatist movement in Quebec grew to such as extent Bloc Quebecois leader Gilles Duceppe looks like hiking the 54 federal seats Chretien's shenanigans gave him to perhaps 64 of the province's 75 seats this time around.
With that, how can Martin claim the Liberals are the only ones who can build Quebec back into Confederation?
It's all hocus-pocus, says Art.
Hanger notes Martin deceitfully tries to tie Conservative Leader Stephen Harper into the separatist cabal and hopes voters will ignore that his own transport minister, and Quebec lieutenant, is none other than Jean Lapierre, a co-founder of the Bloc Quebecois.
Harper helped forge the Clarity Act, the legislation putting a serious roadblock in the way of a shaded referendum question, while Martin initially opposed the Clarity Act.
The duplicity of our prime minister, insists Hanger, stares voters in their faces.
When it comes to crime—the lawlessness sweeping our cities, and particularly the alarming murder rate in Toronto—Martin appears to pine for the perpetrators, seeing them as victims because they have somehow been "excluded" from mainstream Canadian society.
Hanger, a former tough-as-nails cop, contends anyone committing a violent crime or a crime with a gun—be it robbery or murder—needs to see the inside of a jail cell for a long, long time.
Yet, that's not the Liberal way, is it?
No, we have to understand why these little darlings commit crimes and feed them hot chocolate and cookies.
The man who was going to rebuild our relations with the U.S.A. has taken them even lower than did his predecessor, the unlamented Chretien.
Our military sinks ever lower, too, even as Martin's family outfit, Canada Steamship Lines, flourishes on the waves.
Nothing has gone right under Martin's lacklustre stewardship; everything that could possibly go wrong has gone wrong.
That's why Hanger—decent, honest, noble—will win a fifth straight majority victory in Calgary Northeast come Jan. 23.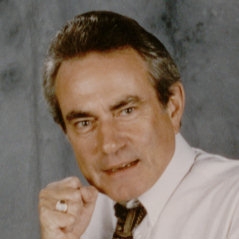 Latest posts by Paul Jackson
(see all)