Bishop Fred should shun so-called rights commission
They want to make Roman Catholic Bishop Fred Henry get down on is knees and grovel for forgiveness.
It's a charade that should not be allowed to happen.
A mockery in a nation where freedom of speech and freedom of religion are taken as being as solid as the Ten Commandments.
Well, by common sense type individuals, anyway.
Politically, the bishop and I have little in common, I being a zealous Conservative in the mould of Ronald Reagan and Margaret Thatcher—and yes, even George W. Bush—and the bishop being of more from the liberal-left.
Well, that's how I see it, anyway.
But a handful of weeks ago when a huge rally for Henry in Edmonton was attended by Christian ministers and parishioners of all denominations, and representatives of the Jewish, Muslim, Hindu, Sikh and other faiths, I cheered right along with these decent and conscientious individuals.
Indeed, I've always thought if men and women of faith—of all faiths—would come together on vital issues of the day we could steamroll over the trash trying to subjugate our society.
Oh, sorry, Fred, I know you don't describe individuals as "trash" or suggest we should "steamroll" over them.
Yet, for better or worse, I am not a man of God in that particular sense of the word.
That said, I'm pretty ecumenical when it comes to religion, and so am appalled by arrogant atheists and other types who think they know better than God and by small hordes of malcontents who likely haven't cracked open a Bible in decades.
Even in God-fearing Alberta—the province of William Bible Bill Aberhart and Premier E. C. Manning and his Back to the Bible broadcasts we have a collection of these mischief-makers.
Guess what?
They are out to get Bishop Fred, a kind and gentle man, whose only aim in life is to serve his Master and ease the sufferings of those yet to meet their Maker.
Because the good bishop believes in the Ten Commandments, and the words of the Bible on issues such as sex and sin and marriage Henry is being dragged before the kangaroo court known—hilariously—as the Alberta Human Rights Commission. Rights—now that's a term in this case the prescient George Orwell of 1984 new-speak fame would find hypocritical in the extreme.
Seemingly, the word of God to them—the God of all Faiths—must be irrelevant.
That Henry preaches against homosexual marriage, pornography, prostitution and adultery is apparently anathema.
They want their ounce of flesh, and they think the misnamed-commission will give it to them.
Just who are the antagonists wanting to both humiliate Henry and bring him to his knees.
Frankly, I couldn't tell you, my guess being so-called privacy laws protect them from public exposure.
Yet two individuals for whom in the past I have had little time have actually come out in support of Henry: The president of the Alberta Civil Liberties Association, one Stephen Jenuth, and Stephen Lock, regional director for the gay lobby group EGALE Canada.
Good for them. Perhaps I'll look with a less jaundiced eye on the two Stephens in the future.
There are many others who, while they do not necessarily agree with Henry, are appalled by the witch-hunt against him.
As outrageous—and as frightening—as all this is, the word going the rounds is later this week or next week Henry is destined to meet under the authority of this outfit with some of those who are out to get him.
He is being urged to make some 'conciliatory' gestures and so avoid a full throttling before the dictatorial authorities.
Again, get down on his knees and grovel for forgiveness.
In reality, it's Henry who should be receiving apologies.
My advice, Bishop Fred—don't show up for this mockery.
Don't even show up for the star chamber's charade of a full hearing.
You have broken no laws.
The only individuals with authority over you, Fred, are the Pope and God Himself.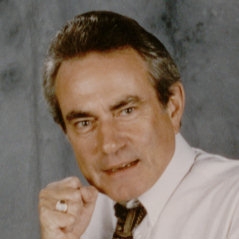 Latest posts by Paul Jackson
(see all)