Plans for National Coming Out Day are going well all across North Carolina – especially at UNC-Charlotte (UNCC). Conservative students at UNCC are planning a Conservative Coming Out Day in response to National Coming Out Day. I will be there to offer a diverse perspective on an important issue that has been largely ignored on our nation's campuses. My speech will highlight several pending cases, which show that homosexuals are not the principal victims of civil rights violations in this country. Instead, they are the principal perpetrators of civil rights violations in this country – especially on our college campuses.
After my speech, there will be a reception where I will be asking that camouflaged cupcakes be served to all in attendance. I am asking the College Republicans to provide camouflaged cupcakes in order to highlight an interesting case that is developing at Indiana University-Purdue University Indianapolis (IUPUI) where plans for National Coming Out Day are not proceeding very smoothly.
City officials in Indianapolis are investigating a bakery that refused to take an order from an IUPUI student group seeking rainbow-colored cupcakes for their National Coming Out Day. A spokesman for Mayor Greg Ballard said city officials are conducting an investigation into a bakery, Just Cookies, which declined to take the order.
After the so-called diversity group ordered the rainbow cupcakes Just Cookies co-owner David Stockton told them theirs was a family-run business. He also explained that he has two young, impressionable daughters and, therefore, thought it was best not to make the cupcakes.
Then the government got involved. "Whatever this gentleman's personal views are, it cannot interfere with the providing of a service or allowing someone to buy their goods," said an official of the local government.
That's good to know. I'm sure some Nazi group would love to visit the local Jewish tailor and have him make them all Nazi uniforms. And the Jewish merchant should definitely be forced by the government to provide services to members of a political movement seeking to destroy him. Of course, comparing gays to Nazis is unfair to the Nazis. The Nazi party doesn't have much of a presence on America. But the Gaystapo certainly does.
In the wake of the IUPUI cupcake controversy, a student told a local Fox News station "I don't want to topple anybody at all. I just think it's important we ask ourselves and Just Cookies asks themselves why they made the statement, why they're making these choices and how it's ultimately affecting their business and the community as a whole."
What an arrogant statement! Everyone knows that such behavior is dictated by an anti-gay gene. Homosexuals are not the only ones who can dodge criticism by making phony genetic arguments unsupported by evidence. I should know. I was born with the sarcasm gene.
Indianapolis city officials are working to determine whether the rainbow cupcake order was refused because the bakery couldn't provide the desired product or because something else was at play. I can save them the time and money involved in any continuing investigation by telling them there is something else in play. That "something else" is called religious liberty.
Our Founders fought to preserve religious expression, including freedom of conscience, because they knew it was vital to the preservation of our nation. They thought it was so important they put it in the Bill of Rights just before the parts about sodomy and abortion. Oh wait! There's nothing in the Bill of Rights about sodomy and abortion. Sorry about that. It must be my sarcasm gene, which actually is capable of being passed on from generation to generation.
The Indianapolis mayor's spokesperson told Foxnews.com: "It's the other proprietor stating his personal views, that's the problem, because that's not the image of the City Market and the image Mayor Ballard is trying to portray. That's beyond the pale."
Stating personal views in public is a "problem" that is "beyond the pale"? That's the gayest thing I've ever heard.
Stevi Stoesz is the spokeswoman for City Market, a nonprofit organization with a 13-member board of directors. She said officials there found the bakery's alleged conduct inappropriate. She told Foxnews.com, "As a public marketplace, we find it unacceptable, and this is very much an equal accommodations establishment. We are working with the mayor's office and city [attorneys] to resolve the issue expediently."
Well that clarifies everything, doesn't it? It's a public marketplace, not a marketplace of ideas. I'm glad someone came right out and said it.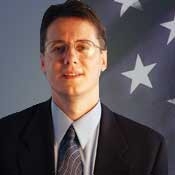 Latest posts by Mike S. Adams
(see all)