Note: Dr. Adams will speak at Amherst College in Amherst, MA on Thursday, March 4th, 2010. His speech on the Second Amendment will begin at 7:20 p.m. in the Bobbott Room (upstairs in the Octagon). The speech is free and open to the public.
I was recently made aware of a new sign that adorns (or adorned) the door of the women's faculty restroom in the S&B building at UNC – Wilmington. My friend Bob Sacamano, who, of course, read my second book, Feminists Say the Darnedest Things, took it off the door. He then took it into my office for my personal inspection, and not to mention my personal entertainment. The sign reads as follows:
BE AWARE!
YOUR VOICE CAN CARRY INTO
ADJACENT ROOMS. IT'S BEST
TO CONDUCT PRIVATE
CONVERSATIONS IN YOUR
INDIVIDUAL OFFICES.
The reason the reader of my second book brought the sign into my office relates to the first chapter of Feminists Say the Darnedest Things. The chapter, which is called "Gosh! Idiot!," tells of how I heard a feminist in our department trying to convince a (now former) secretary in our department to file a complaint against me – simply for using the phrase "Gosh! Idiot!" in the workplace. She was speaking loudly from the entrance to the bathroom – certainly louder than she had intended – as she was trying to persuade the secretary.
The secretary explained to the feminist that I was not calling anyone an "idiot" but that instead we were joking about the movie Napoleon Dynamite. So, of course, no complaint was filed. But, after I made light of the situation in my book, some feminists got angry. I suppose that the same right to privacy that allows a feminist to have an abortion allows her to encourage false accusations of "workplace harassment." Nonetheless, I am now thinking about posting the following sign on the women's restroom just for fun:
BE AWARE!
YOUR VOICE CAN CARRY INTO
ADJACENT ROOMS. IT'S BEST
TO CONDUCT MCCARTHYITE
WITCH HUNTS IN YOUR INDIVIDUAL OFFICES.
But, after seeing the real sign, my friend Bob Sacamano had a different idea. He thought it would be funny to post a sign on the restroom, which reads as follows:
BE AWARE!
ALL MANNER OF SOUNDS
CAN CARRY INTO ADJACENT ROOMS.
IT'S BEST TO BREAK WIND
IN YOUR INDIVIDUAL OFFICES.
It may surprise my readers but I did not think Bob's remarks were at all funny. I thought they were offensive. Such comments should be considered offensive not because they are crude but because they are actually sexist. Let me explain.
It is simply unimaginable that the same kind of remark would be directed towards a man. Men, while not necessarily expected to belch or break wind in public, certainly are given a pass when they so. However, a serious gender gap exists with regard to our tolerance of women who do exactly the same thing. And since women have achieved equality in nearly every other aspect of life it is not unreasonable to start tackling this issue. And I have a specific proposal.
When Eve Ensler first published The Vagina Monologues (TVM) she included a monologue called "Reclaiming (C-Word)." The idea behind the monologue was that a) the c-word had a nasty meaning and that b) by repeating the c-word over and over the negative stigma could be removed. The c-word could be reclaimed by those who wished to use it without offending anyone!
Many feminists later added a similar monologue to TVM performances. This one involved having women get up on stage and simulate the noises they make when they have an orgasm. There have even been female faculty members who have done this in front of audiences that have included colleagues and even their own students. The idea behind this was that women too should enjoy orgasms and that they should not be judged for doing so. I guess that closing the gender gap on this issue was the climax of the feminist movement.
So, today, I propose that we add another monologue to TVM performances. This new monologue will be called "Reclaiming Toot." It may sound unusual but it really isn't. After all, feminists say the stigma associated with the c-word can be removed by simply saying the c-word over and over. So why not repeatedly break wind in front of a bunch of howling students until the toot loses its power to control women?
We don't require dogs to leave the room before they break wind so why should women? And tooting during a performance of TVM will no more damage a female professor's credibility with her students than simulating her orgasms in front of them.
Some say the feminist movement cannot possibly get more crude and offensive than it is now. But I disagree. It is time for women to shatter that porcelain ceiling. It is time to break new ground by breaking wind.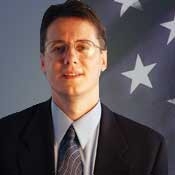 Latest posts by Mike S. Adams
(see all)