Ethically challenged federal party will vanish from Alberta landscape
A handful of Liberals were slithering around with their viper-like eyes darting to and fro so quickly I slipped into my hide-away at Eastside Mario's at Sunridge to assess the federal election campaign so far.
I know not the name of a single Liberal candidate running in Alberta hoisting this disgraced political party's besmirched banner, or of a single individual naive enough to vote for the Grits, but for me that ignorance surely is bliss.
Oh, oh—someone tapped me on the shoulder and mentioned Deputy Prime Minister Anne McLellan.
How could one ever forget this utterly partisan politician.
Well, after shrill Annie is shot down to defeat in Edmonton on Jan. 23, she'll quickly become a distant memory.
Yet aside from Annie, are there any Paul Martin or Jean Chretien clones running in our province?
Since the last time that a Liberal MP was elected in Calgary or the whole of southern Alberta was in 1968, anyone taking on this mission in the bottom half of our province must be just plain dumb.
Especially this time around—for this time Martin is looking defeat in its grimy face and so won't be around to reward these defeated cronies with patronage jobs or contracts.
It's my betting the grim-faced shipping tycoon will be back swabbing decks after the votes are counted, and that should raise all our Christmas spirits.
Make mine a double!
Conservative Leader Stephen Harper neatly shot out of the gates in the campaign's first week when he promised to cut the 7% GST to 5%.
Martin was flummoxed.
He had promised to do that back in 1993.
Actually, this is what he said in Parliament way back on Nov. 28, 1989, "The GST is a stupid, inept and incompetent tax."
But now he's saying Harper is wrong to cut the GST.
How do you spell hypocrisy?
That said, with 12 years of Liberal government under his belt, 10 of them as finance minister and two as prime minister, his one avowed intention to abolish the GST is now glossed over.
Remember this: Liberal promises are broken promises.
The taxpayers' money is there to be squandered as Justice John Gomery's inquiry into AdScam has shown us.
OK, OK—not all of that $332 million was squandered, as heaps of it in the form of dollar bills were laundered back into Liberal party coffers.
Now here's a little gem courtesy of my good friend, columnist and author, David Frum.
The average Canadian paid a little over $6,300 in federal taxes in 2005.
Total cost of the sponsorship program between 1994-2003 actually was $332 million.
In other words—the program devoured the total annual taxes of 53,000 Canadians.
How many hundreds of millions of dollars—or billions of dollars—have gone the way of the $332 million.
No wonder Harper wants an office of special prosecutor.
Think of Jane Stewart and the $1 billion blown on the sham jobs creation program.
Or the $1 billion on the bogus gun-control program.
How about the $500 million of taxpayers' money paid out in cancellation fees when a spiteful Chretien cancelled the EH-101 helicopter deal.
But, hey, I'll admit the Grits do have some gold-plated personalities.
Take former cabinet minister Andre Ouellet, who in his patronage appointment as head honcho at Canada Post, dinged the corporation for $2 million in expense claims.
Or David Dingwall who, handed the plum job of running the Royal Canadian Mint, and, with his aides, drummed up hundreds of thousands of dollars in expense tabs on top of his $277,000 annual salary.
This used to be called living high on the hog.
Today, it's just the Liberal way of doing business with the taxpayers' dough.
You get caught—so what?
Montreal advertising executive Paul Coffin pilfered $1.5 million of our money under the AdScam shell game and his sentence was to give a handful of lectures on business ethics.
What does Coffin know about ethics in business?
Do any Liberals know anything about ethics?
Put me in the doubtful category.
Very, very doubtful.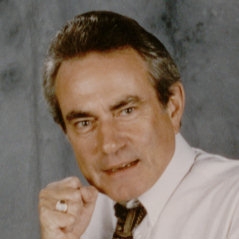 Latest posts by Paul Jackson
(see all)