[dropcap]I'm [/dropcap]not going to be one of those idiots who rush in and make stupid conclusions about catastrophic events before knowing far more. Early reports are almost always almost completely wrong, and so one of my favorite hobbies is laughing out loud at the idiotic media reports as they blurt out crap in haste, then have to retract later. Like the state-owned CBC had to do earlier today (do go ahead and laugh):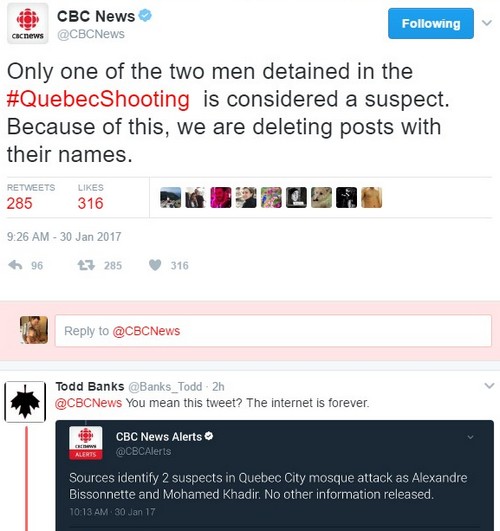 So what I will do instead is report on the media's reporting on this latest thing.
As I've come to expect, the liberal media reporting on the shooting in the Quebec mosque over the weekend seems anxious to label it as "yet another" case of "Islamophobia." It may well be in this case, but it's problematic that I sense a yearning among the media reporters and editors to be able to cast it that way.
The media world works at a snail's pace when considering the degree to which a terrorist attack is motivated by islamist terrorists, as they almost always are, or even calling it that when that conclusion is obvious. And if it obviously is, they then strain to understand its "root causes," and try to rationalize it a thousand different ways, and mostly, they never come to a final explanation as to why it happened, even though the explanation is in fact Islamist terrorism (but don't worry, it might be America's fault, somehow). Even their guy Barack Obama would resort to such milquetoast terms such as "workplace violence" when (wrongly) describing what we all know was yet another case of Islamist extremism.
But in this latest case — in Canada — they can't invoke "Trump" often enough. They draw a direct line to "Trump." Immediately. It's actually amazing.
The liberals' Globe and Mail division was quick to characterize the suspect, Alexandre Bissonnette, as a right-wing Trump supporter, as if to provide that as the chief motive for the suspect's alleged actions. That theme dominated their coverage. "Trump" is mentioned  eight times in this one story — despite their own reporting in which they explain: "…French nationalist leader Marine Le Pen visited Quebec City and inspired Mr. Bissonnette to vocal extreme online activism… ".
But check out these two different media reports — the first one from the Globe and Mail:
The suspect in the deadly attack on a Quebec City mosque was known in the city's activist circles as a right-wing troll who frequently took anti-foreigner and anti-feminist positions and stood up for U.S. President Donald Trump.

[…]

Before it was removed, Mr. Bissonnette's Facebook page revealed normal preoccupations of young adulthood. While he "liked" the page of Ms. Le Pen and other right-wing politicians, he also liked Garfield and pop stars such as Katy Perry.
This is somewhat at odds with this other report from Heavy.com, inasmuch as it seems to include an omission of fact:
Bissonnette likes the Facebook pages of U.S. President Donald Trump and French far-right leader Marine Le Pen, but he does not express support for them elsewhere on his page. Other likes include the Israel Defense Forces, United With Israel and Parti Québécois of Université Laval.

He also likes U.S. Senator John McCain, a moderate Republican who has opposed Trump on some issues, President George W. Bush, the Canadian New Democratic Party and late Canadian politician Jack Layton, who was a leader of the left-wing NDP, so the likes do not shed much light on Bissonnette's beliefs.
Well that's weird. Maybe Heavy.com got their facts wrong. But given the facts in question, that seems unlikely. Their report seems to indicate first-hand viewing of the Facebook page prior to it being removed, and indicated Bissonnette "liked" the NDP and Jack Layton — whom practically nobody in the U.S. have ever heard of.
As long as they're talking about the suspect's politics, the Globe & Mail should tell us the whole truth. Tell us the whole story instead of leaving facts out for very suspect reasons. I sincerely hope the Globe & Mail isn't trying to hide pertinent facts in order to advance an agenda. But this sure looks bad.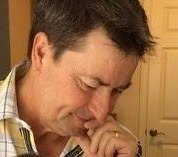 Latest posts by Joel Johannesen
(see all)