I don't need to tell Global News how to do their job… no wait that's hilarious. Of course I do. Somebody does.
I think we "get" what their opinion is. here's mine; when you get a so-called objective, straight-up news organization tweeting out these five anti-Trump tweets in a row, within just 19 minutes, it starts to look like, well, what it is: a left-wing news media pushing an agenda.
Here's their last five tweets as of this writing. See more of my editorial and actual polling facts and news (!) following this hideous @Globalnews.ca timeline snippet:
. @JonStewartHBO declared to @StephenAtHome that the new official language for the United States is now "bulls**t." https://t.co/6S0ZBckcTm

— Globalnews.ca (@globalnews) February 1, 2017
"The fact that I was attacked in that situation made me question, am I ready to wear the hijab?" https://t.co/3wMJs9sfZ0

— Globalnews.ca (@globalnews) February 1, 2017
UN secretary general urges Donald Trump to rescind travel ban 'sooner rather than later' https://t.co/QwgNLRx590

— Globalnews.ca (@globalnews) February 1, 2017
Donald Trump's refugee ban brings despair, anxiety for families left in limbo https://t.co/yAhOOD1RC9

— Globalnews.ca (@globalnews) February 1, 2017
Anonymous calls for travel ban on US citizens, boycott of Donald Trump businesses: https://t.co/nLwePCMTDF

— Globalnews.ca (@globalnews) February 1, 2017
Could they find no news of people supporting Trump's actions? Because polling indicates that he's getting some support. Here's the actual news: more Americans support his action than not.
Global News even tweeted the story out, even though in their tweet they purposely hid the pertinent facts from you, which, according to a Reuters/ipsos poll, is that 49 per cent of American adults said they either "strongly" or "somewhat" agreed with Mr Trump's order, while 41 per cent "strongly" or "somewhat" disagreed and another 10 per cent said they don't know.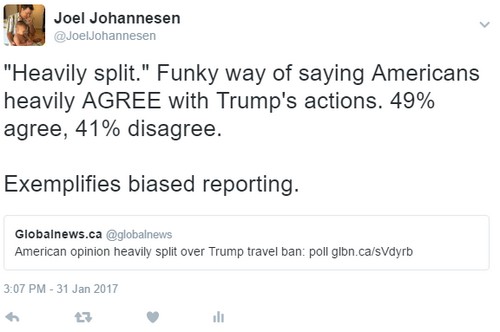 That's an amazing result given the horribly skewed and blatantly biased anti-Trump news reporting out there by the liberal-left media.
In another ipsos poll, this answer to the statement "The United States should limit the number of refugees allowed into the country" : 66% in total agree, 26% in total disagree.
In a Quinnipiac University poll: almost half of American voters support Trump's immigration order. The poll showed American voters support 48 – 42 percent "suspending immigration from 'terror prone' regions, even if it means turning away refugees from those regions."
So is Global News reflecting the reality in America today in their reporting or their reporting via Twitter? Of course not. They are, as I said, pushing an agenda. And you can't trust a media that is pushing an agenda.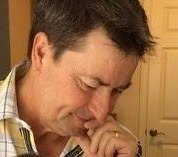 Latest posts by Joel Johannesen
(see all)