Former prof leads fight for democratic renewal
Foothills-Rockyview MLA Ted Morton has surely the best intellect in the provincial Progressive Conservative caucus and, as such, it was to be expected he'd quickly make waves after winning his first election last November.
The urbane 55-year-old University of Calgary political science professor surely has done just that.
Earlier this month, an overwhelming number of PC MLAs coalesced around him and urged Premier Ralph Klein not to give up the fight to protect traditional marriage.
They declared en masse that Alberta should renew the battle against judicial activism and Prime Minister Paul Martin's attempts to ram same-sex marriage down our throats.
Within hours, Klein had reversed his position of capitulating to Ottawa and promised to do all in his power to save the concept of traditional marriage.
That's even to the extent of once again invoking the notwithstanding—or opting out—clause in the Constitution.
It's true, Morton was helped by lone Alberta Alliance MLA Paul Hinman, a man of great spirituality, but it was Morton, one of our nation's best-known opponents of unelected judges snatching policy from the people's elected representatives, who gave steam and the legal rationale why the fight go on.
Also, mainstream Canadians may actually win this landmark battle. And it will be a landmark battle and take-off point for Morton's career in elected politics.
For Morton has made it clear winning on this issue is not just the end of fighting for democratic renewal in Alberta and across Canada—but the beginning.
"If we continue to retreat, they will continue to encroach," he says of the judiciary and backroom hierarchies who want to take power from elected MLAs and MPs and engineer our province and our nation as they, not the people, wish to see it.
Here, Morton gives Klein credit for being "courageous" in immediately accepting the view of the PC caucus members.
Aside from giving power back to the grassroots and elected members of government, Morton lists six areas where he'll concentrate his efforts:
* Allocating more resources to the Heritage Trust Fund, a fund whose performance has been sadly lacking, and an utter disaster when compared to its equivalents the Alaska Permanent Fund and the Norway Energy Fund.
* The equalization formula must be renegotiated to keep more money in Alberta to invest in education, infrastructure and environmental protection. The current equalization policy keeps poorer provinces poor and penalizes the two "rich" provinces, Alberta and Ontario.
* Significantly expand private delivery of publicly insured health care.
Alberta should at least be treated like Quebec.
* Push to reduce business taxes to diversify the economy.
You can't build an economy if you keep draining it.
* Greater use of referendums to give the Alberta people input into important public policy matters—including more frequent use of the constitutional opting-out clause.
* Fixed election dates and term limits for MLAs.
Fixed election dates prevent a government calling an election at the most opportunistic time for itself.
Fixed-term limits for MLAs would prevent individuals making a lifelong career out of politics, and give younger people the chance to move in with new ideas and invigorate the system.
All these points fit neatly into what Albertans want.
Morton is as solidly a true conservative as they come.
Then I put this to Morton: How can the province run multi-billion surpluses and not give average Albertans any tax breaks?
Surely we could afford to cut the flat tax from 10% to 5%?
But bad news from a man who surely does believe in smaller government and dramatically lower taxes: "Until we get health- care costs under control there never will be enough money for other priorities such as tax cuts, education, highway spending and the like."
Health-care costs take up about 40% of the provincial budget.
Ten years ago, that figure was about 30%
Ten years earlier—yes, you've got it.
Incredibly, Martin and his doctrinaire health minister, Ujjal Dosanjh, a former hardline New Democrat, warns Alberta better not try any innovative reforms.
That said, Dosanjh likely has never met a politician of Morton's intellect and drive, or realizes what an invigorated provincial caucus can do when members flex their muscles.
He soon will, though—and so will Martin's entire regime.
Copyright ? 2005 Paul Conrad Jackson.
Click here to read Paul Jackson's full and fascinating biography. Paul Conrad Jackson is one of Canada's most distinguished and thought-provoking journalists. He is currently senior political commentator for the Calgary Sun and other related newspapers, after being both Editor and Associate Editor for a number of years. Mr. Jackson has interviewed such world famous political figures as Richard Nixon, Ronald Reagan, Margaret Thatcher, Mikhail Gorbachev, John Diefenbaker, Brian Mulroney, Pierre Trudeau, Yitshak Rabin and Benjamin Netanyahu.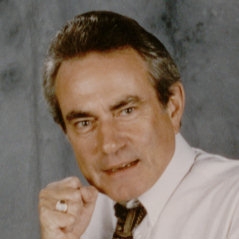 Latest posts by Paul Jackson
(see all)