If Klein won't go willingly then he must be pushed
Way, way back, I recall having lunch at the now defunct downtown 400 Club with Premier Ralph Klein when he was environment minister in the hapless Don Getty government.
The former Calgary mayor was very disillusioned with his political role, likely believing he deserved better for putting his career on the line for Getty's Progressive Conservatives.
In actuality, Klein did a commendable job as environment minister, paving the way for some of the toughest and most visionary environmental protection legislation in our nation.
Stemming from that luncheon, I decided to go to bat for Klein and started penning any number of columns backing him and promoting him.
When he became premier in 1992—thankfully cutting off the dimwitted Nancy Betkowski from the top job—most insightful Conservatives breathed a big sigh of relief.
Betkowski later showed her true political "Red Tory" colours by becoming leader of the provincial Liberals!
Wipe your brow with relief that she didn't take that bunch of Lib-Lefters anywhere.
Showing political smarts, Ralph appointed Jim Dinning as provincial treasurer, gritted his teeth, and let Jim get us out of the financial mess of deficits and debt Getty left behind.
New federal Public Safety Minister Stockwell Day followed Dinning, with the same budget-balancing and tax cutting.
Then, incredibly, Klein gave the job to Pat Nelson, who immediately slammed us all with a $700-million multiple year tax hike. Which we are still paying to this day.
An utter disgrace.
Was it at that point political dementia started to invade our premier's mind?
A touch of senility leading his government to waver and wander to the point in the 2004 provincial election the PCs lost an astonishing 210,000 votes.
Last week over another lunch, a couple of party insiders vouched Klein is now almost totally out of touch with political reality.
He's now been premier through four elections, and is looking like Norma Desmond in the classic Sunset Boulevard in that he can't believe his time has come and gone.
Like an aging matinee idol he's addicted to the fading applause that gets quieter by the day.
"The big fear is that the PC party has now become Ralph's party and when he finally goes the party will go with him. But perhaps he doesn't care what happens after he goes. The Liberals win, and so what?"
Klein should have gone after winning the 2001 election, when he was at the top, and the shattering 2004 results are evidence.
Strangely, he can't get the message.
Rather than resigning with dignity, he's insisting on staying on until late 2007.
Meanwhile, contenders for the party leadership and premiership such as Dinning, right-wing MLA Ted Morton, the Lib-Lefter Dave Hancock, the dismal Lyle Oberg and the man who couldn't even hold his own Edmonton seat, ex-MLA Mark Norris are spinning their wheels as the days, weeks, months, and now years, drag on.
The candidates are getting frustrated—perhaps Klein takes some morbid humour in that, maybe he's like Jean Chretien who wanted his successor, Paul Martin to implode—and party members are restless.
Voters are yawning.
The thought Klein doesn't care if he takes the party down with him is frightening.
The spectre of the likes of Liberals Kevin Taft, Dave Taylor, David Swann and their ilk running our province into the ground should bring beads of perspiration to all our foreheads.
Yet, there is one way to avoid this disaster: If Klein won't go willingly, he must be pushed.
That chance will come when the PCs hold their convention in Calgary from March 31 to April 2.
On opening night, after Klein gives his keynote address, delegates vote their confidence in him.
To date, Klein has always won a resounding 90%-plus vote. That is impossible this time around. Insiders suggest he'll be lucky to get 80%.
Even that scenario may be imaginative. I'm told delegates who are backers of the leadership contenders—a huge chunk of the delegates—are now prepared to pull the plug on Klein themselves and vote en masse against him.
Some suggest already something like 30% are already prepared to do that, and the number could grow. What a humiliation.
Klein could avoid it all by announcing in his keynote speech he's going voluntarily—and with dignity within six months and a firm date for a leadership convention is to be set within a month.
Will he do the statesmanlike thing? If not, he should know the omens are bad.
Pride and the fall, and all that.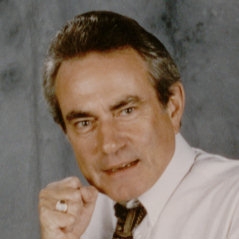 Latest posts by Paul Jackson
(see all)