Gordon Hoffman has made lives of thousands of Canadians better
Sometimes, when the worries and the woes of the world start to close in, it's worth reflecting while bad deeds grab all the headlines good deeds often go unnoticed.
The first time I met Gordon Hoffman, he was happily warbling a Christmas song and working away to give a huge supply of free tickets to disadvantaged school children and their parents so they could see Theatre Calgary's annual production of Charles Dickens' A Christmas Carol.
He'll be doing that this year, too.
As I recall, the song Gordon was singing was Mel Torme's The Christmas Song.
That's the piece that talks about chestnuts roasting on an open fire and Jack Frost nipping at your nose.
"I love Christmas," said Gordon.
"I enjoy singing Christmas songs. The spirit of Christmas actually transcends religion."
Well, most of us do enjoy Christmas, but let's note Hoffman is Jewish, and you really don't see a lot of people of other faiths getting quite that involved in the Christian festive season.
But then, Gordon really is one of our community's rather outstanding personalities, being as he is a successful real estate and corporate lawyer, a man who has published four novels under the unlikely pen name, Gondor Kane, and performed as a disc jockey in an extended CD set of American standards.
Anyway, after that initial Yuletide meeting, I learned Gordon's father, Norman, once owned the old Tivoli movie house on 4 St. S.W., a place where, in the 1970s, before hiving off to Ottawa for a decade, I spent many enthralling hours.
So, usually, when he and I chat, it's challenging each other with movie trivia from way, way back to silent days.
Those days, incidentally, were over long before either of us made our own appearances on stage in the mid-1940s.
Yet to my mind, Hoffman's real unsung claim to fame is he has been a chairman, co-chairman or director—and often the founder—of the best part of some 100 charitable and community organizations.
I doubt if anyone else in our community—which is surely a very giving community—can quite match that.
It might be The Homeless Foundation or Operation Kickstart, it could be Child Find Alberta or the Angel Network, and it surely is the Alberta Champions Society.
The list, of both secular and Jewish groups, appears endless, and exhausting, exhausting that is, to anyone except the man involved in all these endeavours.
"As you add value to the lives of others, you add value to your own life," he says congenially.
"When you hand someone a rose, the scent remains on your own fingers," he says.
While admiring Hoffman's Distinguished Service Award from the Law Society of Alberta and the Canadian Bar Association—placed right alongside his award for being a black belt in martial arts—Hoffman was telling about the latest advances made by Project Warmth, which he founded in 1996.
Project Warmth provides coats, parkas, blankets, sleeping bags, gloves and shoes for children or adults in need.
Although it may sound like a winter campaign, it actually runs year-round because there is always someone needing something whatever the climate.
Project Warmth is about to take over a similar, but less extensive group, called the Jacket Racket, which in the past only operated for one month a year.
"We're really on the march with this," says Hoffman in his enthusiastic tone.
Well, Gordon seems to be on the march just about every minute of the day.
I ask if there was some traumatic happening or some sudden event that set him on his philanthropic ways,
But it was nothing like that.
"I grew up in a family that believed in helping others, and when I married my high school sweetheart, Eva, I married into a family that believed in helping others."
He adds if you have been blessed with success yourself, it would be callous not to help those less fortunate.
"I never forget the only difference between an outstretched palm, and a welcoming palm is a twist of the wrist."
He adds the greatest epitaph anyone could have on their headstone is not that you made millions of dollars or achieved worldwide fame but "that you had a made someone's life a little easier."
My friends, Gordon Hoffman has actually made the lives of thousands of men, women and child a whole lot easier.
One day he'll be truly recognized as a quiet Canadian hero.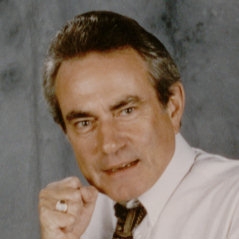 Latest posts by Paul Jackson
(see all)