PTBC Columnist Team
Columnists -- with bite! We feature conservative-friendly writers from Canada and the U.S. who help clarify the difference between liberals and conservatives. All have personally agreed to be a part of our team here at PTBC.
---
Mike S. Adams
Posted on Tuesday, February 01, 2011
Bio/Email | Mike Adams Archives | Printer-Friendly Version

William Irvine is a professor of philosophy at Wright State University. He is one of the most courageous and honest professors in the country. Recently, he wrote a column concerning Wright State's decision to invite the Reverend Jeremiah Wright to speak on his campus. Although he disagrees with many of Reverend Wright's views, he publicly welcomed him to the campus because he believes that a university should be a marketplace of ideas. That view alone makes Irvine exceptional among today's professoriate.
Irvine calls out his university for being "curiously one-sided in the speakers it brings to campus." He notes that liberal speakers are routinely invited and that ultra-liberal speakers including Wright and Angela Davis are occasionally invited. No one seems to think it strange that avowed communists and those with significant criminal backgrounds are paid to speak on campus at considerable expense to the taxpayer. But politically conservative speakers are scarce and in the case of John McCain and Sarah Palin pay for the privilege of using campus facilities.
William Irvine is the rare professor willing to confront his colleagues' hypocrisy and to publicly quote their silly defenses of rigid ideological conformity. When he confronted another professor with the idea that the university should invite conservative speakers his colleague responded by asking "You mean someone like Glenn Beck?" This kind of reaction shows how off-center our universities have become. What educated person could consider Glen Beck to be more extreme than Angela Davis?
Another professor reacted to Irvine's reasonable suggestion by saying that it wouldn't be a good idea to bring any Holocaust deniers to campus. The statement is an odd one indeed. It suggests that most conservatives refuse to accept the Holocaust as fact. I think liberal supporters of abortion are today's true Holocaust deniers.
Professor Irvine has discovered something I have also discovered about the liberal professoriate; namely, that they see no reason for debate. In their eyes, the debate is over on all the major issues of the day. Of course, in their eyes they won all the major debates. Now, the reward for winning these debates is that we can proceed into the implementation phase. Of course, professors rarely use the word "implementation." They just mindlessly repeat the word "diversity" like catatonics in padded cells.
Professor Irvine has also discovered that suggestions of bringing people like Thomas Sowell to campus are met with one pretty serious problem: Most liberal professors have never heard of Thomas Sowell.
Many years ago I suggested that Sowell should be required reading for college students. The reaction was amazing. According to one of my left-leaning colleagues - one who actually knows who Thomas Sowell is - the students don't need to read Sowell because they were raised in conservative homes where those ideas were regularly espoused.
Notice the intellectual sleight of hand my "liberal" colleague employed. His argument is against intellectual diversity. The $64,000 question: Why oppose intellectual diversity? The answer: Since parents do it for eighteen years it is only fair that professors be allowed to do it for four years.
Professor Irvine has accurately identified a big problem in saying that it is now possible for students to get a college "education" without ever encountering a conservative professor. But the problem is even bigger than that. Most professors now believe it is desirable for students to get a college "education" without ever encountering a conservative professor. Their idea of "liberal education" is nothing more than a poorly disguised war on conservatism. This anti-conservative mindset is so entrenched that one of my "liberal" colleagues wants to remove the entire Cameron School of Business from UNC-Wilmington (where I teach). He explicitly stated that a school of business has "no business at a liberal university." Between his puerile and antiquated lectures on Marxism he denies the existence of any liberal bias. This is the personification of self-indulgence and anti-intellectualism.
Professor William Irvine says that we do not have a fair hearing of conservative views on campus but instead "liberal professors galore, who will be happy to tell you what they imagine the conservative viewpoint on various issues must be and why these viewpoints are wrongheaded." This statement is bull's-eye accurate. And his follow-up statement is brilliant: "This is a pale substitute for a genuine political debate, but it is, on many campuses, what students have to settle for."
Good for him. This debate should remain focused on the shortchanged students. College is not becoming less expensive. But it is becoming less relevant.
The public challenge issued by Professor Irvine is one that every professor, conservative or liberal, should issue to his university. That challenge comes in two parts: 1) Hire at least a few conservative professors. (I'm open to this idea. What better way to remedy the historical oppression of conservatives!). 2) If you cannot stomach hiring conservative professors then at least hire some conservative speakers.
Of course, today's "liberal" professor will agree to neither of those suggestions. He uses affirmative action to promote his self-esteem not to promote "a diversity of perspectives." And he uses the word "diversity" only to hide his deep-seated intellectual insecurity.
Our universities are no longer committed to revealing the truth. They are committed to suppressing the truth. And among those truths is that tolerance is not the academy's most enduring intellectual achievement. It is its most transparent moral weakness.
©2005-10 Mike S. Adams - Mike Adams, PhD, is a criminology professor at the University of North Carolina at Wilmington and is a regular columnist for Townhall.com. His column appears here at PTBC with Mike Adams' express permission by special arrangement with him. Dr. Adams is available for speaking engagements. Mike Adams' new book, Feminists Say The Darndest Things
.
---
Doug Giles
Posted on Sunday, January 30, 2011
Bio/Email | Doug Giles Archives | Printer-Friendly Version

Chris Matthews told his two brothers, Larry Fine and Curly Howard—I mean Larry O'Donnell and Ed Schultz—on air last Tuesday night that BHO is queuing up with a special 'Presidential Address' in which he's going to talk to us bitter, clingy patriots about "gun control."
When I heard Chris say that, I immediately opened up another tab on my Mac and logged onto MidwayUSA.com and bought an additional case of ammo for every caliber and gauge that I own. Y'know, just in case there's any validity to Matthews' inside dope on the Hope & Change menu. Oh, in addition to more ammo, I also bought another gun … another elephant gun, to be exact.
Yep, Chris quipped last week that Barack has a special speech drafted in the wake of the Tucson mass murders that targets our firearms. Never let a good crisis go to waste, right Rahm? Can you say "target" anymore? It's so hard keeping up with what we can and cannot say, do and not do, eat and not eat. These control freaks are acting like the Taliban.
Anyway, according to Chris, Obama didn't want to table that topic during the State of the Union because that subject would have jolted everyone from the Stage 4 coma his speech plunged them into and would've alerted them to the not-so-subtle subtext in BHO's discourse regarding the manifold ways he's destroyed our economy and how he intends to screw us in the future. It's best to let sleeping dawgs lie, right? Right.
Back to the validity of Matthews' claims regarding a pending presidential diatribe concerning our right to lock-n-load: Did Matthews get the inside poop regarding a bad anti-gun move by Barack? I doubt it. Nobody tells MSNBC squat; they learn about news after Fox or Breitbart break it.
Indeed, why would Obama's admin tell Chris diddly about what they're going to do? What's that, you say? It's because of Matthews' nonexistent audience and thus the certainty that his secret is safe with him and MSNBC? Okay, I'll grant you that one. Given that one fact, MSNBC is not known for breaking any news. Propaganda, yes. Misinformation? Well of course. Remember ACORN?
Hey, speaking of ACORN, it appears as if these "friends of the poor" are back in business to help throw 2012 for BHO like they did in '08. Of course they're flying under a different name like Project Vote or Operation Horse Crap or something, but they're still around and ready to help steal an election.
And while we're on the subject of stealing elections, Amy Busefink, that ACORN chick in Nevada who was found guilty for her part in 400,000 bogus ballots, just got a slap on the wrist for trying to rape our democratic process. Maybe Project Vote or Obama's former ACORN boy, Patrick Gaspard, who is slated to chair the DNC for 2012, could help Miss Amy to work off some of her community service during the next election? How quaint. What a coincidence. But I digress.
Personally, I believe that after the debt BHO's strangled us with, the future he has f-f-f-fouled up for our kids, and the overreach his government has had into the private sector that it would be plain silly and stupid for BHO to go there with our guns if … if … he wants to be re-elected, which I believe that he does. Thus I believe Matthews is full of swill.
That said, I would still like to remind my tens of thousands of readers of the bad, bad news that follows when governments enact a citizen gun grab. Check it out …
1. In 1929, the Soviet Union established gun control. From 1929 to 1953, about 20 million dissidents, unable to defend themselves, were rounded up and exterminated.
2. In 1911, Turkey established gun control. From 1915 to 1917, 1.5 million Armenians, unable to defend themselves, were rounded up and exterminated.
3. Germany established gun control in 1938, and from 1939 to 1945, a total of 13 million Jews and others who were unable to defend themselves were rounded up and exterminated.
4. China established gun control in 1935. From 1948 to 1952, 20 million political dissidents, unable to defend themselves, were rounded up and exterminated.
5. Guatemala established gun control in 1964. From 1964 to 1981, 100,000 Mayan Indians, unable to defend themselves, were rounded up and exterminated.
6. Uganda established gun control in 1970. From 1971 to 1979, 300,000 Christians, unable to defend themselves, were rounded up and exterminated.
7. Cambodia established gun control in 1956. From 1975 to 1977, one million people, unable to defend themselves, were rounded up and exterminated.
8. Defenseless people rounded up and exterminated in the 20th Century because of gun control: 56 million.
As the old adage goes: "With guns, we are citizens. Without them, we are subjects."
Doug Giles' new book If Youre Going Through Hell, Keep Going is now available. Doug's award winning talk show and video blog can be seen and heard at www.ClashRadio.com.
Doug Giles is the creator and host of "The Clash" radio shows, winners of seven Silver Microphone Awards and two Communicator Awards in the last three years. Recent guests on his weekly one-hour show have included Ann Coulter, Ted Nugent, Cal Thomas, David Limbaugh, Judge Andrew Napolitano, Mona Charen, Michelle Malkin and Brian Kilmeade. In addition, Doug is a popular columnist, minister, and award-winning writer.
---
Michael Coren
Posted on Saturday, January 29, 2011
Bio/Email | Michael Coren Archives | Printer-Friendly Version

Fix laws that see decent folk face charges for protecting themselves
My mum — God rest her soul— was a product of London's East End.
Born and raised in Stepney, she went to the same school as the infamous Kray Twin gangsters, and while full of love, justice, compassion and decency, she always stood up for herself and her family.
When I was five years old, a large lady who served the gruesome lunches at school took a dislike to me and made my life particularly unpleasant. Mum went to the school. She told the good woman what was right and what was wrong and, oddly enough, life was suddenly not so bad for me.
It was, I suppose, a form of muscular morality. A bully was told to change her ways.
Today, no doubt, there would be a lawsuit, a union action and a complaint to a human rights commission.
The legendary "mum and the dinner lady" story was all over the school within a day, and it came back to mind this week as the government and media explored a citizen's right to self defence. Some of the cases of confusion are now well known. The Chinese storekeeper holding a career thief captive until the police arrived, but then being charged himself; a young man charged with manslaughter for punching a homeless drug addict trying to break into his car while he was sitting in it with his girlfriend; a homeowner prosecuted for using a legally owned gun to take on arsonists attacking his house.
There are numerous other examples that are seldom made public. Ordinary people who use their fists or a weapon at hand to defend their safety and property, then find government lawyers and cops are as concerned with arresting them as they are the culprits. It's more than just a question of balance. The police were once perceived as the guardians of the people, but are now increasingly seen as robotic agents of the state.
This is not about vigilante justice. Only a handful of fanatics want every citizen to carry a concealed weapon and have the right to shoot anyone who threatens them. That's a caricature, a straw man created by the left to marginalize those of us who simply believe we have the right to self-protection. Nor is it about frontier values, settler ethics or what some see as American-style machismo.
In fact, it's quintessentially Canadian. Respect. I respect your right to safety, as long as you respect mine. If you break into my home, I have the right — the duty — to protect what I have worked for and to look after members of my family. You are the one who has broken the code of civilization and as such, you may suffer the ultimate penalty. There should not be degrees of response, as if a homeowner can measure just how violent he should be to an intruder.
There is a social contract between citizen and state, but it's being broken by zealous crown prosecutors, politically correct cops and charter-obsessed politicians. We're moderate people. Don't turn us into extremists.
If my dear mum was still around, she'd march up to the court and the Parliament and you'd soon see common sense.
..........
Join "FANS OF MICHAEL COREN" on Facebook.com"!
Michael can be booked for public speaking and his books can be purchased at his website - michaelcoren.com.
---
Salim Mansur
Posted on Saturday, January 29, 2011
Bio/Email | Salim Mansur Archives | Printer-Friendly Version

Americans are understandably concerned about their economy with an astronomical debt burden now equalling the country's gross domestic product of $14 trillion, unemployment numbers still hovering close to one in 10 people out of work and the domestic market still in slump.
In the November 2010 election, Americans sent a message to Washington by electing Republicans to deal with economy as the priority. For U.S. President Barack Obama, Tuesday's State of the Union address was his opportunity to let Americans know he understood their imperative.
Americans will judge and give their verdict in 2012 on how well Obama understood their November message.
But Obama sent his own message to Americans and the world that his administration, to be focused on domestic priorities, has little interest or inclination to respond to the foreign policy challenges growing more ominous even as he spoke.
With America tilting under debt, Obama's rhetorical flourish — "This is our generation's Sputnik moment" — was Quixotic, or the unrepentant instinct of a spendthrift with empty pockets and no savings.
It might be worse — America turning inwards and its leadership clueless on how to contend with the gathering storm in the navel of the world, the Middle East, and the dire consequences in its aftermath.
In watching Obama on Tuesday evening, my thoughts took me back to the world adrift exactly 100 years ago in 1911. That was the year, as some historians suggest, that marked the beginning of the short 20th century and an end to the long 19th century.
Few today, without looking into history books, can recall who were the leaders of the great democratic powers in 1911, and what urgent issues preoccupied them.
In the U.S., president William Howard Taft occupied the White House. The British prime minister was Liberal leader Herbert Henry Asquith, and the French prime minister of the Third Republic was Aristide Briand, replaced by Ernest Monis and, in turn, replaced by Joseph Caillaux.
After the muscular presidency of Theodore Roosevelt in world affairs — building the Panama Canal, negotiating Russo-Japanese peace for which he was awarded the Nobel Peace Prize — the Taft years were a retreat without the label of isolationism from world affairs.
In Britain, the big issue for Asquith was arranging the Delhi Durbar and moving the capital of British India from Calcutta to New Delhi. The occasion would be marked by the first royal visit of the British monarch, King George V, as Emperor of India to the subcontinent.
France, as only the French can, was torn between the politics of glory pursued by the right and radicalism of the left, with after effects of the Dreyfus scandal leaving toxic her body politic.
In the meantime, the locomotive of war gathered steam.
The Balkan crisis loomed, Italy ventured into Africa (Libya) with colonial ambitions, the Russian monarchy nursed its wounded pride as popular discontent grew stronger, and Germany prepared to steam past Britain's naval superiority.
And none foresaw how an assassin's bullet of a Serbian nationalist in Sarajevo could hurtle the locomotive of war — sending Europe into bloodletting, depression and renewed slaughter ending over a generation later when Russian tanks rolled into Hitler's Berlin.
©2005-11 Salim Mansur
Salim Mansur BA, MA, PhD, is an Associate Professor of Political Science at the University of Western Ontario. He is also a columnist at Canada's Sun Media. His column appears here with Salim Mansur's express permission by special arrangement with him.
---
Doug Giles
Posted on Sunday, January 23, 2011
Bio/Email | Doug Giles Archives | Printer-Friendly Version

The Christians of the first century were rebels with a cause. They weren't the hair-spray-addicted, religious sponges of pop culture and oppressive governments looking to be ogled by an Oprah-addled crowd. Oh, no, senorita. The primitive church was out to change the world.
After Jerusalem fell in AD 70, the church, birthed by the Holy Spirit during Rome's heyday, exploded with growth in Asia Minor — which happened to be Ground Zero for Caesar worship.
The punch-drunk citizens of Roman rule thought the various Caesars, their laws, and their government were God. They built temples to these men and minted coins with their mugs stamped on them. The poor dupes of Rome believed their leaders' poop didn't stink and they could do no wrong. They even gave their human leaders godlike reverence, proclaiming Caesar as Savior and Healer, King of Kings and Lord of Lords.
Yep, to the serfs of Caesarland, their heads of state were just dreamy, and as they were divine everyone was expected to toe their line. Because of this blind faith in Caesar, the Roman government found it a piece of cake to tax the plebes to death, snatch their kids or their houses, and create crises that ginned up even more robust control of Rome's citizens. I'm talkin' Caesar had them on a short leash because of their faith in the state.
The early church, however, made it clear amidst this crapola that their allegiance was to Christ and not the edicts of Caesar — especially when Caesar's dictates conflicted with the Word of God. Yep, it was the church's disdain for Caesar's unrighteous decrees (the decrees that required their obedience at the expense of their convictions) that got them killed.
Get it right, folks: It wasn't the church's belief that Jesus is God, or their love of covered dish dinners, or their Christian rock music that got them the ax; it was their holy defiance to the demonic edicts that Caesar attempted to slap them with. Rome didn't give a rat's backside whom or what they believed in just as long as that belief didn't rock the boat of the Roman state. And that's exactly what first-century Christianity did: It adhered to God's laws versus Rome's. The Church believed that Christ was Lord and therefore, respectfully of course, Caesar could kiss their fish sticker. Indeed, following the teachings of Jesus, the initial Ichthus crowd was cantankerous when it came to an oppressive state.
I'm sure the church tried to be nice about their obstinacy toward Rome's odious laws, but when push came to legislative shove and it became clear that punk Caesar was requiring them to walk his way versus God's, the first-century church defied the state instead of denying their God.
Doug Giles' new book If Youre Going Through Hell, Keep Going is now available. Doug's award winning talk show and video blog can be seen and heard at www.ClashRadio.com.
Doug Giles is the creator and host of "The Clash" radio shows, winners of seven Silver Microphone Awards and two Communicator Awards in the last three years. Recent guests on his weekly one-hour show have included Ann Coulter, Ted Nugent, Cal Thomas, David Limbaugh, Judge Andrew Napolitano, Mona Charen, Michelle Malkin and Brian Kilmeade. In addition, Doug is a popular columnist, minister, and award-winning writer.
---
Mike S. Adams
Posted on Saturday, January 22, 2011
Bio/Email | Mike Adams Archives | Printer-Friendly Version

For decades, liberals have been playing upon people's emotions by exploiting human tragedy for political gain. In recent months, that tendency has become more pronounced. Their attempt to use the suicides of eight confused young men to advance the homosexual agenda was disgraceful. Then there was the more recent attempt to use the Tucson shooting to advance a gun control agenda that will ultimately increase homicide and other crimes of violence. I think the time has come for conservatives to start making better use of tragedy for political gain.
There can be no better starting place for the exploitation of tragedy than the case of Dr. Kermit Gosnell. Just Wednesday, he was charged with murder. He stands accused of delivering seven babies and then using scissors to kill each one of them. He was also charged with murder in the death of a woman who suffered an overdose of painkillers while awaiting an abortion.
The grand jury report in this case contains details that would make Margaret Sanger proud. The evidence indicates that numerous complaints about the conditions at Gosnell's clinic were ignored. His clinic catered to West Philadelphia's poor minorities – the kind of people Sanger referred to as human weeds that should be removed from the population.
Darwin proclaimed "survival of the fittest." Sanger promoted survival of the whitest and survival of the richest. She would have been proud to learn that white women from the suburbs were ushered into a separate, slightly cleaner area of his clinic. Prosecutors allege that this was because Gosnell believed they were more likely to file complaints.
Kermit Gosnell was not the only one arrested and charged with numerous counts of murder. His wife was a cosmetologist who was supposed to cut hair. The allegation is that she cut babies instead.
Every crime has a motive and prosecutors have a motive in this case. It was money. Gosnell made millions of dollars performing thousands of dangerous abortions, many of them illegal late-term procedures. He is alleged to have cut costs by refusing to hire nurses and trained medical staff.
The abortions are alleged to have been "unsafe." Of course abortions are never safe. There is one killed and one wounded in every case of abortion. Now the court must decide whether the abortions were legal. Since it appears that at least two women died from the procedures, while others suffered perforated bowels, cervixes and uteruses, the case seems ripe for a plea bargain. But prosecutors should resist the temptation. They should seek the maximum penalty in a televised trial.
Prosecutors have noted that Gosnell induced labor, then forced the live birth of viable babies in the sixth, seventh, and eighth months of pregnancy. He then killed those babies by cutting into the back of the neck with scissors and severing their spinal cord. According to prosecutors, Gosnell referred to it as "snipping." One problem for prosecutors is that Gosnell seems to have destroyed many of his medical files. That is not surprising. Abortion doctors do not keep their Hippocratic oaths. Why should they be expected to keep their records?
There appears to be a certain Hannibal Lecter quality to this case. Authorities have found bags and bottles holding aborted fetuses scattered throughout the offices of Kermit Gosnell. There were jars found containing severed feet that were kept for no apparent purpose. They were the kinds of trophies which, had they not been human, would have aroused the ire of People for the Ethical Treatment of Animals (PETA). But these were not people's pets. They were people's mistakes. They deserved no ethical treatment in the eyes of some.
Prosecutors in the Gosnell case have also alleged that he falsified ultrasound examinations and taught his staff to hold the probe in such a way that the fetus would look smaller. He is alleged to have joked with his staff saying one (fetus) was so large he could "walk me to the bus stop."
How did Kermit Gosnell pass the annual inspections of his clinic, which opened in 1979? It was actually pretty easy since there have only been five inspections since 1979 and none since 1993.
Some defenders of abortion will point out that – although he earned his medical degree from Thomas Jefferson University – Gosnell started, but did not finish, a residency in obstetrics-gynecology. Some have already said that he does not know how to perform an abortion without risking killing someone. That trite observation ignores the obvious: No one has ever performed an abortion without actually killing someone.
In the wake of the Tucson shooting some have argued that we should limit semi-automatic handgun magazine capacity to ten. I think we should consider limiting abortion clinic waiting room capacity to ten. Or maybe we should have a seven-day cooling down period for those who have a passion for performing abortions.
However we decide to exploit this tragedy, the conservative slogan is fairly obvious: "Guns don't kill people. Abortion doctors kill people." We need to start printing tee shirts now.
©2005-10 Mike S. Adams - Mike Adams, PhD, is a criminology professor at the University of North Carolina at Wilmington and is a regular columnist for Townhall.com. His column appears here at PTBC with Mike Adams' express permission by special arrangement with him. Dr. Adams is available for speaking engagements. Mike Adams' new book, Feminists Say The Darndest Things
.
---
Michael Coren
Posted on Saturday, January 22, 2011
Bio/Email | Michael Coren Archives | Printer-Friendly Version

The funeral of police Sgt. Ryan Russell was held in Toronto this week, attended by 12,500 police officers and other first responders, and thousands of ordinary members of the public.
People who had never met the 35-year-old officer cried in front of journalists and explained why they made journeys of sometimes more than two hours just to see the poor man's casket.
They told stories, often strangely tenuous, of how they felt connected to the tragedy because of some relative of a relative who was once a cop, or something equally contrived. The media covered the day in enormous, sometimes surreal detail, partly because radio stations and newspapers that don't are routinely accused of police-bashing.
Just the day before the funeral of Sgt. Russell, a 66-year-old woman died from hypothermia on the streets of this same, allegedly caring city. She was suffering from dementia and had walked out of her home in the middle of the night in freezing conditions.
Once her body experienced the agonizing weather, the confused, broken lady began to scream for help and claw at a nearby car door when she fell over. Some people admitted to hearing her, perhaps even seeing her, but they did not bother to help.
So forgive my skepticism when I argue that Toronto, just like any other city or town in this country, is not compassionate at all, but likes nothing more than soaking itself in the comforting waters of official mourning. Morbid and often misplaced grief has become the ersatz religion of modern times. Not just in Canada, but throughout North America and Europe. The western world has caught neurosis.
We witnessed this when the self-indulgent Princess Diana died, see it when a child is abducted and murdered. The teddy bears, enormous cards and kids dragged by their parents to crime scenes are as plentiful as confetti at a wedding, and just as trivial. Hardly any such display though when, for example, four working men died on Christmas Eve in 2009 falling from a scaffold. Or when homeless people are beaten to death for fun.
I intend no disrespect to a fallen police officer, and I appreciate that he symbolizes not just the police, but the line between our safety and criminal chaos. I also understand why so many other cops would want to attend. But for the life of me, I cannot and will not believe that most of the spectators were motivated by genuine concern.
They wanted to be part of a happening, with a fair chance they would appear somewhere on a 24-hour TV news station and they could tell their friends and neighbours how caring and involved they are. This is vicarious thrill-seeking, feeling soft and cosy inside because it's not happening to you, but you can pretend to feel the pain.
Good Lord, whatever happened to the dignity of private grief, surrounded by family, authentic friends, religious community and those who love you rather than love the moment?
Oh, by the way, January is Alzheimer Awareness Month. But being "aware" won't help that poor lady who froze to death, and probably won't get you a moment of fame on television.
..........
Join "FANS OF MICHAEL COREN" on Facebook.com"!
Michael can be booked for public speaking and his books can be purchased at his website - michaelcoren.com.
---
Salim Mansur
Posted on Saturday, January 22, 2011
Bio/Email | Salim Mansur Archives | Printer-Friendly Version

The hasty departure of Tunisian strongman Zine al-Abidine Ben Ali for a life in exile reveals how brittle and lacking in public support are most of the Arab regimes.
The swift collapse of Ben Ali's 23-year-old dictatorship unmasked the lie that autocrats in the Arab world — or autocrats anywhere, including Communist China — supported by their military and security network are invulnerable to popular opposition.
As I indicated in my column last week on China, it is increasingly evident in our contemporary era that tyranny — irrespective of the left or right — has a relatively short shelf life.
The seemingly invincible Soviet Union imploded some 70 years after its establishment. It could be said this number might well be the benchmark for the duration of any despotic regime, and Arab despots are rapidly approaching this number with Ben Ali's fate exposing their shaky hold on power.
Tunisia's popular uprising has been followed by news of similar unrest in Algeria, heightened concerns about anarchy from Libya's strongman Moammar Gadhafi, protests and sectarian violence in Egypt, discontent in Jordan and tension with fear of sectarian violence erupting in Lebanon.
Since U.S. president Franklin Roosevelt secretly met with King Abdul Aziz ibn Saud of Saudi Arabia in February 1945, western democracies have viewed the Middle East through the lens of "Arab exception." The rationale for "Arab exception" meant tolerating despots in the greater interest of regional security during the Cold War decades and oil. Subsequently, the reasoning held these despots were preferable to the Islamist alternative.
It was left to president George W. Bush to question the U.S. policy of preferring stability over freedom in the Arab-Muslim world after 9/11, and this might well be his enduring legacy.
But freedom from tyranny in Iraq and Afghanistan was followed instead with the horrendous assault upon it by the dregs of the Arab-Muslim world under the banner of Islam. And the savage violence unleashed by Islamists came as relief to despots fearful on their own of any populist movement in favour of democracy, respect for human rights and freedom.
The path from tyranny to democracy is not a straight and unimpeded line of progress. This lesson has been illustrated yet again in Iraq and Afghanistan, and it will be premature to assume the flight of Ben Ali heralds democracy in Tunisia.
The deep-rooted problem of tyranny is it breeds an authoritarian culture. This culture has been nurtured in the Arab-Muslim world over many centuries by rulers in the palace and preachers in the mosque.
The culture of liberty, of respect for the individual based on freedom and equality, is alien or weak across the Islamic world. Hence the irony — while Arabs and Muslims yearn for freedom, there are many among them fearful of how it might unravel their culture.
It is with this fear of when tyranny dissolves and freedom appears anarchical, men in military uniform and religious robes together, or separately, strive to maintain the untenable authoritarian status quo.
But since freedom in our time, when walls separating cultures have tumbled, cannot be long denied, Ben Ali's ignominious flight likely marks the beginning of the end of "Arab exception."
©2005-11 Salim Mansur
Salim Mansur BA, MA, PhD, is an Associate Professor of Political Science at the University of Western Ontario. He is also a columnist at Canada's Sun Media. His column appears here with Salim Mansur's express permission by special arrangement with him.
---
Theo Caldwell
Posted on Friday, January 21, 2011
Bio/Email | Theo Caldwell Archives | Printer-Friendly Version

Yet again, those in power have misread and underestimated the will of the American people. Last November's election results shattered the grinning assurances of politicians who supposed voters were unserious in their objections to government over-reach in matters of economics, regulation and health. Now, in the face of mounting protest against the excesses of TSA officers at America's airports, those responsible for the policy of continued sexual violation of travelers maintain that they are winning the argument. They are wrong, and they will lose.
One hesitates to equate the grassroots and growing opposition to TSA's practices of perversion with the Tea Party movement that propelled GOP gains in the 2010 elections, since the latter largely represents a right-of-centre worldview, while the airport uproar encompasses people of all political and ideological persuasions.
This is fitting, as the current TSA situation is a bi-partisan disgrace – including the lucrative compensation received by Bush-era Homeland Security Secretary Michael Chertoff for selling Rapiscan backscatter x-ray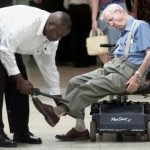 machines to his former department for use at airports, as well as the eagerness of Chertoff's Democratic successor, Janet Napolitano, to implement and expand this disgusting program.
Indeed, at a recent Washington, DC, conference hosted by the Electronic Privacy Information Center (epic.org), which is suing to halt the use of full-body x-ray scans by the TSA, speakers represented every conceivable background and affiliation – Congressmen and staffers from both parties, lawyers, municipal officials, pilots, students, security experts, libertarians, liberals – even Ralph Nader, for good measure. Assessing the TSA's enhanced screening techniques from all sides – efficacy, cost, safety, constitutionality and on – this group of people who had probably never found themselves in one room and on the same side (TSA officials declined invitations to attend) demolished any and all rationale for a technology that has been abandoned by other countries for its obscenity and ineffectiveness.
But despite the diversity of its participants, the populist nature of this protest feels familiar. Government officials chug along as though all will be well once folks settle down, even as opposition websites, Facebook groups and on-line networks boast memberships in the tens of thousands, and rising. Americans of all types are sharing their stories of mistreatment at the hands (and eyes) of TSA officers, and pooling ideas to bring this shameful episode to an end.
In response, government spokespeople continue to proffer the same assurances about privacy and necessity and the "next generation" of security tools, assuming Americans simply need time to adjust to the system. The most egregious such comment comes from Napolitano herself, in reference to the "enhanced pat-down" techniques that permit TSA officers to put their hands in travelers' most intimate areas: "It's something new. Most Americans are not used to a real law enforcement pat-down like that."
This is true, since most Americans do not find themselves arrested or in jail. How could we claim to have a free country if innocent citizens were to become "used to a real law enforcement pat-down"? Unlike many, I do not consider Napolitano to be a scheming abettor of some sinister New World Order. Rather – and I sincerely do not mean to be glib – I assess her to be so cosmically stupid and barren of understanding as to the nature of this nation or her job that she simply does not recognize the absurdity of such a remark.
TSA Administrator John Pistole, on the other hand, appears to be a very different sort. In a recorded message, played in loops at American airports, authoritarian menace drips from his voice as he speaks of, "your options as a passenger" under his regime. He does not say as much, but your "options" are to be photographed nude, groped, or both, at the whim of a TSA worker, under threat of arrest and prosecution if you refuse to comply.
As columnist Chris Selley observed in a different context, there are some police officers who are incapable of dealing with a citizen who knows his rights. A 26-year FBI veteran before being tapped by President Obama for his TSA post, Pistole seems like such an officer.
Pistole's recording concludes by thanking the flying public for its cooperation in the security effort as, "We all work together." We are not working together, John. You and I are not on the same side. You want to violate and take naked pictures of my countrymen and loved ones; I want to prevent that. Neither your mission nor mine has the first thing to do with terrorism, but at least I admit it.
It bears mentioning that, even if done precisely as advertised, TSA's system is still an abomination. A government agent is still seeing your naked image and/or physically violating you, without cause, explanation, escape or recourse. The dynamic between uniformed officials and citizens is appalling. I have routinely witnessed travelers at Washington, DC's Reagan-National Airport crammed three or four at a time into a tiny glass cage, locked at one end and guarded by a uniformed officer at the other, and held there until TSA personnel are good and ready to release and grope them one by one.
Folks are finding the reality at airports is nothing like the anodyne assurances they have received from government officials and sympathetic media outlets. As the EPIC legal team noted in its January 6 brief, "Public opposition has correlated with the actual experience of those who undergo the TSA's new screening procedure."
A recent Zogby poll found that 61% of Americans oppose the TSA's new methods, and this number has nowhere to go but up. As more and more Americans discover the depravity of TSA's system for themselves, watching their children be photographed naked or their spouses touched in obscene ways by government agents, the only remaining supporters of this regime will be those who are empowered by and exempt from it, such as Napolitano and Obama, along with those pitiful stragglers whose public personae consist of being loudly wrong about almost everything (Gloria Allred, call your office).
As security expert Bruce Schneier stated at the EPIC conference, "Terrorism cannot end our way of life – only our response to it can." In this way, the TSA has succeeded where al-Qaeda failed. Since 9/11, Americans have defied fear and embraced freedom, choosing to fly despite the remote danger of airline terrorism. Now they are demurring, as they are faced with the very real possibility that they or those they love will be violated by agents of their own government. This cannot be our way. As Schneier observes, "If we are indomitable, the terrorists lose, even if their attack succeeds."
With that sentiment in mind, I have hope. This will end, because it has to end. In recent years, we have seen the American people, including many who had not previously raised their voices in the public square, come together to make a difference. Now, on this issue, we are doing so again. I am confident we will prevail.
Theo Caldwell, president of Caldwell Asset Management, Inc., is an investment advisor in the United States and Canada. His columns regularly appear in the National Post and Sun Media papers. You can visit his web site at TheoCaldwell.com.
Buy his new book Finn the half-Great—A great kids' book!
---
Michael Coren
Posted on Saturday, January 15, 2011
Bio/Email | Michael Coren Archives | Printer-Friendly Version

The language of violence and anger in U.S. politics simply has to stop.
After a leading politician had her office door smashed in, she responded to the anonymous vandal by boasting, "I have a Glock 9-mm and I'm a pretty good shot." Which was irresponsible and dangerous hate talk and likely to lead to tragedy.
The politician was Gabrielle Giffords, and what she said was really entirely reasonable. She was merely defending herself and her employees, and telling her militant critics she would not be pushed around.
Sadly, it did not prevent a crazy from shooting her and killing others. If only the good lady had had her weapon with her at the time.
If anything, however, her language was far harsher than anything Sarah Palin has said, even when the Alaskan was being threatened with gang rape and death, and her family abused and insulted. It was also stronger language than Palin's rhetorical "Don't retreat, reload" comment and her website's placing of targets over congressional districts that were, yes, targeted for electoral campaigns.
In fact, Palin should never have taken this map down from her website. But if she hadn't done so, the hysterical leftists now calling for her blood would have had even more ammunition — whoops, sorry — to shoot — whoops, even more sorry — at the evil Palin. The same sort of leftists who regularly burned George W. Bush in effigy, made movies proposing the president's assassination, or beat up opponents of Barack Obama at rallies.
But the gruesome antics of a deranged loner have somehow been blamed not on the man himself, the store that sold him his guns, or the politicians who allowed such stores to sell weapons (including Giffords, who is extremely opposed to gun control), but on Sarah Palin, Glenn Beck and conservative talk radio.
Giffords' father managed to even blame the Tea Party for his daughter's fate, when we know her assailant formed a hatred for the congresswoman before the Tea Party even existed. Such excesses can be forgiven of a grieving parent, but not the manipulation of the horror that began within moments of it being announced.
Even serious newspapers were indicating the shooter, Jared Lee Loughner, was motivated by opposition to abortion, and his actions were the direct result of right-wing propaganda. Yet there is no indication that he was political but much evidence to suggest he was a lunatic. Mind you, he listed Karl Marx's The Communist Manifesto as one of his favorite books. Therefore he was a typical socialist. He also habitually smoked cannabis. Therefore he was a typical marijuana user.
So reality cries out to be heard. As it did when Maj. Nidal Hasan shot dead 13 soldiers at Foot Hood in Texas. He was a devout Muslim who listened to jihadist preachers, but we were told his religion has nothing to do with his actions. Now I understand. An insane jerk thrown out of college for being nuts was motivated by Sarah Palin to kill; an Islamic radical slaughtered people because of post-traumatic stress, even though he'd never been to a war zone.
They shoot truth don't they. Whoops, there I go again.
..........
Join "FANS OF MICHAEL COREN" on Facebook.com"!
Michael can be booked for public speaking and his books can be purchased at his website - michaelcoren.com.
---
Salim Mansur
Posted on Saturday, January 15, 2011
Bio/Email | Salim Mansur Archives | Printer-Friendly Version

For the past several years, the buzz among those who take more than passing interest in world affairs has been about the meteoric rise of Communist-controlled China as the new global power.
There are those around the world who view China's emergence as a certainty, long anticipated, and deserving celebration. For them, this historic development is also indicative in some ways of the diminishing importance of the West, and in particular the decline of the U.S. from its pre-eminent superpower status.
Among the many voices who have thrown caution to the wind in embracing China's rise as inevitable and good is Thomas Friedman, a New York Times columnist and author.
In a column published in September 2009, Friedman gushed without embarrassment that one-party autocracy, as in China, "led by a reasonably enlightened group of people" could be positive. He decried the wastefulness of American politics and democracy, and urged Washington could do better by learning from autocrats in Beijing how to make and implement profitable decisions.
Sometime in the middle of last year, China's economy overtook that of Japan to rank as the world's second largest. With economic power, according to conventional wisdom, comes military power and the recognition of a country's status as a great power.
But apart from China boosters and those who entertain the fantasy of "my enemy's enemy is my friend," the autocrats of Beijing have few friends within and outside the country.
Communist-controlled China might well be a giant striding forward, but its feet are made of clay. The autocrats are fearful of their own people wanting freedom, and this fear writ large is indicative that contemporary China's appeal as a cultural and political model is woefully limited.
Development without respect for human rights ultimately stunts growth for people yearning for individual liberty. The story of Liu Xiaobo, incarcerated for the past 20 years by Beijing's autocrats, is revealing of how great is Communist China's internal vulnerability, and why the world needs to be cautious about its future.
Liu Xiaobo was named the recipient last year of the Nobel Peace Prize.
Since he could not be present at the award ceremony, Liv Ullmann, the Norwegian actress and film director, read from one of his writings titled, "I Have No Enemies: My Final Statement."
"Freedom of expression," Liu Xiaobo wrote, "is the foundation of human rights, the source of humanity, and the mother of truth. To strangle freedom of speech is to trample on human rights, stifle humanity, and suppress truth."
These words of Liu Xiaobo deserve wide circulation and read not merely as a rebuke of Beijing's autocrats, but also as an admonition and warning to the "politically correct" crowd in the West, ever ready to trim individual liberty and censor free speech.
Historians for the longest while have been captivated with the idea of the rise and decline of great powers. But there is another equally compelling theme demanding notice in modern times — that tyranny has a short shelf life of just a few generations.
And societies, such as China or Iran, ruled by autocrats fearful of freedom are "paper tigers" to be held in pity.
©2005-11 Salim Mansur
Salim Mansur BA, MA, PhD, is an Associate Professor of Political Science at the University of Western Ontario. He is also a columnist at Canada's Sun Media. His column appears here with Salim Mansur's express permission by special arrangement with him.
---
Mike S. Adams
Posted on Tuesday, January 11, 2011
Bio/Email | Mike Adams Archives | Printer-Friendly Version

Back in 2002, I decided to join the fight against campus speech codes because I considered them to be the principal threat against liberty in the 21st Century. I was also concerned that Abraham Lincoln was right when he said that looking at our schools today is a good way to see what the nation will look like in twenty years. I knew that speech codes had to be defeated in order to avoid a situation in which citizens were easily deprived of their rights because they were never aware of them in the first place.
At the time I joined this fight, it seemed like every public university had an unconstitutional speech code. Today, that number is more like 67%. One of the main reasons for the improvement is the efforts of a group called the Foundation for Individual Rights in Education, or FIRE. And now, FIRE has crafted an ingenious plan that promises to build on its momentum and make unconstitutional speech codes the exception, rather than the rule, at America's public universities.
FIRE has put hundreds of university presidents and university attorneys on notice that their wallets could be hit if they violate the free speech rights of students on their campuses. What they are trying to do is to attack the use of qualified immunity, which is used to exempt administrators from personal liability for monetary damages.
By sending nearly 300 certified letters to public university administrators across the nation, they are directly challenging the most dangerous problem in higher education today; namely, the continued shielding of those who knowingly violate the First Amendment in defiance of well-established law.
It is bad enough that public university administrators have been shredding the First Amendment for decades in order to ensure that their own political, social, and religious views will be advanced without challenge. It is far worse that the taxpayers have been footing the bill when they have been caught doing so. But that is all about to change.
Recently, some judges have been deciding that college administrators are not shielded from personal liability in cases involving gross violations of the First Amendment. The case of Valdosta State University student Thomas Hayden Barnes is illustrative. Barnes was expelled in 2007 after he peacefully protested plans by then-President Ronald Zaccari to use $30 million in student activity fees to build two parking garages. The court decided the infringement was so gross that a reasonable administrator could not have been unaware of the illegality of the expulsion.
The recent spate of letters sent by FIRE will ensure that other similar rulings follow. The legal doctrine of qualified immunity only protects government officials from personal liability for monetary damages for violating constitutional rights if their actions do not violate "clearly established law" of which a reasonable person in their position would have known.
For years, public universities have argued that their speech codes did not violate clearly established law regarding students' First Amendment rights. But for the past generation, we have seen one legal decision after another striking down these codes. Having seen registered letters informing them of the decisions, administrators will no longer be able to argue that "a reasonable person in their position" would not have known the law.
FIRE is now able to add another recent precedent to the long list of cases that will help undercut the doctrine of qualified immunity. In McCauley v. University of the Virgin Islands, the United States Third Circuit Court of Appeals in 2010 struck down policies banning "offensive" or "unauthorized" signs as violations.
FIRE is also citing these important decisions in its letters:
•DeJohn v. Temple University, where the Third Circuit invalidated a university sexual harassment policy for being overly broad and vague in violation of the First Amendment;
•Dambrot v. Central Michigan University, where the Sixth Circuit declared a university discriminatory harassment policy to be obviously unconstitutional;
•College Republicans at San Francisco State University v. Reed, where a federal court enjoined enforcement of a university civility policy that placed the supposed right to be unoffended above the First Amendment.
Adam Kissel of FIRE summarizes the position of FIRE nicely when he states that the organization has found an appropriate balance between the carrot and stick approaches to dealing with university administrators. First, they offer online suggestions for public universities that have at least one policy that clearly and substantially restricts freedom of speech. The suggestions show them what they need to do to comply with the law.
But if they will not listen, there is strong language in these registered letters meant to awaken their conscience to their duty to obey the law. For example, FIRE says: "You must be aware that maintaining university policies that prohibit constitutionally protected expression is an unlawful deprivation of constitutional rights under 42 U.S.C.S. § 1983 for which university administrators may be sued in their individual capacities for punitive damages."
The letter continues: "Given the sparkling clarity of the case law with regard to the unconstitutionality of speech codes at public universities, please be advised that claims of immunity from personal liability put forth by individual university administrators will likely be unsuccessful."
The approach of FIRE will work in the same way that capitalism works better than socialism; namely, through reliance on private ownership and individual interest. In other words, it is a strategy that attaches real consequences to individuals with power, rather than to an esoteric and powerless collective.
Campus speech codes are no longer public property inherited by unknowing public servants. The speech codes now belong to those who oversee their maintenance. And they ignore them at their own peril.
©2005-10 Mike S. Adams - Mike Adams, PhD, is a criminology professor at the University of North Carolina at Wilmington and is a regular columnist for Townhall.com. His column appears here at PTBC with Mike Adams' express permission by special arrangement with him. Dr. Adams is available for speaking engagements. Mike Adams' new book, Feminists Say The Darndest Things
.
---
Doug Giles
Posted on Monday, January 10, 2011
Bio/Email | Doug Giles Archives | Printer-Friendly Version

I believe it's written in the book of Revelation that when an over-tanned, drunken dwarf named Snookie rises from the north shore with tetherball-sized silicone ta-tas, gets on TV and parades her pertinacious perversions to American tweens, and said tweens actually take notes during this porn show in order to imitate this wanton wench the following weekend, then my brethren, the end has officially come and the moon will be turned into blood.
Yea, according to the prophets, when parents become so stupid as to yield their young ones' tender souls unto the influence of a trollop who's making millions off America by turning her naughty bits into a sexual turnstile, it is at that exact point that Christ, from his celestial perch in heaven, says, "That's it!" and C4s the planet. I believe that is found in Revelation 6:66. Google it and get back to me.
God, I feel sorry for young parents nowadays. Not only is BHO and his Chicago-based socialistic cabal attempting to muck up your toddler's economic tomorrow by replacing America's exceptionalism with government funded, debt-riddled mediocrity, but the progressives are also hammering your children with uncut filth via TV and the Internet in an unprecedented way.
For instance, pops, your little girl is made to feel weird via pop culture if …
1. She doesn't sleep with a few chicks. Katy Perry does it, and she's rich and on TV!
2. She doesn't make out with everything that moves.
3. She doesn't embrace being bad (as good is so passé, and being a whore, well that's totally awesome). It's empowerment!
4. She doesn't take nude photos and videos of herself and send them around the planet via her cell phone, Facebook and Twitter.
Y'know, if I were a woman I'd be pretty ticked as it appears that "secular progressives" within America have succeeded in making young women known and appreciated only if they're a mud flap girl. The empowered woman of today, ladies and gents, is the girl who wears a Hustler T- shirt, will strip on command, and has no problemo whatsoever in turning her genitals into a Jiffy Lube.
For the parental units of the Y chromosomes I really feel for you, as well, as the first order of business for this f-f-f-f-fouled-up culture is to strip all your boy's boyness from him and turn him into a dandy devoid of the masculine richness that the God-blessed testosterone fog provides for the male collective. This ridiculous demonic culture hates men and masculinity, and parents need to fight against our culture's metro-ing of their man-child with tooth, fang and claw.
Look, you don't have to be Ezekiel to see that our nation has morally derailed. Seldom do we see people who are righteously worth a crap in this culture get any props or praise. No, in America
we throw mad cash and give TV shows to the banal blonde, the godless Guido, the rich tart with a grainy sex film, the beady-eyed politician selling senate seats, quarterbacks who kill dogs and has-been rockers with hepatitis C.
And then, as a nation, after twenty years of viewing this rubbish we wonder what happened to our values?! Well, Spanky, at some point in time life begins to imitate art and the monkey starts to do what the monkey sees. That's why, parents, you must take control of what you let your little ones behold.
To assist parents who still care and would like some literary assistance to underscore their righteous traditional values, may I introduce you to the cowboy way, in particular to a rich and rare book—rare in the sense that you won't see these values portrayed on TV much, at least in a favorable way. The book is Cowboy Values: Recapturing What America Once Stood For
, by James P. Owen.
This beautiful book is for parents who are appalled by a culture that glorifies materialism and self-gratification, who loathe the "what's in it for me?" notion our nation has taken on. It's for us "weirdoes" who feel a deep yearning for a simpler time when civility was the norm and a handshake could seal any deal.
From Amazon's blurb about the book:
We can't turn back the clock or legislate our way out of society's malaise. But here's what we can do: Look to the bedrock values all Americans share. We may never agree on Iraq, abortion, or same-sex marriage, but surely we can agree that "our word should be our bond." For a definition of those shared values, we need look no further than the Cowboy Way. Living by a code that centers on principles like honesty, loyalty, and courage, the working cowboy is an enduring American hero—one providing just the kind of inspiration our country needs to find unity and hope in these troubled times. It's not too late for us to get back to the qualities that made America great. Cowboy Values gives us a place to start.
So what's it going to be, parents? Are your kids going to take their cue from Jersey Shore or from the cowboy way?
Doug Giles' new book If Youre Going Through Hell, Keep Going is now available. Doug's award winning talk show and video blog can be seen and heard at www.ClashRadio.com.
Doug Giles is the creator and host of "The Clash" radio shows, winners of seven Silver Microphone Awards and two Communicator Awards in the last three years. Recent guests on his weekly one-hour show have included Ann Coulter, Ted Nugent, Cal Thomas, David Limbaugh, Judge Andrew Napolitano, Mona Charen, Michelle Malkin and Brian Kilmeade. In addition, Doug is a popular columnist, minister, and award-winning writer.
---
Michael Coren
Posted on Saturday, January 08, 2011
Bio/Email | Michael Coren Archives | Printer-Friendly Version

Does anyone really believe all people are treated equally on Canadian TV?
Just before Christmas, Christian activist Charles McVety was found by the Canadian Broadcast Standards Council to be in contravention of their code in certain comments he made about gay people on his Word TV show.
The program appears each weekend on CTS, where I have a nightly current affairs show.
Interestingly enough, the council concluded most of what he had said — while opposed to the gay community and often strongly worded — was within their guidelines, but in a small number of specific areas he had made unacceptable comments.
McVety is a friend. That does not mean I always agree with him, and I have told him so repeatedly.
He has, however, appeared on my show, as have gay activists, atheist leaders, Marxists and all sorts of people whose views I find objectionable. Informed disagreement in the context of mutual respect and tolerance is the keystone not only of a civilized society, but of good television.
The issue here, though, is whether people should be allowed to say whatever they want on television. In this case, CTS could not have acted more responsibly. They didn't air McVety's show for one week because they wanted to respect the standards council and also to give McVety the opportunity to meet with them before proceeding.
They did indeed meet and established that his program would continue, but some monitoring and consultation would be necessary. This is not censorship.
In all my time at the station, I have not once been told to change or soften my opinions. This is in spite of being threatened with death by various "progressive thinkers" for my alleged views.
Nor am I alone in this — it's almost standard for social conservatives in particular to be personally abused for their views. Personally, I love it!
But let's put this is in greater perspective. I have heard evangelicals described on Canadian TV networks as "dangerous extremists," "hateful bigots, homophobes and anti-Semites" and "ignorant, stupid rednecks who have no place in public life."
I've heard Roman Catholic priests described as "all child molesters and habitual pedophiles," the Pope as "a Nazi who hid child rape and welcomed a Holocaust-denying bishop back into his Neanderthal church."
In all seriousness, is there any thinking person out there who genuinely believes that all ideas and people are treated respectfully and equally on Canadian airwaves?
Of course not.
Ask any conservative, pro-lifer or Christian how they feel about our television networks. Ask yourself how often you have seen the loaded question asked, seen the sneer of disapproval or contempt on a journalist's face.
Canadian television is a level playing-field only for those whose sense of balance is far to the left.
While I'm sure Charles McVety is far from happy at what has gone on, something positive might just materialize.
The ruling and its consequences could lead Canadian broadcasters and their overseers to finally understand that all, and not just some people can be offended by what is said on television, and insults come from all quarters, even chosen victim groups.
Hey, enormous miracles do happen — even publicly funded ones.
..........
Join "FANS OF MICHAEL COREN" on Facebook.com"!
Michael can be booked for public speaking and his books can be purchased at his website - michaelcoren.com.
---
Salim Mansur
Posted on Saturday, January 08, 2011
Bio/Email | Salim Mansur Archives | Printer-Friendly Version

The New Year's Day bombing of a Coptic church in Alexandria, Egypt, leaving at least 23 dead and scores wounded, and the murder of a leading politician in Islamabad, Pakistan a few days later were not distant events or unconnected.
They highlight the systematic strangulation by Islamists — at war with modernity and the reason, freedom and democracy it represents — of what remains of a sick and battered civilization that long ago did inspire people to make their world admirable and beautiful.
The meaning of the New Year's bombing is evil and transparent as daylight.
Islamists are determined to drive Christians and other minorities out of the greater Middle East — the region between the Nile and the Indus — through pogroms and intimidations.
Those remaining meekly submit to their degraded status of "dhimmi" or subject people among Muslims.
Copts of Egypt — their number is estimated around 10 million — are one of the oldest Christian communities in the Middle East. Their origin goes back to the early decades of the first century in the Christian era, and predates by several centuries the arrival of Arabs bringing Islam with them.
The campaign against Copts is old and in recent decades has turned increasingly ugly. While imams regularly pillory Copts from their pulpits — as did Sheikh Omar Abdel Rahman, the blind imam serving a life term in a U.S. prison for his role in the 1993 World Trade Center bombing — the conduct of the Egyptian government in protecting minorities, to put it mildly, has been shameful.
Here is how Hani Shukrallah, an editor of the English edition of Al-Ahram (Egypt's largest newspaper) and of Coptic origin, expressed his anguish following the New Year bombing:
"I accuse those state bodies who believe that by bolstering the Salafi trend they are undermining the Muslim Brotherhood, and who like to occasionally play to bigoted anti-Coptic sentiments, presumably as an excellent distraction from other more serious issues of government.
"But most of all, I accuse the millions of supposedly moderate Muslims among us; those who've been growing more and more prejudiced, inclusive and narrow minded with every passing year."
A few days after the church bombing, Salman Taseer, governor of Punjab, Pakistan's most populous province, was gunned down by a member of his elite security detail in Islamabad, the country's capital.
Taseer represented the rapidly dwindling number of Pakistanis who may publicly describe themselves as "liberal" or "secular" Muslims.
Taseer's crime — according to the accused killer and the majority of Pakistanis who likely approve of the murder — was his request for presidential clemency for a Christian woman, Asia Bibi, detained on death row under the country's blasphemy law, and his effort to repeal this reprehensible statute.
The accused murderer of Taseer, when brought to court for indictment, was greeted with a shower of rose petals, and by several hundred lawyers prepared to defend him at no cost.
Forty years ago in 1971, Pakistan broke apart as the army and its Islamist allies perpetrated genocide in what is present-day Bangladesh.
I witnessed that genocide first-hand. And now I watch from some distance the predictable implosion of a nuclear weapon state and the slide of a whole region into the dark bowels of barbarism.
©2005-11 Salim Mansur
Salim Mansur BA, MA, PhD, is an Associate Professor of Political Science at the University of Western Ontario. He is also a columnist at Canada's Sun Media. His column appears here with Salim Mansur's express permission by special arrangement with him.
---